Are you, your family or your Suzuki looking for a 4x4 trip over the April long weekend? Keen for a 3 day spirit-filled adventure? Why not join the Suzuki 4x4 Club Western Cape on their Sutherland Tour.
The activity packed 3 days organised by the Suzuki 4x4 Club WP promise to be filled with excitement. You will depart on the 18th April from Klapmuts and head through Ceres to Skurweeberg 4x4 Camp in Sutherland for a night of star gazing, an activity for which Sutherland is best known. Day two will be spent on the challenging 52 kilometres of 4x4 routes at the camp before heading home on the 20th April. The journey home will take you through some awe inspiring country side as you travel through both the Hex River Pass as well as the Du Toitskloof Pass. An adventure not to be missed!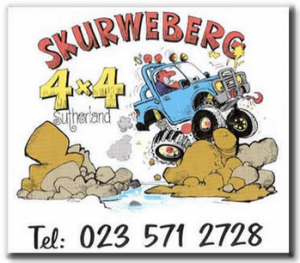 To reserve your spot please contact the Suzuki 4x4 Clup WP at suzuki4x4club@gmail.com
routes.
[button url="http://blog.suzukiauto.co.za.winhost.wa.co.za" color="red"]Home[/button]