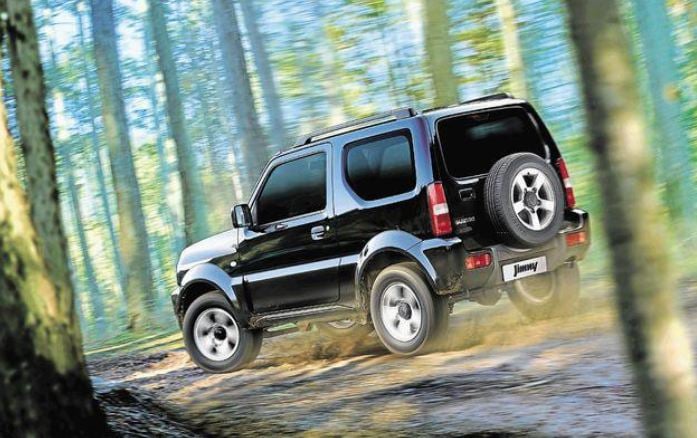 Not being your average girly girl, I consider myself pretty tough and always game for the next adventure. So imagine my delight when I was recently offered to join Suzuki and a group of journalists from the South African Guild of Motoring Journalists at Bass Lake to do a little 4x4-ing. Who doesn't love a little "bundu-bashing?"
However, once the excitement had worn off, it quickly dawned on me that off-road driving is something I know nothing about. In a conversation that evening with my father, who of course claims to be an off-road expert, I felt a little overwhelmed. I clearly know nothing about the difference between momentum and acceleration, let alone what a diff-lock is and how it works. Nonetheless, the challenge had been accepted, and I was looking forward to it.
On the very wet Thursday morning, we were met by a good looking line up of Jimnys, a Grand Vitara and Alan Pepper himself. After quick introductions of everyone, we headed inside for much needed coffee, a muffin and a short but very informative theory session. Wonderful, now I would be able to make some sense out of all that off-road jargon!
Alan is an amiable guy with a genuine love for what he does, and a knack for teaching that seems to come naturally. You can feel it the second he strikes up a conversation with you. With 30 years of expertise and experience, I and I think all who attended the day were all too happy to take in what he was teaching us, and more importantly keen to apply it, which we did successfully every time.
We were now all eager to get going. Heading outdoors again, we were delighted to see that the skies had cleared and the sun was shining. The group was paired off, and it turned out that I would be riding with Alan in one of the Jimnys and leading the troop around the course. The pressure was on!
Alan admitted to me that he takes a slightly different approach to off-road driving than what most other instructors would. "I don't believe in the "feet off the brakes, only rely on engine compression when we go down a steep incline" method that is popular elsewhere. Our natural instinct is to hit the brakes, so why complicate things? GET ON THE BRAKES!" he added animatedly.
The first half of the course was a mixture of small, relatively easy obstacles. The expert guidance of Alan was at hand at all times, directing and assisting and being that crucial set of extra eyes you need when tackling a tricky obstacle. I felt incredibly confident and at ease through every obstacle. Everyone was allowed to take their time and to get it right, and more importantly, get it right safely.
After a hearty lunch and animated conversation around our new found confidence in off-road driving, we headed out again to do a more advanced part of the course. At one stage we came across a my-eyes-almost-popped-out-of-my-head steep mountain, and I'm pretty sure it was then that the words "I'm going home!" came out of my mouth, however, following Alan's demonstration and reassurance, I was eager to give it a go. I will admit, there was a point mid obstacle where it felt like the Jimny was almost perpendicular to the ground, and was I was sure it was going to flip over. But with Alan's reassurance and guidance, I made it out confidently, smoothly and very much in one piece.
As for the Jimny, it's easy to see why everyone loves this little Suzuki. It's true what they say that dynamite comes in small packages, the Jimny handled the course like an old pro. The only difficult part of any obstacle was the gathering of nerves before the ascent or descent (for me anyway). Even though I didn't test the Grand Vitara, it made each obstacle look like a minor speed bump. Feedback from the guys confirmed my theory.
The day ended with a few celebratory cold ones and recollection of the incredible day. We'd been challenged, our adrenaline had been put to good use but we were all so animated by the experience. Some of the journo's who had done other 4x4 courses were completely blown away. Richer in the knowledge we'd obtained and confident that should the opportunity arise again, we'd be able to handle ourselves off-road, we went our separate ways. I am confident in saying that each person that attended that day, had a new-found, if not heightened, love for Suzuki, especially the Jimny.