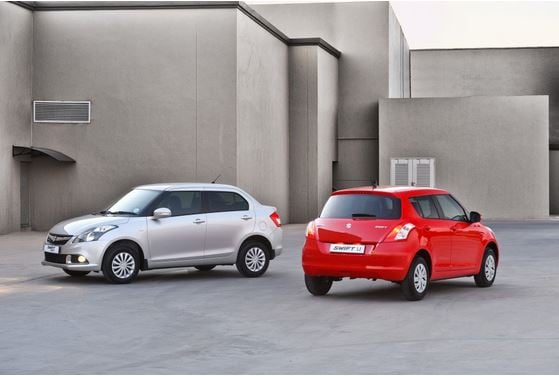 So there we were, merrily motoring along on our way to Jeffreys Bay when the traffic came to an abrupt halt halfway between Cradock and Cookhouse. "Sorry sir, but we are working on the road and it will remain closed till four this afternoon" explained one of the road workers with a wry smile on his face while peering at the digital clock readout on my Suzuki Swift's instrument panel, 12h00.
There was no way I was going to lounge about on a tar road in the middle of the Great Karoo for four hours, so Plan B it had to be. Going back to Cradock and then Graaff-Reinet seemed like such a waste of time and after consulting a map I decided to high tail it through the mountains to Pearston. Seemed to me that the R337 gravel road was in semi-decent order and that I could swish through the Eastern Cape Mountains in no time. Yeah right!
The initial bit of gravel road driving was a doddle and the Swift felt solid and stable at 100 km/h. That is until we reached the mountains. Proper gravel road soon gave away to what can only be described as a glorified two track road (twee spoor paadjie), riddled with loose stones, ditches and potholes.
Driving cautiously we could at least get some decent photographs and marvel at some of the most unspoilt natural beauty you'll ever come across in your life. It really is pretty out there! And with place names like Swaershoek Pass, Romans Fontein, Groote Zeekoe Gat and Buffelshoek Pass, the area we were driving in not only sounded interesting but proved to be challenging as well.
I really pitied the little Swift for the hammering the little hatchback had to endure and each time we had to cautiously go over a rock or through a pothole, the jarring noise from the road surface hit all the way through to my fillings. Thought I'd need to see a dentist after this little adventure!
About two-thirds on the way to Pearston we stopped next to a local farmer in one of those big Land Cruiser bakkies. "What on earth are you doing out here in that little thing?" he enquired and proceeded to explain that there is a massive mountain with an almost impassable road ahead and advised that we should immediately turn back for our own safety.
After thanking him for his concern and sage advice I politely pointed out that we had already crossed two mountains in the little Swift and that I have full confidence in my car's capabilities. He just laughed and waved us on and for a moment I became really concerned, what the heck was I doing out in the middle of nowhere in a hatchback designed for city driving, on a road suitable for bakkies, and all of this without cell reception???
But lo and behold, our trusty steed came through with flying colours and I was in particular impressed with the dust isolation in the Swift. After a tortuous 123km through the mountains we finally arrived at Pearston and thought our ordeal was over. Not so, another 67km of gravel road driving to Jansenville!
And was Plan B the better option after all? Nah! Took me four hours longer to reach Jeffreys than if I had made my way back to Graaff-Reinet. However, the experience was one of those rare "once in a lifetime" trips and was it not for local government ripping up some rural tar road, I never would have had the pleasure of seeing that part of our beautiful country in all its splendour.
As for the Suzuki Swift's performance I can only say that these little cars are extremely well put together and, once back on proper tarred roads, we couldn't hear a single squeak or rattle, now That is Swift!