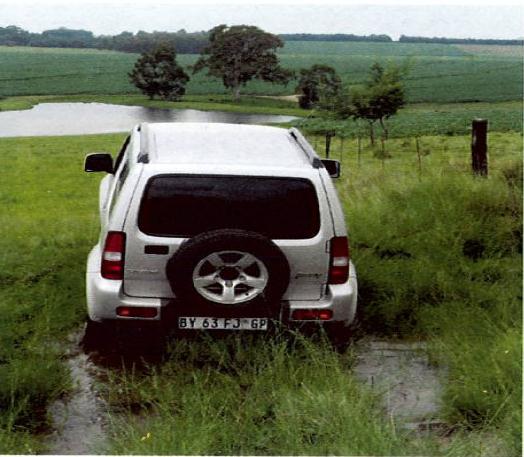 Jimny drivers will tell you that once you have driven a Suzuki Jimny there is no going back! You can see their passion when they share their adventures with us - on social media, via email or in person. 2014 saw the introduction the iconic Jimny with an automatic gearbox. Alan Pepper, owner of Bass Lake 4x4 Training Centre in Gauteng, uses the Jimny as his training vehicle, and shares his experiences of the Jimny auto with us.
"I started my 4x4 career in 1973 in the military, and in 1997 opened the Bass Lake 4x4 Training Centre. Over the years I have trained over 6000 drivers using all makes and models of vehicles, specialising in training absolute beginners.
In the last four and a half years I have used standard Suzuki Jimnys, with highway tyres, as my training vehicles. These little vehicles have done close to 15,000 kilometres in low range, training new off-road drivers, without any breakdowns. They are wonderful training vehicles as they do not have any fancy gadgetry to replace driver skill - if your lines are wrong, you do not go through the obstacle. In the hands of a trained driver, they are almost unstoppable without having to add any extras.
Then, just when I thought I had seen it all, into the mix comes the Jimny auto. It looks identical and one has to look at the gear shift to see the difference.
My concern was that an auto gearbox, mated to a 1340cc engine, may be lacking in the low down power department, but I need not have worried. I tested this vehicle with three big guys in it. On road it pulls just like the manual and the 4-speed gearbox is geared well. On hills the gearbox needs to be used manually in order to maintain momentum, just as one would change back on a manual. This is true for overtaking as well. The VVT motor loves to rev, so it is not a problem to change back at 110 km/h, and floor it to get past other vehicles.
The acid test for the Jimny auto was how it would perform in low ratio, on serious grade-4 obstacles, as compared to a manual? First we lowered the tyre pressures to one bar. Then we went to a large incline that stops a lot of bigger 4x4's in their tracks - it is a 38" potholed monster!
The first test was to see how well it would pull away when stopped half way up the slope carrying three big passengers. Needless to say, it leapt away with plenty of power to spare. We then got to the interesting part, the potholes at the crest of the hill that stop most vehicles. On a manual once you start to wheel spin you have to start over again. With the auto you can ease off the power, turn your steering, and gently apply power again without having to do it all over. Although we had a heavy load in the vehicle, it pulled away effortlessly. When it comes to serious off-road work the Jimny auto definitely has the edge over the manual.
AHH! I hear you say what about coming down that same hill - the auto will not have the compression to hold you and it will run away. Well, for the dinosaurs out there who have resisted learning how well modern braking systems work, you can come down the steepest hill in neutral and remain in total control. If in doubt, watch the video, come on a proper training course with Suzuki and find out how!"