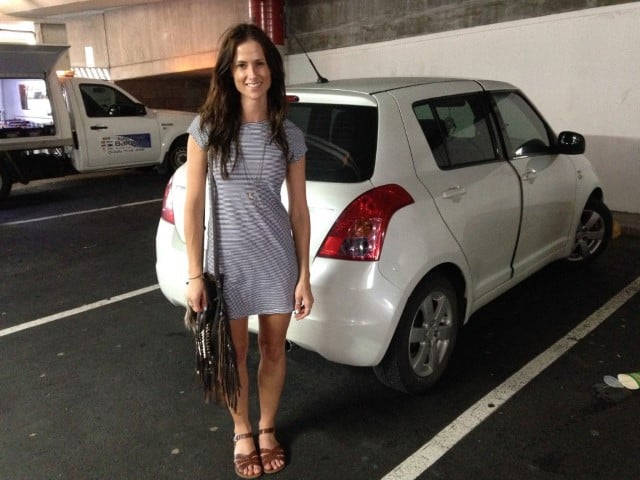 This month we share a story with you from one of our Suzuki family members, and undeniably a huge fan! She takes us on a journey from when she first spotted a Suzuki on the road right up until her latest adventure in her own Suzuki, but you may have to wait until next month for that one. In the meantime, introducing Chelsy Pinto, who in turn introduces us to the latest news from SwiftSpeed, home to Suzuki owners and fans.
"I have loved the Suzuki brand ever since I saw a Sunlight Copper Swift on the road back in August 2008. She pulled at my heart and I needed to know more about her. Where did she come from? What was her story? Did I know back then how much this innocent machine was going to affect my life? How she would shape the car club nation (insert patriotic music here) and create an overwhelming passion, borderline obsession? No, and thus begin my journey.
I was rather ignorant of Suzuki back then, I was like everybody else "Don't they just make bikes?" (Normal people are adorable, don't you think?) Little did I know the magnitude of the Swift following overseas. The first Suzuki dealership I invaded was Suzuki Midrand, I landed up going back a few times just to look... It was unfortunate that at the time I could not afford the Swift but after many months (and some divine intervention) I was involved in a rather bad accident that left me without a car, thus, Zookie 1.0 came into my possession, I picked up my Silky Silver goddess on the 12th of September 2009, amidst many tears and Cheshire cat smiles.
This car was my dream and to have a dream come true is really such a special thing. I still, at that time, could not comprehend how amazing this car was, the power, the fuel consumption, the looks and handling, she was an extension of myself; my other half and I made her all my own in style - in fact, she dressed better than I did! My boyfriend at the time was a serious car nut, more specifically Japanese cars and he introduced me to the whole car club and tuning scene; I was now exposed to "petrol heads" and "modifications" and "track days, bro" It opened my eyes to a whole other world, a world in which I knew there had to be others like me who loved their Swift and wanted to share that love with other enthusiasts. And so in April 2010, I started Swift Speed (formerly Swift Owners), a car club for Suzuki Swift owners and a first of its kind in South Africa.
I could go on and on about my many adventures with my little pocket rocket within the Swift Speed community but I would rather you experience them for yourselves. I'm now on my second Suzuki Swift, this time a special 2010 Swift Sport 3-door, and I'm eagerly anticipating the new Swift Sport set to grace us in 2017. I'm not solely a Swift nut though, my passion for Suzuki extends through the whole range. I honestly believe that whatever car you are looking for, there is a Suzuki for you. It is truly, a way of life.
For those who love their Suzukis as much as I do, Swift Speed is happy to announce that they now cater for ALL Suzuki models. As the brand has expanded, they would like to encourage all those who love Suzuki to join us in our reverence of the brand!