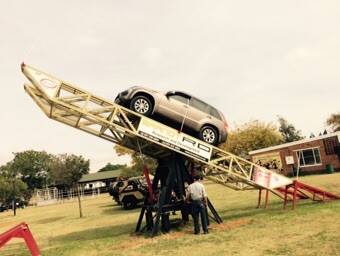 The Suzuki Grand Vitara took Bloemfontein's Michiel Combrink from Radio Rosestad on an adventure this month at the 129th annual Bloem Show.
The Bloem Show is an annual event held over 10 days featuring agricultural, entertainment and trade activities. The show has over 450 exhibitors, and hosts more than 100 000 visitors. Suzuki Bloemfontein were there this year where they did daily demonstrations and hosted the 4x4 track at the event. Michiel Combrink, from Radio Rosestad, was brave enough to take a drive and once strapped into his Grand Vitara he did a live broadcast while completing the obstacle course. Initially he started off a sounding a little bit nervous but he was soon enjoying himself, so much so that he came back to the course on the weekend with his wife!
So if you would like to have a look at the Grand Vitara and experience its capabilities yourself contact your nearest Suzuki dealer and book a test drive today.