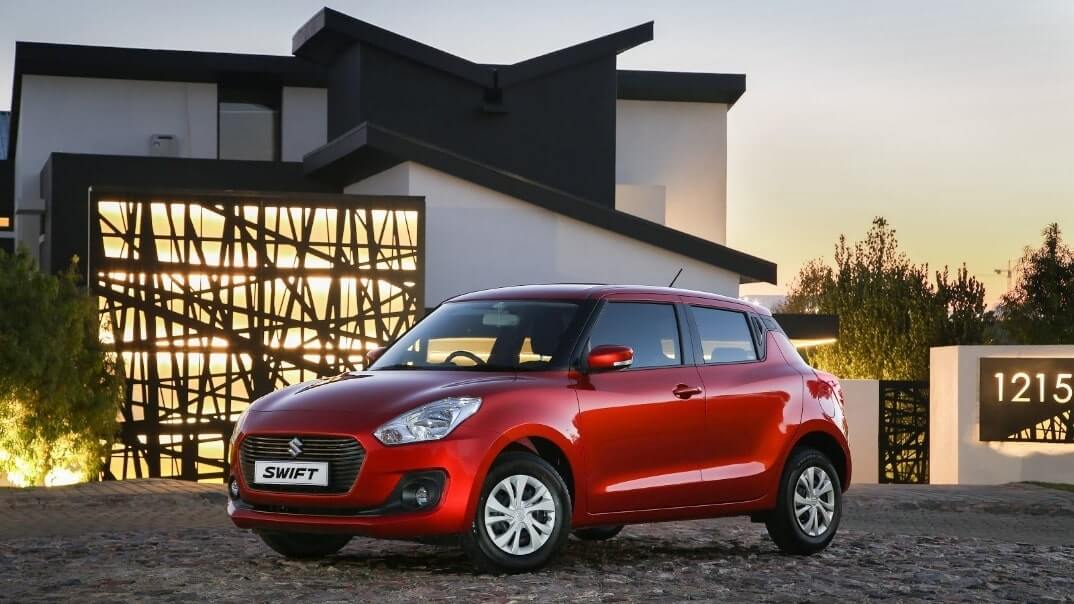 Launched on 6 June 2018, the new Suzuki Swift (and it's cousin, the Dzire) made a huge stir in the South African motoring community. Here's a round-up of some of the reviews from people who test drove the Swift at the launch.
With its stylish new design, unbeatable fuel efficiency and even more cabin room than before, the much anticipated third generation Suzuki Swift has finally arrived.
As promised, the Swift gave South Africa #AllTheRightFeels at the official media launch in Durban - proving that this gorgeous little hatch, in true Suzuki style, is packed full of attitude and personality. But don't just take our word for it, here's a round-up of third party reviews from people that test drove the new Swift for themselves.
Suzuki Swift reviews: South Africa has spoken
"With South Africa's soaring fuel price hikes, we're all looking for a vehicle that offers as much efficiency as it does practicality. This is where the Swift truly excels while it offers a combined fuel consumption rated at 4.9 litres per 100 km and offers over 750 km on its 37-litre tank. At launch we averaged around 5,3 litres per 100 km while driving through rural areas and highways.
In terms of practicality, drivers are going to enjoy the Swift's 4.8 meter turning radius for those tight and tricky parking spots in the city.
Everything about the Swift is ultra light. From steering, to the clutch, to its overall weight (875 kg – 95 kg lighter than the outgoing model).
The new Swift's K12M four-cylinder engine offers power delivery of 61kW and 113 N.m. of torque, which is more than enough for its class and surprisingly 'swift' on the open road. I loved the ease of clutch control which seems light and effortless (and great when you're sitting in uphill traffic). It's mates to a five-speed manual gearbox in the GA model, while the GL model gives an option for an AMT version with the same number of gears" - Caira-Lee, Women on Wheels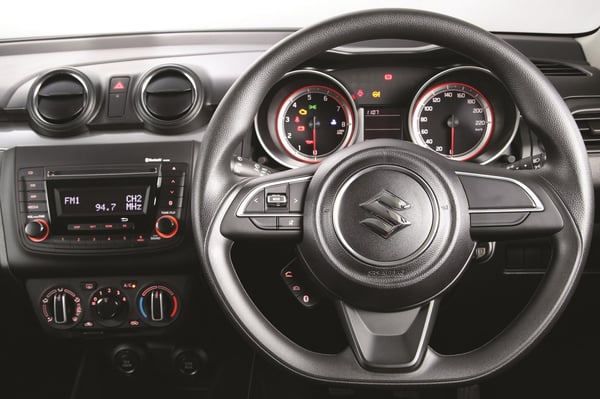 Image source: Cars.co.za
"The real cherry on the cake is the claimed fuel consumption. While many manufacturers claim unrealistic numbers (many of which are probably generated in a lab), you really can achieve close to Suzuki's claimed figures, at least in our experience. In the Swift's case, it's claimed to consume 4.9 L/100 km and, after our day of charging around some delightful ribbon of tarmac with three adults, our little blue test unit had an amazing 5.3 L/100 km on the trip readout. Brilliant." - David Taylor, Cars.co.za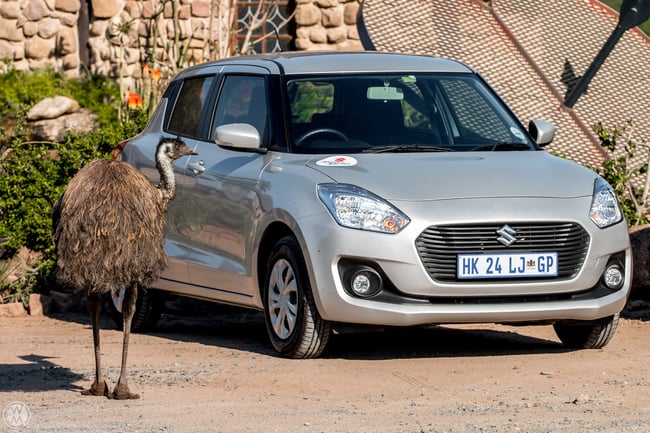 Image source: Chris Wall Media
"The all-new Suzuki Swift is a great drive, the men in white coats have worked some sort of magic into the build process because while everything is lightweight, the car feels pretty solid. Even with that small engine, you'll often find yourself ahead of the traffic if you drive like me, it's responsive and doesn't battle to rev up, even with a full complement of passengers and a kitbag or two in the boot. The steering is direct and there's good feedback from the 14" wheels, and the brakes are sharp and tight, but it does take a lot to get the ABS to kick in, which is good. The transmission is smooth and the level notches into place almost as if it's pulled there, which I like a lot and makes me really need to sample the upcoming Swift Sport - that's gonna be a cracker! As for the test of the interior bits, the heater and aircon work fast and also don't sap power from anywhere, well if they do it doesn't feel like it. The seats are comfortable and visibility is good all-round, all in all it's a decent place to be." - Chris Wall, Chris Wall Media
"The Swift has always skewed young and Suzuki is leaning into that perception and positioning the new Suzuki Swift as the go-to car for millennials. And what do we know about working millennials? They are often city dwellers who juggle a number of roles and their lives tend to kick into full gear after the nine to five. Not to mention the weekends spent driving cross their cities. The new Suzuki boasts the familiar by keeping the Swift's very popular K12M engine.
The new Swift is much roomier than previous generations. Having shortened the length of the car and made it wider (by 10 mm and 40 mm respectively), Suzuki has made the car a comforting way to meet the world. The inside of the new Suzuki Swift was pleasantly surprising in that it's more accommodating than it looks.
Taking a road trip with the gang? The front seats have been redesigned and now offer firmer support to the driver and front passenger, making those long drives that much more comfortable. The car offered a smooth ride on Durban's sometimes adventurous routes, which supports the idea that was built for the fast-paced city life." - Nomali Cele, KayaFM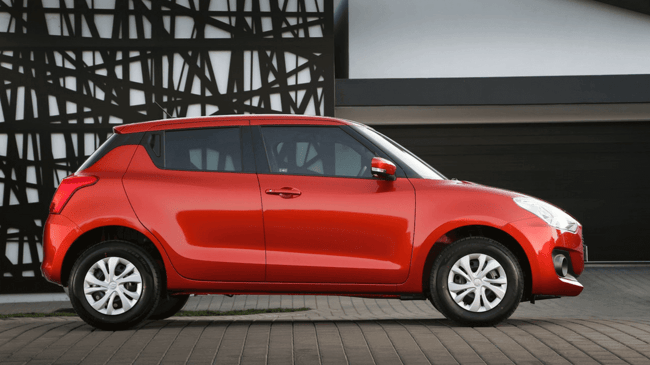 "New model's features upgraded to make it the safest in the range. [...] All versions of the new Swift have ample storage spaces in the cabin, including two front and one rear cup holder, side door pockets, a console tray box, and a passenger seat pocket.
The rear doors have additional bottle holders.
The new design integrates with Suzuki's Total Effective Control Technology (TECT), which applies the same design philosophy and engineering principles by using very high-tensile steel to lighten the body weight, while improving crash safety.
It was designed to integrate active and passive safety systems, including the two front-occupant airbags, ABS brakes with electronic brakeforce distribution (EBD) and ISOFIX seat anchors, for the safest Swift to date.
The Swift's GA-model is still equipped with creature comforts, such as air conditioning, front and rear electric windows, ABS with EBD, ISOFIX child seat anchors and two airbags.
The GL-model adds colour-coded side mirrors, front fog lamps, a audio system with steering-mounted controls and a rear luggage cover." - Glen Hill, The Citizen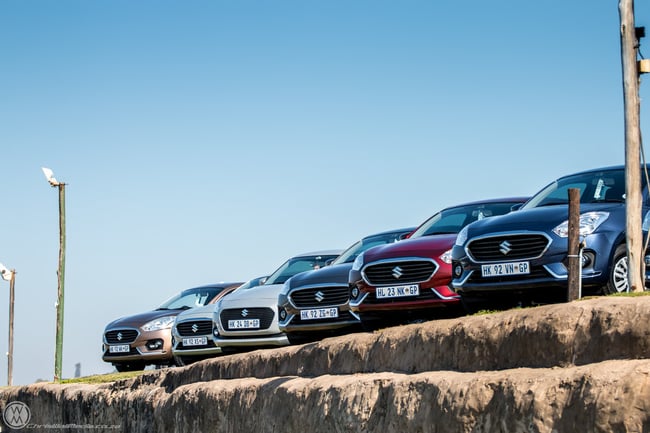 Image source: Chris Wall Media
"I like this car, I mean I really really like this car! The Suzuki Swift took my preconceptions, crunched them up, set them alight and threw them to the wind leaving me feeling shocked, stunned, overwhelmed and in pure awe of this little car. In short, I started smiling from the minute I started the car.
The launch of the Suzuki Swift was tagged with a catch phrase #AllTheRightFeels and once you drive this car you will understand what they are trying to tell you. The car is very much aimed at the younger market but do not let that fool you. This model Swift is going to satisfy all ages, colours and creeds.
Suzuki has long been a brand that excites me, it produces a fair number of great cars and the top selling of them is the Swift - which has always been a great option in the small to medium hatch range. This latest version of the Suzuki Swift as I have stated doesn't disappoint. I honestly don't want to give you more info, I want you to just go down to your nearest dealership and test drive one as soon as physically possible but this is a motoring blog, I will make the exception.
The Swift has all the features you would expect from a 2018 small to medium hatchback but as I am trying to be impartial I must note that there is no touchscreen and no cruise control even as an optional extra. Suzuki did mention that there is a possibility of a touchscreen in the GLX which will be launched at a later date." - Robert "LaunchPad" Rutherford, The Car Blog South Africa
To find out more about the Swift, download the brochure and have a look at the details for yourself.
What are you waiting for? Book a test drive in the new Suzuki Swift and experience #AllTheRightFeels for yourself.