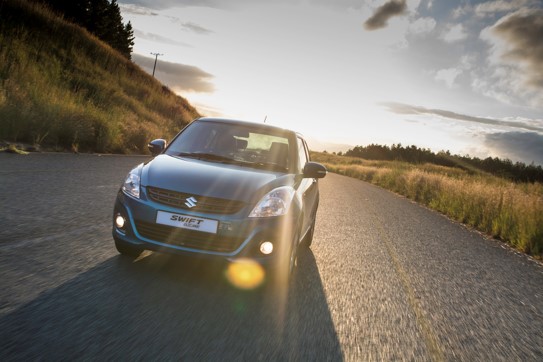 The story of one Suzuki Swift DZire's adventures in the Kgalagadi Transfrontier Park was sent to us earlier this month by its proud owners, and we had to share this with you. Read about how they fell in love with their Suzi, some of the great statistics the collected on the trip as well as a little bit of detail about their adventure. It will inspire you to head on out on your own adventure in your much loved Suzuki.
During 2014 we decided to replace our 2004 Opel Corsa 1.7 DTI, it being 10 years old but still perfect in all respects. Being retired and having just reached our 70's, an automatic was number one on our wish list in possible replacement cars. We were able to test a Chev Sonic and a Polo Vivo, both 5 000 - 6 000 km "demo" models, and both automatic. The Chev would have been our first choice but we decided it was too big for our needs although it was within our budget.
Looking at the Suzuki Swift DZire we appreciated the spacious small car with lock-up boot. The automatic version was lovely about town, but I had reservations about its overall performance as a 4-speed auto, coupled with a 1,2 litre engine, on the open road. Therefore, we chose the manual. Since acquiring the car in July last year we have made several trips to East London and it has won our hearts, an achievement as we were very fond of our Opel "tractor" and loved its fuel consumption of 5,1 to 5,3 litres per 100km over its lifetime (measured top-up to top-up).
Our Suzi consistently uses 5,2 to 5,8 litres per 100km (indicated) on a trip, but measured by top-up to top-up these indicated figures are 10% or more optimistic. Still not bad for a small engine. As one would expect head- or tailwinds make a significant difference to fuel consumption.
On 15th March we set off for KgalagadiTransfrontierPark. Most travel guides, including the bumph from Sanparks, state that sedans are not recommended on the Park's roads. Due to the corrugations they recommend that vehicle tyres should be deflated to 1,6 bar. However, beggars can't be choosers so we took the chance with Suzi.
The trip there and back was a breeze, the only hilly parts are between Graaff Reinet and Murraysburg and we also had a bit of a headwind there. We cruised along comfortably at 110 to 120 kph all the way. In the Park we travelled two circular drives from Twee Rivieren rest camp in our friends' hired Corolla. The roads were all corrugated but in places really badly so, where one felt sorry for any vehicle. When it was Suzi's turn, four of us plus overnight luggage piled in and drove to Mata Mata for the night, a distance of 120km, and back the next day. Suzi handled the corrugations well, dare I say better than the Corolla. Certainly the rattles from doors and windows were less. On our way back to Twee Rivieren we met a huge grader smoothing the road in the direction of Mata Mata. Its blade deposited a ridge of sand all along the road and Suzi's excellent ground clearance ensured that we never scraped bottom once when we had to cross it. Additionally, even though windows were open most of the time, dust was never a problem inside the car or the boot.
Statistics for the trip:-
Total kilometres: 2 717 km
Total litres fuel: 156,52 litres
Consumption: 100/2717*156.52 = 5,76 litres per 100km
Indicated consumption: 5,2 litres per 100km
Our Suzi has now done nearly 9 000km after this trip, and oil and coolant levels are still absolutely normal.
While we won't be in a position to change Suzi for some years, we look forward to the possibility that an automatic gearbox system like the new Celerio will be available in due course. That for us would be the ultimate!
John & Ursula Case
29th March 2015