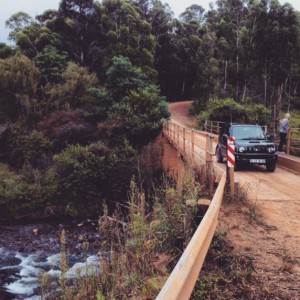 Our very own proud Jimny owner and founder of the hashtag #BecauseJimny, Brendon Carpenter, joined the Suzuki 4x4 Club GP on their recent Three Provinces adventure. But when you love your Jimny, two days visiting three provinces is not enough. What do you do about it? You extend the experience by an additional eight days travelling through parts of South Africa where you have not been before. Read all about Brendon's experiences as he covered 1 880 km in ten days!
On 28 March 2015 my girlfriend and I embarked on an epic road trip. The aim was to cover parts of South Africa that we hadn't visited before. Our proposed route would take us from Johannesburg to Himeville and Underberg, up Sani Pass, back to central Drakensberg en route to Clarens and finally onto the last destination, a camping 4x4 adventure to Three Provinces just outside Volksrust. 1880 km in ten days.
As with any "properly planned" road trip, my beloved Jimny had to be packed with luggage that consisted of camping gear, clothes and food that would act as our rationalised 10-day supply. More specifically, this is what was packed in the Jimny without a trailer and no roof rack:
Three-person pop-up tent
Large ground sheet
Folding camping table
Two folding camping mattresses (with cushions and blankets)
25 l Cooler Box
30 l Cooler Bag
30 l Trolley Luggage Bag x 2
Camping Chairs x 2
Safari Chef Gas Braai + 2 Gas Cartridges
21 l Backpack (with electrical charges, flashlights, etc)
Stove kettle
Camping pots
4x4 Recovery kit
Portable air compressor
Part 1: Johannesburg - Umzimkulu Lodge
The first part of the journey took us to the southernmost point of our trip, Umzimkulu River Lodge just outside Underberg. We took the standard N3 route to Estcourt where we traded the comfort of the smooth tarmac for corrugated gravel and beautiful scenery as we headed south-west towards the mighty Drakensberg. The weather was chilly and misty and the prospects of ascending Sani Pass on a clear day was looking rather bleak.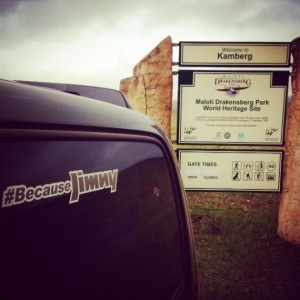 On the Sunday we woke up early, disembarked all our luggage from the Jimny, and prepared the tyre pressures for our early ascent of Sani Pass, the epitome and starting point of our adventure. The weather was still misty, not great for photography, but we kept good faith while we wished away the mist. The route from Umzimkulu River lodge to the start of Sani Pass was beautifully decorated with "kosmos-blommetjies", while the sun started blasting through the mist, highlighting the sheer green mountains surrounding the Drakensberg.
The tarmac road at the turn-off to Sani Pass continued for about 3 km where it eventually became a pot-hole filled gravel road. Time to engage 4WD. Our fears of a misty ascent were unfounded as we saw the mist evaporating as we ascended.
You have to experience Sani Pass for yourself. There isn't a TV with a large enough resolution setting or refresh-rate that can duplicate the scenery on top of Sani Pass.