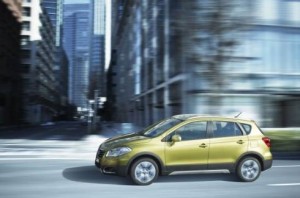 Suzuki has unveiled its first ever C-segment crossover at the Geneva Motor Show. The new SX4 is a direct development of the head-turning S-Cross concept unveiled at last year's Paris expo, and represents the most advanced marriage of Suzuki's SUV know-how and its compact car expertise.
While the original SX4 was arguably the world's first truly compact crossover, the new SX4 builds on that impressive foundation with a next-generation crossover offering exceptional space utilisation, advanced all-terrain capability, an arresting and aerodynamically optimised shape, and exceptional efficiency, including ultra-low CO2 emissions.
One of the newcomer's key features is the panoramic sunroof, which endows the SX4 with an invigorating open-roof motoring experience. Employing two glass panels positioned in tandem, the design is a world first in that both panels can slide to create an almost limitless combination of partly or fully open roof apertures.
The result is one of the largest roof apertures in this segment. When the panoramic glass roof is closed, the panels have a combined length of 1 000 mm. Opened completely, the aperture has a length of 560 mm.
The new SX4 also debuts a brand-new all-wheel drive technology developed by Suzuki. Known as ALLGrip 4x4, the new system draws on Suzuki's considerable all-wheel drive experience to deliver sure-footed driving pleasure and peace of mind, linked to exceptional efficiency.
ALLGrip provides a choice of four driving modes - Auto, Sport, Snow, and Lock. These allow the driver to match the driving mode best suited to the prevailing conditions. Mode selection is achieved via an intuitive push-and-turn dial located on the centre console.
The need for practicality in the crossover context has also been addressed in the new SX4. The newcomer's overall length is just 4 300 mm, but an extended wheelbase allows generous interior space and a capacious luggage compartment.
With all the seats in place and five occupants on board, the SX4 can still provide 430 litres of luggage space. By repositioning the rear bench seat and
the luggage board, the cargo area can be reconfigured into a deeper, flatter space for different luggage needs.
The new Suzuki SX4 will be offered with a choice of 1,6-litre petrol and 1,6-litre turbodiesel engines in European markets. Both powerplants have been optimised for efficiency and low CO2 emissions. Other eco-advantageous advances include the use of high-tensile steel in the interests of reduced weight and
wind-cheating aerodynamics.
The new SX4 will be produced in Suzuki's Magyar plant in Hungary, with European sales starting in September. While the newcomer has been earmarked for release in South Africa during 2014, pricing and availability, as well as the exact technical specification, still have to be finalised.