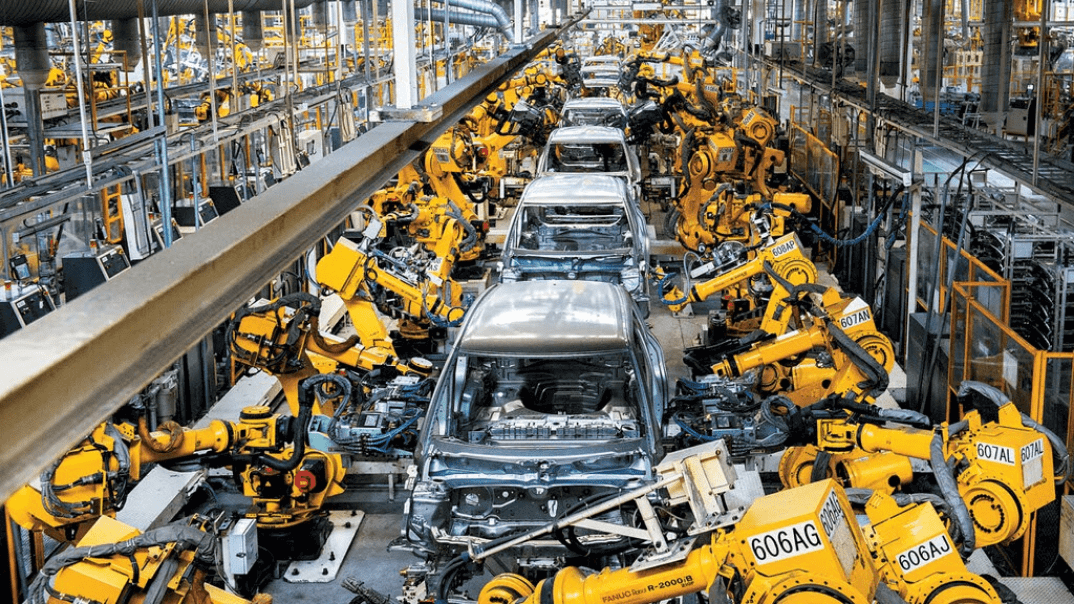 With interest rates the lowest they have been in decades, now is a good time for buyers to consider a new car with all the advantages ownership brings with it.
Estimated reading time: 4 minutes, 15 seconds.
The used car market has grown in strength over the past few years as South Africa's economy faltered and it found itself being downgraded by the major ratings agencies. However, the Coronavirus pandemic has changed everything, including the massive reduction in interest rates.
There's nothing quite like getting into a brand new car, especially when this prized possession is your very own brand new car. It still is just as feasible to opt for a used vehicle, especially if it is purchased through an approved dealership. The top deciding factor is your budget, and whether the car you want fits into the budget as a new purchase, or whether you should be looking at pre-owned.
It is now important to consider a used car is just that – somebody else's property. Although all motor dealers have put extensive sanitisation practices into effect at dealerships, buying a used car is still likely to leave traces of the previous owner – visible marks such as scratches or minor dings, or the invisible ones such as engine issues, electrical faults, suspension or brake damage.
At R134 900, the Suzuki S-Presso 1.0 GL is the most affordable new car on the local market and it comes with a number of luxury and safety features as standard that previously would have been found only on more expensive vehicles.
The argument that you could buy 'more car' on the same budget by opting for pre-owned is no longer necessarily valid as automakers, like Suzuki, pack even the most basic models with specification – and do so at very competitive prices.
Quality and reliability
When purchasing a new vehicle, you will look at the reputation of the car you're considering. When opting for a used model, however, you will also know whether the vehicle has been left in good condition by the previous owner.
The best way to ensure you get the best possible quality is to purchase your used vehicle through an approved dealership. This gives you peace of mind, and also recourse should any major faults appear immediately after purchase.
Service and warranty
One of the deciding factors when buying a new car is that you get a full service plan and a warranty. Most Suzuki vehicles, including the S-Presso, come with a service plan that can range from two year / 30 000km all the way to six year / 90 000km. The exceptions are the Super Carry and the Celerio GA.
If you buy a pre-owned vehicle you need to factor an extended warranty and service plan into your costing. The price will vary depending on which vehicle you buy, but if you're working with an approved dealership they can advise you on the best options and help you handle all the paperwork.
Is mileage a concern?
If you buy an approved used vehicle, mileage isn't too much of a concern. That said, there is an unspoken 'rule' that used vehicles fall into three different categories:
Over 100 000km – these cars have obviously been driven a lot, but you can get excellent deals.

Under 50 000km – this is considered a more suitable mileage limit and you are likely to find many options to choose from in this category.

Under 20 000km – is considered a brilliant find! Many demo cars (those used by dealerships for test drives) fall into this category. Many will have less than 10 000km on the clock.
While the first choice is always to opt for the car with least mileage, don't let a higher number scare you away from an excellent find. Be diligent in the details, vehicle inspection, and terms and conditions no matter what the mileage is.
Which cars are better to buy used?
The short answer is: any. That said, smaller city-slickers such as the Suzuki Celerio or Swift often come with the best used car deals, and maintenance costs are easy on the pocket.
If that brand new Swift is just outside your reach, you should definitely consider the S-Presso (and there are five variants from which to choose) or Celerio, where two options are lower priced than the basic Swift before considering pre-owned options.
Fuel economy: new vs used
Fuel economy is a big deciding factor when you're shopping for your next car, and in this case new is often your safest answer. This is simply because manufacturers constantly refine their fuel consumption technology, so each new model is more efficient than the last.
Smaller vehicles such as the S-Presso (4,9 l/100km) Celerio (4,7 l/100km) and Swift (4,9 l/100km) are frugal by nature, so whether you opt for brand new or used, you will get a fuel-efficient car either way.
Deciding between a new or used vehicle comes down to affordability and personal preference. If you buy through an approved dealer, your pre-owned buying experience should be seamless. As with any big purchase, you need to do your research, spend time on test drives (new and used), and make the choice that gets you the car you need at a price you can afford.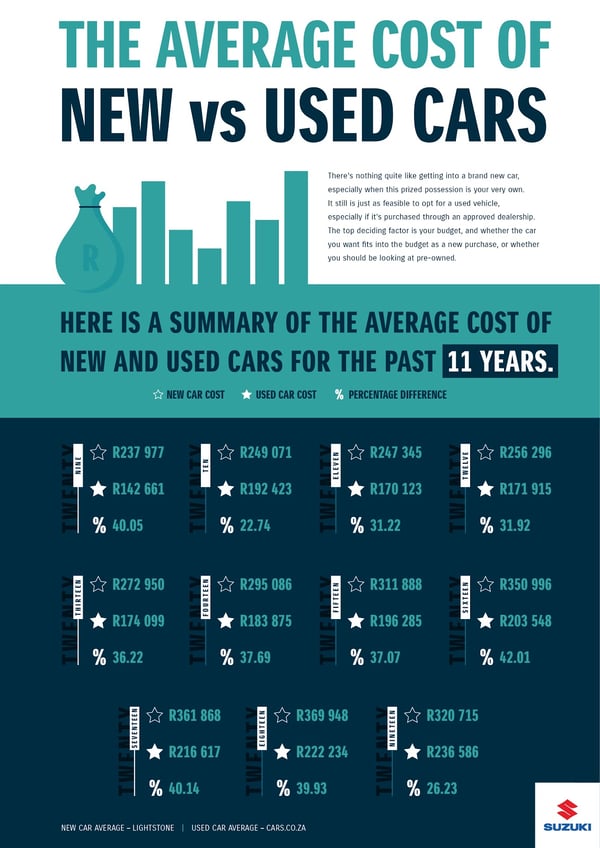 The right way to help the decision is to sign up for a test drive – and we will make the necessary arrangements to suit you.
---
Suzuki has a range of products to meet just about every need and does this with cars that stand out from the ordinary and are loved by owners. Even better is the fact there is a Suzuki to suit every pocket. Download the guide to buying a new car.