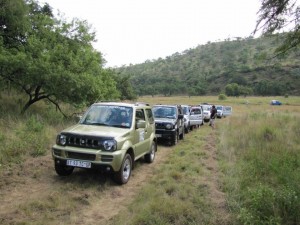 Excitement and interesting challenges were on offer at the first of the Bridgestone 4X4 Club Challenges for 2013 hosted by Suzuki Autoclub. Congratulations to Flip Kotze and Herman Steyn; Steven Grieve and Saleem Barmania and Danie Tait and Liaan Fourie for being awarded first second and third places respectively. Congratulations also to Brett Bailey and Natalie Shephard for receiving the environmental award.
The Bridgestone 4x4 Club Challenge allows competitors, in their standard production vehicles, to display their driving skills and tenacity by tackling a variety of obstacles and challenges. The first event in the series was hosted by Suzuki Autoclub and open to all Suzuki 4x4 vehicles with minimal modifications. 30 Suzukis participated, along with their drivers and co-drivers, at Leeuwenkloof farm near Hartebeespoort in nine challenges featuring varying levels of difficulty. The top 3 teams will be going through to the Bridgestone Club Challenge Final in November. If you missed this event there is the opportunity to get through to the finals by participating in the open event on the 8th June for the Community Forum & TUFFSTUFF.
Get more fact-packed posts by subscribing to our blog.