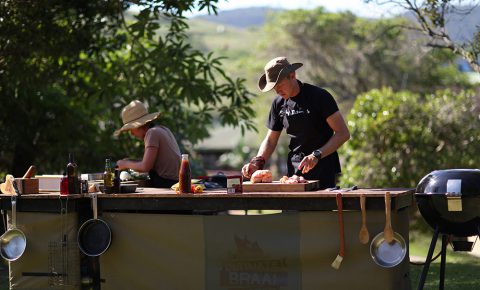 Inspired by the launch of the Ultimate Braai Master Season 4, Suzuki Auto South Africa held its own Ultimate Braai Master Competition at Hartebeespoort Dam. With seven teams allocated, the planning completed and the ingredient purchased, the day of the competition arrived.
If you've managed to follow the season this far, you will be familiar with the judges: none other than Team Yolo Roadies and Ignatious from team Rustenburgers. We are proud to say the judges were impressed by the quality of the food that was produced. With traditional South African fare, vegetarian dishes, and tropical offerings, the themes embraced the spirit of the day with their presentation, decoration, energy and passion.
The variety of food on offer was incredible. The Car Guards prepared stuffed jalapeno peppers and sticky chicken wings with a blue cheese sauce for starters, and Greek Style Lamb Ribs with a Braai Salad for mains. However, the winners of the day were team Shakin' Bacon, with their bacon roll ups starters and stuffed burger patties on mushroom rolls for the main, impressive from amateur cooks! It was a great family day living the Suzuki Way of Life and we look forward to what the teams have in store for us next year.
Be sure to watch the Ultimate Braai Master Season 4 on e-TV on Sundays a 4pm and experience the beauty of our country, and the drama of the competition, as you follow the teams as the cross South Africa in the comfort of the SX4 Crossover AllGrip to fight for the title of Ultimate Braai Master. Not only do the contestants get to enjoy the SX4 Crossover AllGrip throughout their adventure, the winning team gets to take home a brand new SX4 Crossover All Grip with all its bells and whistles.