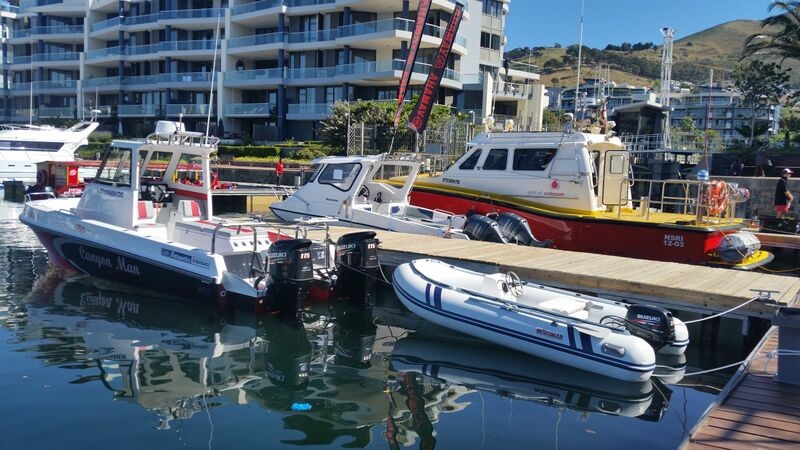 The annual Cape Town International Boat Show is always an event for Suzuki enthusiasts to be excited about, and this year was no different.
The 2015 event, held from 9-11 October, was set against Cape Town's beautiful V&A Waterfront, and it was packed with in-water displays, boat and motor exhibitions, and of course, Suzuki Marine's own stunning display stand. The only exhibition endorsed by the Marine Industry Association of South Africa, it gives visitors the chance to purchase equipment, attend talks given by experts, and watch exciting demos.
The show gave Suzuki Marine a chance to meet their customers, and they got a first-hand review of how Suzuki motors are perfect for any water activity. One customer, whose boat is powered by Suzuki 290 motors, has spent 400 hours on the water with absolutely no issue from his motors. Each round-trip on the water covers around 100 nautical miles, and his Suzuki engines have a fuel consumption of 2l per nautical mile. When asked if he would buy Suzuki again, the answer was a definite yes.
Suzuki Marine's customer base serves commercial fishermen, whose boats need reliable, high-power motors that can run for hours on end. One customer runs his boat for 6-8 hours a day, and the fuel consumption is not the only thing he loves about his motors - the after-sales service offered by Suzuki is the cherry on top for him. When he needs a spare, there's very little delay, Suzuki Marine will deliver it in no time.
https://www.youtube.com/watch?v=a_-ki-1JJ18&feature=youtu.be
Be sure to catch Suzuki Marine exhibition at next year's boat show, which will be held in Cape Town from 7-9 October 2016.