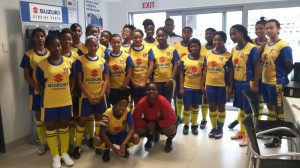 Sport in young people is known to assist with creating positive attitudes, developing a mentorship system for young people, encouraging youth to be involved in their communities and building teamwork skills. And this is merely the tip of the iceberg.
The impact that sport has on the South African youth was recognised by Suzuki Pinetown this month when they decided to sponsor the soccer team from Pinetown Girls High. For those who do not follow women's soccer, the sport is growing rapidly worldwide. In fact, earlier this month the 2015 FIFA Women's World Cup Final broke records to become the most watched soccer match in US history!
The Pinetown Girls High team, looking professional in their Suzuki kit, will be hosting a soccer tournament in August, and we wish them every success in this event, both on and off the field. Suzuki Pinetown will be there cheering them on as well as displaying a number of the different vehicles from the Suzuki family. Keep an eye out on the Suzuki social media for some photos of this event, and if you are in the Pinetown area pop into the dealer, and book yourself a test drive while you are there.