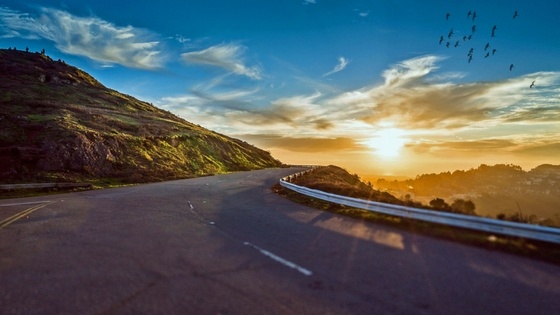 Long distance drives can be tiring and expensive. Here are some great tips and tricks from our expert, Charl Grobler, to help you stay safe and save fuel on your next family holiday.
Family road trips are a great holiday option if you want to experience some of South Africa's natural beauty. However, driving long distances on our notoriously dangerous roads can be a challenge.
That's why Charl Grobler, our Manager of Marketing and Product Planning shared some of his safety and petrol-saving secrets to help South African motorists have a safe and cost effective journey.
1. GET YOUR CAR SERVICED
Get all those squeaks and rattles sorted before you hit the road.
2. PLAN YOUR ROUTE
"If it's a road you haven't travelled, ask around for advice on what to expect. What is the condition of the road surface, are there any roadworks or stop/go sections etc. You need to keep all these in mind," says Charl.
3. PLAN WHERE TO STOP
Regular rests are essential to staying safe on the road. It's best to time these for every 2 hours, or 200kms. Take a break from being behind the wheel, and stretch your legs to keep your mind alert. "I like to take this time to do a quick walk around of the car and trailer if I'm towing"
4. CHECK YOUR LADEN TYRE PRESSURE
Your car only touches the ground at four, palm sized points - your tyres. If your pressure is incorrect a wheel could blow or severely affect your handling. Remember that a heavily laden car has a different recommended tyre pressure to an empty car so, stop by a petrol station close to your home on your way out before heat builds up in the tyre. Remember to get your own decent quality tyre pressure gauge to make sure pressures are correct.
5. CHECK YOUR TRAILER
If you're travelling with a trailer, test its lights, tyre pressure, and spare wheel, and check that the licence is still valid.
6. STREAMLINE
Roof racks have a shocking effect on your fuel efficiency! They add to the drag and affect the airflow around the car. As far as you're able, add as much as you can to the body of your car and take off your roof rack.
7. LOSE WEIGHT
A bulky, loaded car is not only tricky to drive but also heavy on fuel. On a holiday it's tricky, but try to keep your car as lean as possible. During more regular driving times, even carrying an extra person makes a difference to fuel consumption.
8. DRIVE SMOOTHLY
Aggressive drivers use more fuel with their speeding, rapid acceleration and braking. Remember, easy does it! Smooth driving and driving slowly near possible points where you'll need to brake make a huge difference to fuel efficiency. There's a lot of energy lost from unnecessary braking - you lose the car's momentum and have to use up a lot of energy to get it moving again.
9. HIGHEST GEAR
The higher gears use less fuel, so try to get into a high gear as soon as possible without 'labouring' the engine, or pushing it to warm up to a higher gear before it's ready.
10. DON'T START AND STOP
As far as you're able, focus on smooth driving that prevents the need for braking.
11. BAD DRIVERS
"After eight hours in a car, drivers can get distracted, tired and impatient, which means they start making bad decisions." says Charl. " Be alert and don't be that guy"
12. OVERTAKING TRUCKS
A necessary part of any road trip, overtaking trucks can be dangerous. Never try to overtake a truck on a blind rise, a double white line or a blind corner. Think ahead, put your car into lower gear to prepare for the overtake, and be ready to pass as soon as an opportunity presents itself.
13. AVOID THE LONG QUEUES AT REST STOPS
A little cooler box filled with delicious and healthy road trip snacks. Charl says, "There are 400 other people who didn't pack food and are trying to get something at the rest stop fast food outlet. Rather relax on the grassy patch some of the bigger petrol stations have and enjoy your packed lunch."
14. TOLL GATES
You can save a lot of time if you arrive at each toll gate prepared with your cards or cash. Think ahead also pick the line with the least cars - why wait and delay your trip when you don't need to? Accelerate smoothly but quickly after the toll gate to save even more time.
15. DRIVING BUDDY
Find someone who seems to be going the same route as you, holding a steady speed. As Charl says, "Consistency is key." Instead of surging forward and speeding onwards, holding to a steady pace will get you there faster in the long run, and leads to better fuel consumption. Following a leader can also alert you to possible dangers on the road a few seconds earlier than you would driving alone. Just remember that following distance.
16. BACK UP MAP
Don't rely on your phone's GPS to get you there - some parts of South Africa have very poor to nonexistent signal. Buy a map book for the car, or print out your route on Google Maps.
Following these 16 tips will ensure that you and your family enjoy a safe and cost effective road trip.
If you'd like some ideas to keep the family entertained for the entire drive, you can download the Family car games ebook which is jam packed with fun games to play in the car.