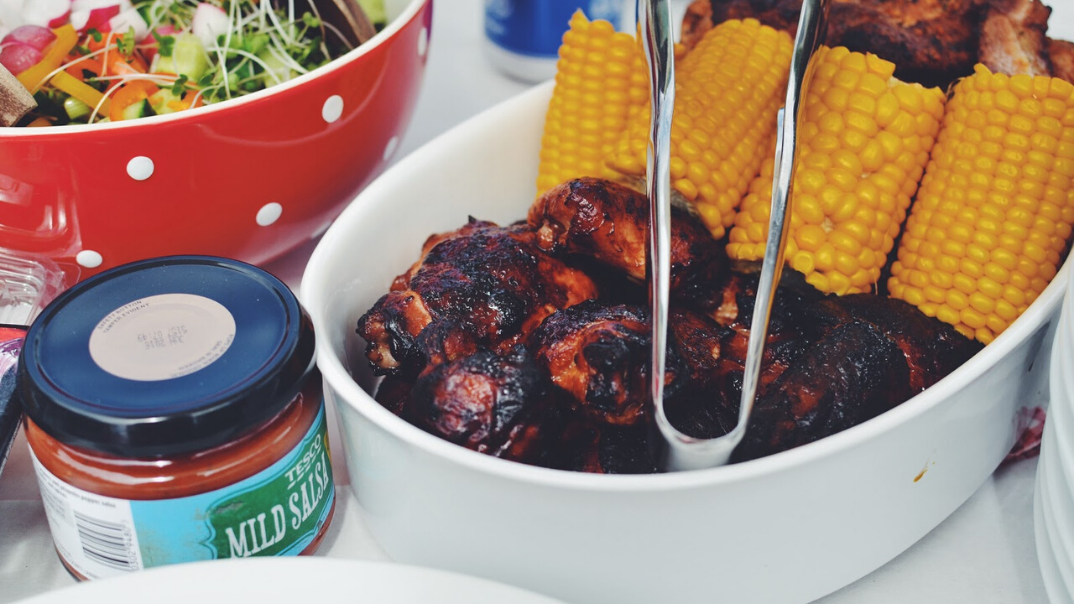 The braai is the quintessential South African holiday activity. It's more about socialising than the food, but let's be honest, good food makes everything better! Whether you're eyeing a whole chicken, or prefer a vegetarian option, here are some of the best tips to braai like a pro and impress your guests.
Estimated reading time: 6 minutes, 23 seconds.
Estimated reading time: 6 minutes, 23 seconds.
One of the best things about the South African braai tradition is the versatility: it's no longer just about chops and wors (although these still have a very important place in braai culture), but has evolved to include everything from vegan to incredibly creative 'braai bread'. We've scoured local recipes, tips and trends, and found some brilliant ideas, along with a few must-have accessories, for your next holiday braai.
Peri-Peri chicken lollipops
Yes, these are pretty much as good as they sound. This is one of those dishes you can make to tide things over while the serious braaing is underway. See the recipe below and visit Crush blog for more similar ideas.
INGREDIENTS:
12 free-range chicken drumsticks
12 toothpicks
NoMU Peri-Peri Rub
To serve, 1 lemon cut into wedges
Peri-peri marinade
2 red peppers, charred, peeled and diced
1 onion, finely chopped
18 plum tomatoes
8 – 10 bird's eye chillies seeds in, chopped
5 garlic cloves, roughly chopped
4 Tbsps (60 ml) NoMU Peri-Peri rub
4 Tbsps (60 ml) sugar
1 Tbsp (15 ml) paprika
1 C (250 ml) white vinegar
Juice of 1 lemon
Salt and black pepper to taste
METHOD:
Prepare the chicken lollipops by cutting off the small end of the drumstick (use the heel of a large knife); push the meat and skin forward to expose the bone. Nip off any exposed tendons with a pair of kitchen scissors. Using a toothpick, secure the skin at the top end of the drumstick to prevent it from shrinking and coming off while cooking. Once the 'lollipops' are ready, put them in a roasting pan and season liberally with the peri-peri rub, salt and black pepper.
PERI-PERI MARINADE:
Start by charring the skin of the red peppers – this can be done on the braai or over the open flame of a gas stove. Once the skin is charred, put the peppers in a plastic bag, or a bowl covered with cling wrap. This will allow the peppers to sweat and make the charred skin easier to peel off. Once peeled, remove the seeds and roughly chop the peppers.
Put all the ingredients into a blender and whizz together to create the marinade. Put the peri-peri marinade into a small saucepan over a medium heat. Bring it to the boil and simmer for 30 minutes. While the sauce is simmering preheat the oven to 180° C. Baste the lollipops with the marinade and place in the oven to roast for 30 minutes.
Finish the lollipops on the braai over a medium heat. Baste with the marinade every time you turn to build up that lekker caramelised peri-peri crust.
Creative braai salad
We realise the topic of salads being served at braais is potentially more polarising than politics, but for those in the 'pro salad' camp, below is a fantastically easy, creative, and tasty option if you want to show off your skills.
Pomegranate, fig, and feta salad
This genius salad takes very little time to prepare, and if you need more ideas like this, take a look at this post on essentials.co.za.
INGREDIENTS:
4 x figs, halved
100g Feta cheese, crumbled
100g pomegranate seeds
100g rocket leaves
DRESSING:
1 x garlic clove, chopped
2 x Tsps honey
1 x Tsp salt
60ml pomegranate juice
1 x Tbsp Balsamic vinegar
125ml Extra Virgin olive oil
AND THEN IT'S AS SIMPLE AS THIS:
Arrange the salad ingredients on a large platter.
Whisk the dressing ingredients together, then toss the dressing through the salad just before serving.
Lamb chops
One of the secrets to braai success often lies in the marinade. This lamb chop recipe on braai.co.za is an excellent example:
INGREDIENTS:
4 lamb chops
2 crushed garlic cloves
1 Tbsp fresh rosemary leaves
1 Tsp crushed thyme
Coarse sea salt
2 -3 Tbsps olive oil
METHOD:
Grab a food processor and add garlic, rosemary, thyme, and salt. Mix until all ingredients are combined and then add the olive oil.
Rub this mixture on both sides of the lamb chops and put them in the fridge to marinate for 1-2 hours. Take them out for about half an hour before braai time so that the lamb gets up to room temperature.
Throw the chops on a very high heat, sealing them on each side for 2 minutes. For medium-rare, depending on the heat, total cooking time will be about 8-10 minutes.
For those opting to go vegetarian, there are countless options to be found online. A firm favourite, however, is a new take on the braai mealie.
Chilli butter mealies
INGREDIENTS:
100g grass-fed butter, at room temperature
1 x Tbsp raw honey (for a vegan alternative, replace with maple syrup)
1 x Tbsp organic tomato sauce
2 x garlic cloves, crushed
2 x Tbsps chilli sauce
6 x mealies, chopped in half to serve 12
METHOD:
Mash together the butter, honey, tomato sauce and garlic. Season with a little salt and pepper; beat until smooth.
Stir in the chilli sauce.
Using a basting brush, coat the mealies evenly with the butter mixture.
Wrap each mealie in a double layer of tinfoil and braai for 30-35 minutes, turning regularly.
Once the mealies are tender and just slightly charred, dish up and chow down!
The ultimate braai bread
Braai breed or 'braaibroodjies', is another braai staple and there are hundreds of brilliant recipes to choose from. If you really want to look like a pro, make your own from scratch. It's not as difficult as you think!
Rosemary and Parmesan braai bread rolls
INGREDIENTS:
3 ½ cups white bread flour
10g instant yeast
5 ml salt
60 ml olive oil
30 ml sugar
3 sprigs fresh rosemary
½ cup finely grated parmesan cheese
500 ml lukewarm water
METHOD:
Mix together the flour, salt, and yeast.
Finely chop or cut the rosemary leaves and stir into the flour along with the grated parmesan.
Stir in the sugar, add the oil, then add sufficient water to make a dough.
Turn out onto a floured surface and knead until smooth and springy, and no longer sticky (takes about 10 minutes).
Place the dough into an oiled dish, and allow to rise until roughly double in size.
When the dough is ready, knead again slightly, and flatten out to about 2.5 cm thick. Cut circles with a cookie cutter or just roll into even- sized balls of dough – don't make them too big, they must cook through quickly.
Flour the surface you are working on well, and also flour the tops of each roll.
Sit them on a breadboard somewhere warm to rise again slightly - they will get sort of round and puffy.
Place on the braai grid over coals, (not too hot), and turn frequently until they are done, and sound hollow when tapped.
Serve with butter.
Braai accessories
In order to properly look the part of a braai pro, it's worth investing in a few braai accessories. Not only are they stylish, but they will certainly give the impression that you know your way around the braai.
1. Kebab grill set:
Look sharp and make your own life easier with this handy kebab grill set.
2. 4-in-1 Multi-function braai spatula with wooden handle:
Feel like the James Bond of braaing with this multi-function braai spatula.
Whether you're an experienced braaier or new to the game, there are plenty of tips and recipes to keep improving your braai game. We hope this selection kickstarts you on your way to a holiday season filled with family, friends, laughter, and amazing braai results.
Are you feeling ready to master the (chicken) braai? We hope so! Be sure to subtly share this article with your friends that are less talented behind the fire. Subscribe to our blog for more helpful articles and guides or if you are feeling adventurous download our ultimate guide to planning your next holiday road trip.
---
Don't only feel adventurous in the kitchen but take a trip in your Suzuki and ensure that you're safe at all times. Read our free driver protection and safety eBook here.