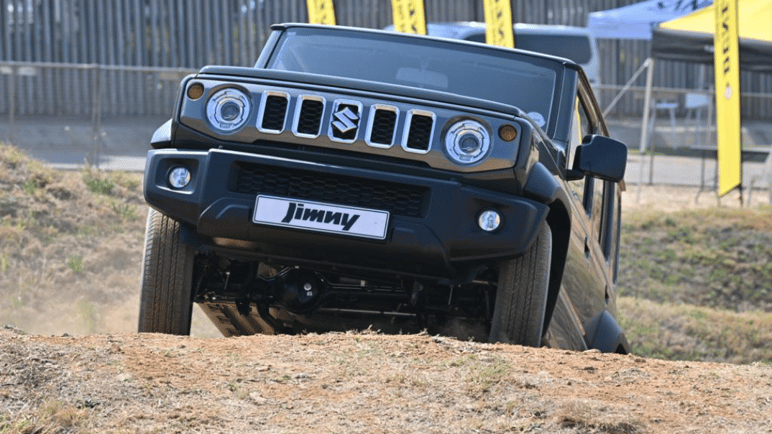 Suzuki surprises guests at the Festival of Motoring with a debut of the new five-door Jimny off-road SUV in South Africa. This model, already popular in India, offers more space and innovative features like foldable front seats for overnight use. Suzuki plans to release it for sale in the last quarter of the year. The Festival also featured the new Fronx and XL6 SUVs for test drives.
Estimated reading time: 2 minutes, 4 seconds.
Suzuki surprise visitors with display model of the all-new five-door Jimny.
Suzuki Auto South Africa had a special surprise in store for guests at this year's Festival of Motoring.
The group unveiled its first Suzuki Jimny 5-door off-road SUV at the festival. The 5-door Jimny is not available for sale yet, making the Festival of Motoring the only place where South Africans could see and experience this new model.
The new five-door Jimny was revealed to global applause at the Auto Expo in India earlier this year. It has since become a top-selling model in its market segment, and for Suzuki as a whole, in the Indian market.
"With the overwhelming popularity of the new Jimny, and its three-door sibling, our production facilities in Japan and India are working at full capacity to meet the demand.
"We have already placed our first order and we hope to make it available for sale in the last quarter of this year," says Brendon Carpenter, Brand Marketing Manager for Suzuki Auto.
The new five-door Jimny has a stretched wheelbase that allows for an additional 340 mm of space over the shorter 3-door model. This has allowed Suzuki engineers to add extra luggage space and innovations such as the ability to fold the front seats into overnight beds, without compromising the vehicle's off road capabilities.
The five-door Jimny that was on display at the Festival of Motoring was painted in the new Jungle Green colour, which is proving very popular in the current three-door line-up. When it is launched, the model will also be offered in a couple of new, and exclusive, paint colours. They are called Celestial Blue, Granite Grey and a special Sizzling Red with metallic black roof.
While fans did not have an opportunity to drive the five-door Jimny (yet), they will got a chance to climb behind the wheel of the two newest SUVs to join the Suzuki line-up.
Suzuki revealed both the new Fronx, their sporty coupé-SUV, and the XL6, their stylish larger SUV with space for six occupants, in August and both models were at the Festival of Motoring.
Suzuki Jimny fans can read more about the new five-door Jimny and register their interest at content.suzukiauto.co.za/suzuki-jimny-5-door-festival-of-motoring.