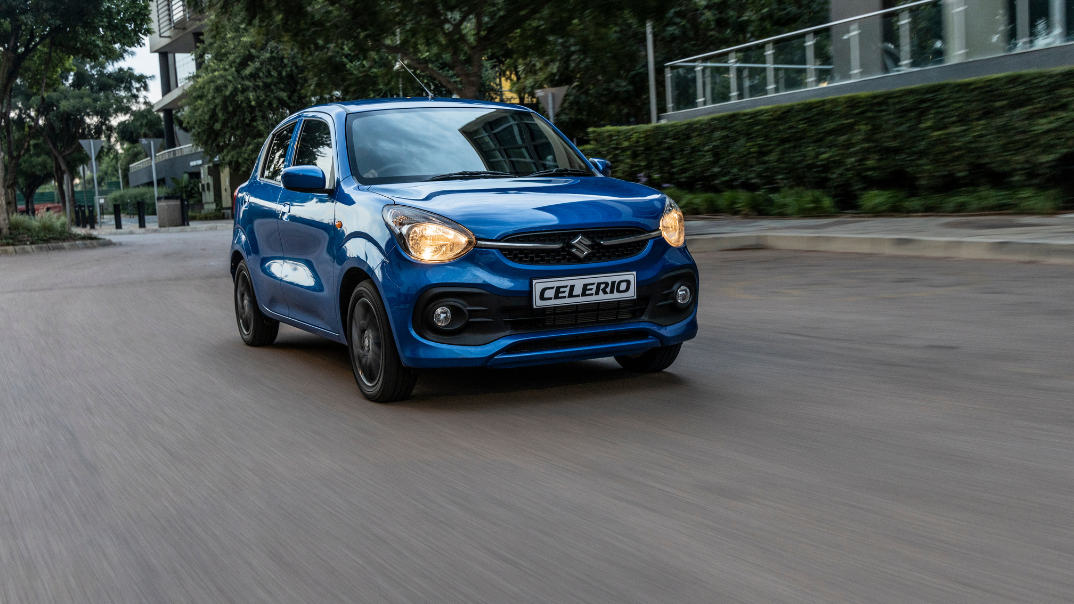 This month we welcome our XL small car, the Suzuki Celerio, to the family! Launched in Durban, the media has described her as cute, compact, poised, confident and generous. Take some time to have a look at the pics, read all the details and contact your local Suzuki dealer to see her for yourself. It will be difficult not to be surprised by all she has to offer!
Xtra Large small car!
All-new Celerio delivers best-in-class interior space
Compact, wieldy dimensions ensure agile ease of use
Highly efficient drivetrain achieves frugal fuel economy
Generous luggage compartment delivers exceptional practicality
SRS airbags and ABS brakes standard on all models
New automated manual gearbox boosts convenience and economy
Suzuki's all-new Celerio, which replaces the popular Alto mini hatchback in South Africa this month, has been created to provide buyers of small cars with a generous and enjoyable motoring experience. The newcomer proves that compact doesn't need to be cramped, and that space and style don't have to cost a fortune
Developed for world markets, and already a top seller in India, the Celerio reflects Suzuki's unrivalled expertise as a producer of compact cars and SUVs with a concept that combines the user-friendly dimensions and wieldy road manners of a small hatchback with a surprisingly spacious interior and a voluminous luggage compartment.
At the same time, the Celerio's efficient drivetrain delivers zesty dynamics, combined with economical fuel consumption. Its low CO2 exhaust emissions also endow the new Celerio with impressive environmental credentials.
Measuring just 3,6 metres long and 1,6 metres wide, the new Celerio is unmistakably a member of the mini hatchback clan, making it the perfect choice for zipping through city traffic or squeezing into tight parking spaces.
However, the impression of space when stepping into the cockpit of the Celerio is quite at odds with its compact footprint. One of the reasons is a height of 1,53 metres, which ensures an unusual level of headroom. And thanks to an extended wheelbase, short overhangs and space-saving suspension, interior space is maximised, as is the luggage compartment.
The Celerio matches its efficient packaging to attractive, modern styling. A prominent chrome grille with broad, horizontal bars is the dominating feature, while bold headlights add to the car's expressive face.
The Celerio features Suzuki's CICO (Curve In, Curve Out) design. Strong style lines demarcate the flanks and the shoulder line of the hatchback, contributing to a sleek and streamlined impression. The rear is dominated by the large tailgate, which opens down to bumper level for convenient access to the cargo compartment.
A further hallmark of the new Celerio is its K10B three-cylinder engine. The 1,0-litre unit combines ample urge with high efficiency, ensuring zippy performance and excellent fuel consumption. Rated maximum power is 50 kW at 6 000 r/min, combined with a torque peak of 90 Nm at a relatively low 3 500 r/min.
Depending on model, the combined cycle fuel consumption figure of the Celerio is as low as 4,6 litres/100 km, with an associated CO2 emissions rating of just 108 g/km, well below the emissions tax threshold. That translates into an impressive operating range of more than 750 km from a single 35 litre tank.
The Celerio is the first Suzuki model to be fitted with the marque's new automated manual gearbox, which allows clutchless operation of a manual gearbox without the energy losses usually associated with conventional torque converter-based automatic transmissions.
Instead, it uses an electro-hydraulic actuator to change gears without the need for a clutch pedal. The system offers both full auto and manual shift modes, and ensures a smooth shift action by synchronising clutch control, gearshift action and engine speed. A creep function allow smooth operation in stop-start city traffic, too.
Benefits of the automated manual gearbox include reduced weight, greater fuel efficiency, affordability and a fun driving experience. It also ensures that the Celerio becomes the most fuel-efficient automatic transmission car in South Africa.
The Celerio's efficiency and practicality are linked to a high degree of active and passive safety. Dual front SRS airbags, an ABS anti-lock braking system, inertia reel seatbelts, childproof door locks and a high-mounted third brake light are all standard.
The new Celerio follows in the successful footsteps of our popular Alto mini hatchback, but offers significant advantages as far as space, practicality, style and overall refinement are concerned, says Yukio Sato, managing director of Suzuki Auto South Africa.
It proves that ultra-compact, highly efficient passenger cars can also offer their occupants space, style and comfort, simply by applying intelligent design and packaging. As such, the Celerio is a further expression of Suzuki's proven track record in designing and developing exceptional small cars.
The new Celerio has been designed and developed as a global car, and is produced by Suzuki in India and Thailand for export to world markets, including South Africa.
DESIGN: Pushing the boundaries
The new Suzuki Celerio is more than just a small car. It's a thoroughly modern, intelligently designed mini-hatchback designed to exceed expectations at every turn.
While the Celerio competes in the so-called A-segment for superminis, the newcomer's design team pushed the boundaries of that sector to create what it calls an A Plus model.
That approach is epitomised by the extra large small car execution of the Celerio. While the Suzuki's compact dimensions allow wieldy road manners and ease of use, the interior's roomy accommodation and generous luggage compartment are usually associated with larger designs.
Indeed, the Celerio proves that small cars don't need to be inferior in terms of design and functionality. But to achieve this, Suzuki's engineers reconsidered every aspect of small car design and engineering, maximising space and refinement while retaining the practical benefits of ultracompact dimensions, high efficiency and low mass.
The result is a supermini that links space, accessibility, utility, flexibility and practicality to agility, driver enjoyment and engaging ease of use. In other words, the Celerio is an A Plus car in the A-segment.
The exterior execution is fresh and stylish, with a clean, uncluttered approach that is attractive without requiring embellishments. The bold grille, the sharp-creased character lines, the steeply raked windscreen and the generous glass areas all combine to create a distinctive, attractive presence.
The headlights incorporate main beams, turn indicators and position lights in a single, clear-lensed cluster that continues the horizontal line created by the grille. The subtle V-shaped front, the wedged profile and the smooth surfaces suggest aerodynamic efficiency, while short overhangs promise agile manoeuvrability.
At the rear, the steep angle of the tailgate confirms the optimised interior space, while the multi-element tail light clusters are both highly visible and a prominent design feature that echo the contours of the tailgate to add further dimension and interest to the rear view.
The Celerio runs on 14-inch steel wheels with full wheel covers while 14-inch alloys are an added-cost option. In both instances, the wheels are shod with 165/70 R14 tyres.
At 3 600 mm long, 1 600 mm wide and 1 540 mm high, the Celerio is 100 mm longer and 70 mm taller than the outgoing Alto, while width has remained exactly the same. Most tellingly, the wheelbase has increased by 65 mm to 2 425 mm, which greatly benefits interior space.
The Celerio will be offered with a choice of seven head-turning colours: Cerulean Blue Pearl Metallic, Sunshine Yellow Pearl Metallic, Cave Black Pearl, Blazing Red Pearl Metallic, Silky Silver Metallic, Glistening Grey Metallic and Arctic White Pearl Metallic.
INTERIOR EXECUTION: The elegance of simplicity
The interior takes the impression of carefully considered design another step further, while also making the impossible seem possible by delivering exceptional space and practicality. The result is an inviting cabin that promises both space and style.
The symmetrical proportions of the dashboard provide a good overview of the instruments, controls and switchgear, ensuring ease of use. The main instrument binnacle is situated directly ahead of the driver, with ancillaries positioned in the centre section.
A three-spoke steering wheel (equipped with multifunction controls and tilt-adjustability on GL models) neatly frames the main instrument binnacle, while the gear lever has a raised position for the sake of ease of use.
The cabin's appeal is further enhanced by smart finishes that contribute to a sense of tactile quality not usually associated with superminis. The comfortable high-backed front seats and rear bench seat (split 60:40 in the case of the GL) are upholstered with durable, comfortable fabric.
Compared to the Alto, headroom in the Celerio has improved by 21 mm in front, and by 43 mm at the rear. Significantly, there is also 60 mm more elbow room for rear occupants. The Celerio's extended wheelbase has boosted rear legroom by 50 mm, while the rear footwells are 28 mm wider. The result: a compelling sense of space for rear occupants.
Entry and exit is more convenient, too, thanks to door openings that are 70 mm higher front and rear, while sill height has reduced by 20 mm. Both front and rear doors open wider than before, too.
For many Celerio owners, one of the mini hatchback's highlights will be its load carrying capacity. At 235 litres, the luggage capacity is best in class, while the large tailgate opens all the way down to bumper level, reducing the load sill height to just 692 mm.
In the case of the GL model, the split rear seat sections can be folded flat individually, offering a versatile combination of seating and cargo space. With the bench seat folded flat completely, the cargo area is significantly extended, with a maximum of 1 034 litres on offer.
Practicality is also expressed in the long list of other storage spaces offered inside the Celerio. These include a hinged glove compartment, a deep driver's side binnacle, a storage tray at the base of the centre stack, front and rear door pockets, and front and rear cup holders.
CONSTRUCTION: Less weight means more car
The Celerio features an advanced, highly rigid, lightweight body structure that is at the core of the superminis dynamic and safety talents.
Rigidity and weight are carefully optimised through the use of high-tensile steel, resulting in a structure with a relatively low mass for a improved power-to-weight ratio, but high rigidity in the interests of safety, durability and low noise, vibration and harshness (NVH) levels.
Further weight savings have been achieved through redesigned, more efficient suspension components, which are both lighter and stronger than before. The flatter profile of the rear torsion beam ends also benefits legroom and luggage space, while the front MacPherson struts have been calibrated to deliver a good balance between handling stability and ride comfort.
The overall shape of the Celerio was aerodynamically optimised through a combination of wind tunnel testing and computer-aided design (CAD) simulations. The result is a car that is smooth and sleek, despite being taller than the Alto.
SUSPENSION: Comfort and control
The Suzuki Celerio is equipped with an independent front suspension system consisting of MacPherson struts, coil springs and an anti-roll bar. The rear layout incorporates a torsion beam axle.
While the layout may be fairly conventional, the execution has been specifically adapted to meet the Celerio's key design goals of reduced weight and enhanced interior space.
The mass of the suspension frame and front struts has been reduced while retaining both stiffness and performance. The result is a 3,5 kg weight saving. At the rear, the torsion beam ends have been flattened, which contributes to more generous floor space at the rear, as well as additional luggage space.
The suspension bushes, damping factors and spring rates have all been carefully optimised to ensure an excellent balance between ride comfort and handling stability.
The Celerio is fitted with a rack-and-pinion steering system linked to electric power assistance. At 9,4 metres, the turning circle is one of the tightest in its class, contributing to the supermini's agile characteristics and overall manoeuvrability.
SAFETY: Looking after number one
The new body construction also benefits safety through a construction technology Suzuki calls Total Effective Control Technology (TECT). Carefully designed crumple zones allow controlled, optimised crumple zones to safely dissipate collision energy without affecting the passenger safety cell.
All three Celerio models on sale in SA are equipped with dual front SRS airbags, ABS brakes, inertia reel seatbelts with front load limiters, a high-level third brake light, childproof rear door locks and an integrated immobiliser system.
 DRIVETRAIN: Economical enthusiasm
The new Celerio is powered by a lively, economical 1,0-litre three-cylinder engine. The so-called K10B normally aspirated unit has been designed for both urge and thrift, while also offering a low mass and space-saving dimensions.
At the core of the engine's efficiency are several weight and friction-reducing measures, which all translate into improved fuel consumption and enhanced performance. The K10B represents a weight saving of 9 kg compared to its predecessor, thanks to detail improvements to the engine block, engine mounts, radiator and fuel tank.
Maximum power output is 55 kW, together with a torque peak of 90 Nm, which may sound modest, but is ample for propelling the lightweight Celerio off the mark with enthusiasm. A five-speed manual gearbox is the default choice.
However, a so-called automated manual transmission (AMT) is optionally available, a unique option in this segment. The AMT is effectively a normal five-speed manual gearbox, but gear shifts are achieve via an electro-hydraulic actuator, making the use of a clutch pedal unnecessary.
The AMT can operate in fully automatic mode, or in manual override, allowing the driver to change gears manually. There's also a creep mode, which ensures smooth operation in stop-start urban traffic.
The benefit of the AMT is its efficiency, which is far higher than that of a conventional, torque converter-based automatic gearbox. The manual override also promises greater driver engagement when required.
With a power-to-weight ratio of 42 kW/ton, the Celerio always feels lively and willing, reacting to throttle inputs with enthusiasm. However, it's the fuel efficiency that will be of key interest.
The AMT-equipped Celerio is credited with a combined-cycle consumption figure of just 4,6 litres/100 km, with an associated CO2 emissions rating of just 108 g/km. The conventional manual gearbox version's economy is equally remarkable at 4,7 litres/100 km and 110 g/km respectively.
The result is an impressive operating range of more than 750 km from the supermini's compact 35 litre tank.
THE RANGE: Three to choose from
The new Celerio is locally available in a choice three models, all powered by the same engine, but offering two transmission options and two specification levels: GA and GL.
The more affordable GA version is available with a five-speed manual gearbox only, while the dearer GL can be ordered with either a five-speed manual gearbox, or the new AMT automated manual transmission. However, all three models are powered by the same 1,0-litre three-cylinder engine.
Celerio GA
It might be the most affordable member of the Celerio line-up and offered in manual transmission form only, but the Celerio GA still has plenty to shout about.
Visually, the differences between the GA and GL are relatively minor. All Celerios run on 14-inch steel wheels, trimmed with full wheel covers, and shod with 165/70 R14 tyres. Alloy wheels are optional. The GA's grille, exterior mirrors and door handles are finished in contrasting black.
Inside, its shares the smart, black upholstery of its GL stablemate, as well as the intuitive, ergonomic layout. Equipment levels are ample. Halogen headlights are standard, as is a rear screen wipe/wash system. The exterior mirrors are manually adjustable.
The instrument binnacle is dominated by a large speedometer, and incorporates a multi-information display. The display includes a digital clock, as well as a fuel consumption readout, and an available range indicator, features not usually associated with cars in this segment.
The instrument binnacle is neatly framed by the steering wheel and efficient electric power steering is standard. Manual air-conditioning and a pollen filter are also inlcuded.
The Celerio GA comes pre-fitted with a sound system preparation kit consisting of an antenna and dual front speakers, making retro-fitment of a CD receiver simple and cost-effective.
Additional features include two front and three rear cup and bottle holders, as well as a 12V accessory power socket at the base of the centre stack. The one-piece rear bench seat folds forward to boost the already generous luggage compartment.
The Celerio GA is fitted with dual front airbags and ABS anti-lock brakes, as well as three-point inertia reel seatbelts front and rear (together with a two-point lap belt for the centre rear seating position), childproof rear door locks. An integrated immobiliser system is also included.
Celerio GL
Representing a significant step up from the GA version, the Celerio GL is offered with exactly the same drivetrain as its more affordable stablemate. However, Suzuki's innovative Automated Manual Transmission (AMT) can be specified instead of the standard five-speed manual gearbox.
AMT offers both full automatic and manual override shifting modes, and is more efficient than conventional, torque converter-based automatic gearboxes.
The GL model is visually distinguished by its prominent grille, which gains a glossy black finish with horizontal chromed accents, while the exterior mirrors and door handles are colour-coded.
In addition to the halogen headlights, the GL version also gains low-mounted fog lamps, while the exterior mirrors are electrically adjustable. The rear screen is fitted with an integrated demister.
The differences inside are equally significant. The black upholstery is retained, but the door panels gain fabric inserts, while the door handles are chromed. The effect is unmistakably upmarket.
The Celerio GL retains all the standard features of the GA, but there are substantial upgrades across the board. Thus, the instrument binnacle gains a rev counter, while the multi-information display also shows ambient temperature and a selected gear indicator on the AMT version.
The steering wheel features tilt adjustment, as well as controls for audio system and hands-free phone operation. A four-speaker audio system, consisting of a CD receiver offering MP3 compatibility and integrated Bluetooth connectivity, is standard on the GL.
For added convenience, the front and rear windows are electrically operated, while remote central locking is standard, too. The front passenger seat features a seatback pocket, while the rear bench seat is split 60:40 for more versatile seating/cargo options.
The full suite of safety features offered by the GA is carried over to the GL model, but an integrated alarm system is added to the immobiliser for additional security.
WARRANTY AND SERVICE: Peace of mind
The Suzuki Celerio is covered by a three-year/100 000 km warranty, while a two-year/30 000 km service plan is included in the GL model's retail price. Services are at 15 000 km intervals.
Book a test drive in your favourite Suzuki, and take the Celerio for a spin.