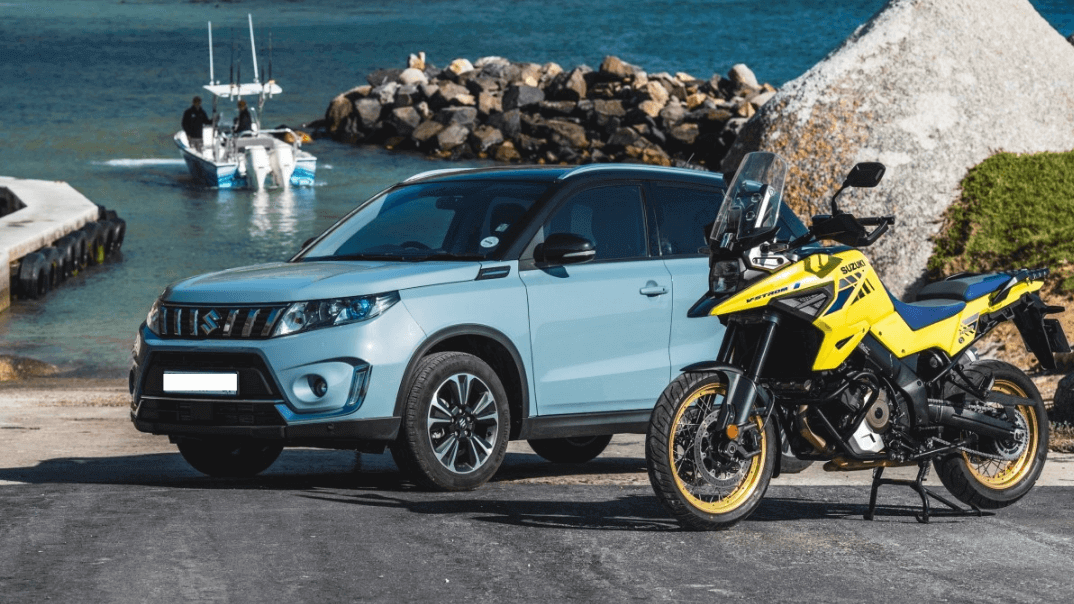 When a young and ambitious Michio Suzuki officially registered the Suzuki Loom Manufacturing Company in 1920, he surely could not have foreseen that it would become a global automotive, motorcycle and marine powerhouse 100 years later.
Estimated reading time: 6 minutes, 15 seconds.
In much the same way, when Suzuki Auto South Africa, which represents all three divisions in South Africa, opened its doors in February 2008, the company could not have foreseen that it would be a top 6 best-selling brand and undisputed budget-vehicle champion as the centenary celebrations rolled round.
"We are humbled by the way South Africans have readily accepted Suzuki into their lives. In June 2008, our first month of sales, we sold 230 units and by October this year, we hit a new record of 2 032 units, while being South Africa's fastest-growing brand several times during the past decade," says André Venter, divisional manager for sales and marketing at Suzuki Auto South Africa.
On its way to becoming a top-selling brand, Suzuki won the hearts and respect of South African media as well. In its first year of operation, Suzuki was voted the Manufacturer of the Year in the annual CAR Awards, while the Swift and SX4, both launched a mere six months earlier, were nominated for the SAGMJ Car of the Year competition.
"Over the past decade, we have been privileged to see almost all our models receive a Car of the Year nomination, including the previous and current generation Swift, the SX4, the Alto, the Kizashi, the Ciaz, Ignis and Jimny. It culminated in the 2019 Car of the Year Awards, where the Swift and Jimny won the category prizes for best Compact and Lifestyle Utility vehicles respectively," says Venter.
Suzuki has also fared well in consumer-focused awards, including the Drive360 Awards, the CAR Magazine's Top 12 Best Buys in the budget category and the Cars.co.za Consumer Awards, where it has taken the top spot as best budget vehicle since the competition's inception.
"While our range of passenger vehicles and SUVs has taken more than its fair share of awards, our Motorcycle and Marine divisions have performed equally well," says Venter. Suzuki Auto merged with Suzuki Motorcycle and Suzuki Marine in April 2014.
Suzuki Marine has been leading the industry with award winning technology and designs. Suzuki outboard motors has received the NMMA Innovation Award a total of nine times. Eight of these awards have been for four-stroke outboard motors, which is the largest number of awards in the engine category in the industry.
The Marine division continued its successful sales history in South Africa and at the end of August 2020 reached 47.3% market share in 4-stroke outboard sales in South Africa.
The Road to Global Success
Suzuki as it exists today was born from Suzuki Loom Manufacturing, which was started in 1920. From these early days, the founder, Michio Suzuki, had his sights set on diversification and specifically on automobiles and motorcycles, which he saw as a way of helping his countrymen become more productive and prosperous.
The first Suzuki vehicle prototype was launched in 1937, but the commercialisation was put on hold when the Second World War broke out.
Fortunately, the plans were never abandoned and in 1954 Suzuki assigned a team of young and energetic engineers to the automobile project, which in 1955 – a mere year later – led to the introduction of the Suzulight.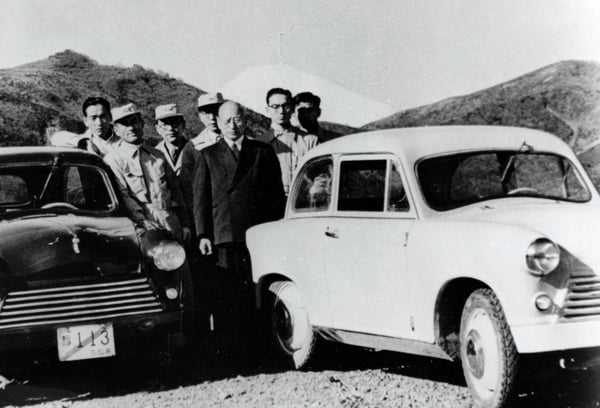 Michio Suzuki with the team that developed the Suzukilight, taken in 1954
"The Suzulight laid the foundation for all future Suzuki models, offering a light, affordable, frugal and durable car that made quality motoring accessible to all. In much the same way, the Suzuki Power Free powered bicycle of 1953 set us on a course to become a global motorcycle brand; it was in our DNA from the very start," says Venter.
On its way to becoming a global powerhouse, Suzuki made the world sit up and take note. In 1970, it launched an all-electric version of its Suzuki Carry Van, which was designed by Giorgetto Giugiario. This was also the year that the world was introduced to the Jimny, which celebrates its 50th anniversary this year.
Suzuki Marine has come a long way since creating the first Suzuki outboard, D55, in 1965 and the current range of four stroke outboards is second to none in the marketplace. Suzuki engineers are passionate about boating and spend all of their time perfecting fuel-efficient and technologically advanced four stroke outboard motors so that Suzuki products enable boaters to maximise their time on the water.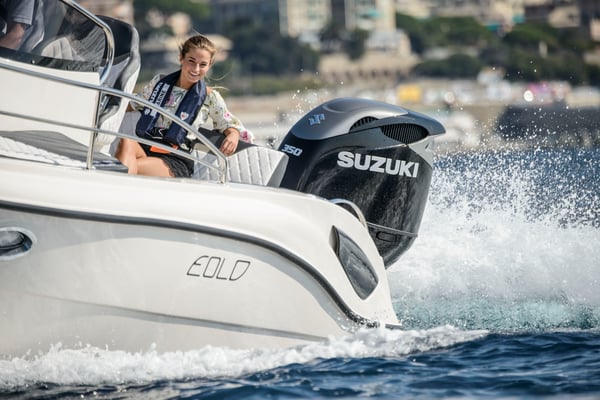 Suzuki marine controls close to 50% of the outboard market
In 1975, Suzuki again made headlines when its motorcycle division launched the RE-5, a rotary-engined motorcycle with previously unheard off performance figures, and in 1979, it launched the world's first hydrogen-powered vehicle.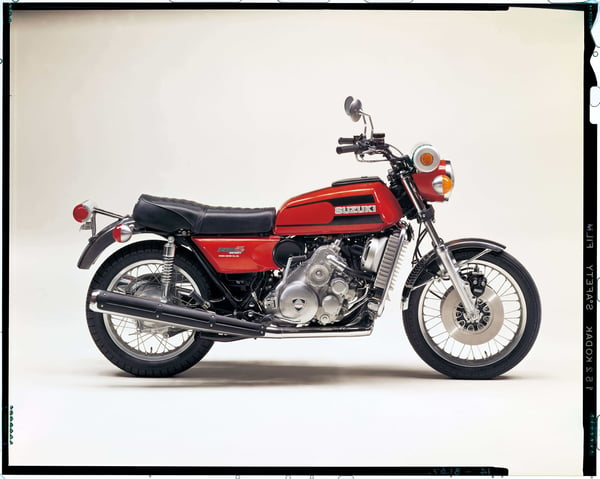 Suzuki RE-5 Rotary engined motorcycle
In later years, the biking world was stunned with Suzuki's introduction of its futuristic GSX1100S Katana. The bike's aggressive styling and superb performance made it a huge sales success, both globally as well as in South Africa. Its impact was so great, that Suzuki continued development on this model and introduced the latest GSXS1000S Katana in 2018. Suzuki broke the mould once again with the unveiling of the GSX1300R Hayabusa in 1999. This iconic motorcycle was the fastest production motorcycle in its time.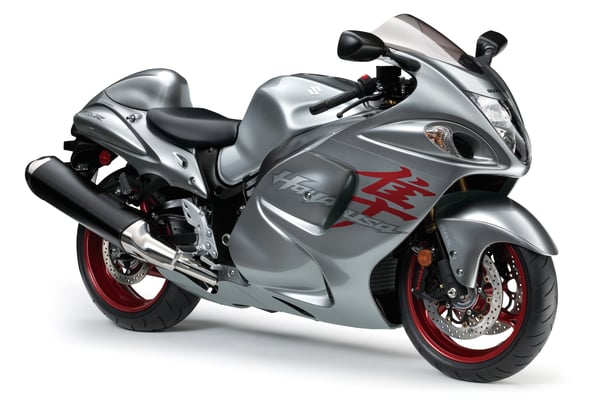 The iconic Suzuki GSX1300R Hyabusa.
Suzuki Motorcycles is also synonymous in the world of motorcycle racing and to date have proved that they are a force to be reckoned with. The brand has won 16 FIM Superbike world Endurance titles and since their reintroduction into the MotoGP scene have racked up a number of podiums and wins.
In the eighties, Suzuki entered the Indian market and soon became the best-selling brand overall, and it launched its first all-terrain vehicle (ATV), creating a motorcycle sub-segment that remains popular to this day.
"While Suzuki has earned its place in the history books for its innovative products, it is still best known as the Japanese maker of affordable, compact, stylish and reliable vehicles. While all our products share this DNA, it is the Swift and Jimny that perhaps best encapsulate this," says Venter.
The Swift was one of the first products to enter South Africa and it was instrumental in helping Suzuki reach 50 000 sales in South Africa by mid-2017. The fourth generation Jimny, which was first launched in South Africa in 2018, has immediately become another top-seller for the brand, with its innovative design and go-anywhere capabilities finding favour with city dwellers and budget overlanders alike.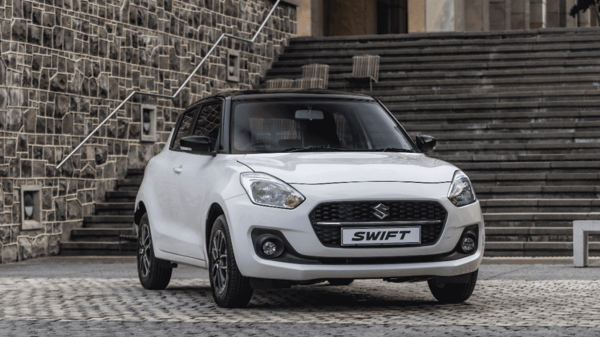 The Suzuki Swift is one of the company's best-selling vehicles globaly.
"The Jimny this year celebrates five decades of being the quintessential budget-beating off-road vehicle, capable of taking on even the toughest conditions without requiring major conversions or costing you an arm and a leg. It is no surprise that it has become one of our best-selling vehicles overall," says Venter.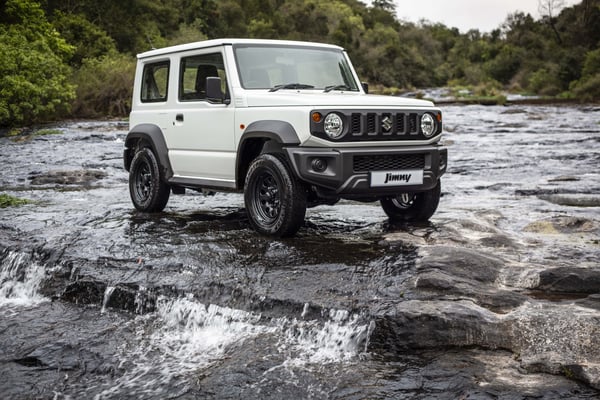 The Suzuki Jimny celebrates it's 50th birthday in 2020
In 2020, Suzuki is firmly established as a top 6 vehicle brand. It set an all-time new sales record of 2 032 units in October this year after it emerged from hard lockdown with record dealer sales of 1 433 units in May.
"Now, more than ever before, South Africans are looking for affordable cars, motorcycles and marine equipment that they can trust. We believe that Suzuki, with its 100-year-old ethos of providing value-for-money products with Japanese quality and stylish looks, is best positioned to fill that need, and we look forward to welcoming more South Africans to the family in the next year, decade and century."
Subscribe to our blog and get all our exciting content delivered to you either weekly or monthly.