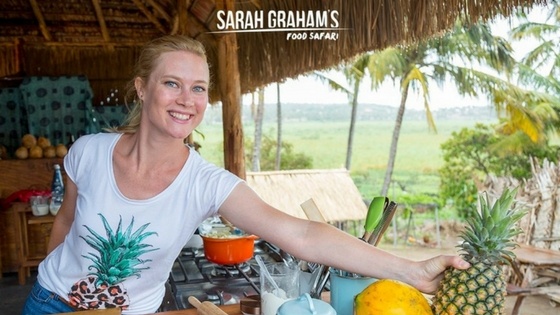 As the sponsors of Sarah Graham's Food Safari, we're mad about everything delicious. These are our four favourite, easy to execute, Sarah Graham seafood recipes.
Seafood is not only healthy, it's also delicious and with Sarah Graham's flair with flavour it's interesting too. Here are our favourite, pretty easy to execute, seafood recipes you're sure to love.
PERI-PERI PRAWN, CALAMARI AND CHICKPEA SALAD
Cooks in 10 minutes | Serves 4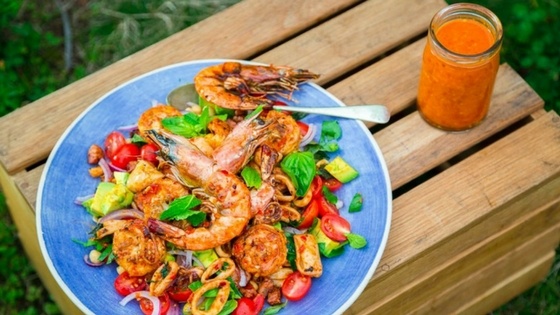 All photos from 'Sarah Graham's Food Safari' by Ricardo de Leça
Ingredients
Peri-Peri Sauce
2 lemons

2 limes

¼ cup olive oil

¼ cup chopped garlic

5 birds eye chillis (de-seeded and chopped)

1 red pepper, de-seeded and chopped

1 Tbsp paprika

1 level tsp salt

¼ cup lemon juice

2 Tbsp white wine vinegar
Salad
400g fresh prawns, shelled and de-veined

400g fresh squid/calamari, cleaned

100g chorizo sausage, chopped

Salt and pepper, to season

1 can chickpeas, drained

1 cup baby tomatoes, halved

½ small red onion, finely sliced

1 ripe avocado, roughly cut into cubes (optional)

Small handful each of chopped fresh parsley, basil and mint

1 Tbsp each of lemon juice and red wine vinegar and olive oil, to dress
Method
Halve the lemons and limes and place cut side down on a pre-heated griddle pan over medium-high heat, cook for 4-5 minutes or until blistered and starting to blacken and caramelise.
Meanwhile, add the remaining peri-peri ingredients to your food processor, then squeeze in the lemon and lime juice. Blitz well and check for seasoning.
Add 1 tsp olive oil and 1 tsp butter to a large pan over high heat. When the butter starts to foam add the prawns, calamari and chorizo and cook until golden, 4-5 minutes. Add in half the peri peri sauce and stir through. Remove and set aside.
Mix all of the ingredients together on a large serving platter and serve immediately with a drizzle of lemon juice and olive oil and extra lemon or lime wedges and extra peri peri sauce on the side.
FIRESIDE CRAYFISH
Cooks in 15 minutes | Serves 4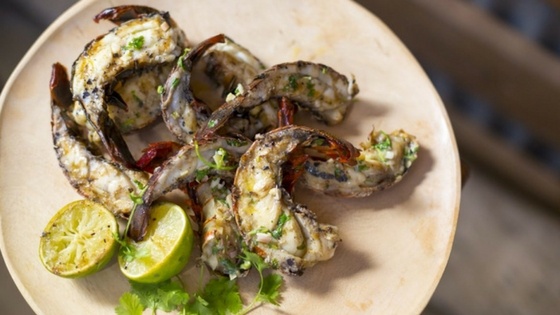 Ingredients
4 fresh lobster or crayfish (cleaned and butterflied)

¼ cup butter (or coconut oil)

¼ cup local beer

2-3 large garlic cloves, minced

1 Tbsp fresh coriander, roughly chopped

Juice of 1 lime

1-2 stalks lemongrass

Pinch salt and black pepper, to season

Fresh lemons, to serve

Fresh parsley, to serve
Method
1.Pre-heat your braai/bbq.
2. Melt the butter and other basting ingredients in a small saucepan over a low heat.
Baste the crayfish with the melted butter and place over the coals shell side down for 5-6 minutes, or until the shells turn bright pink. Baste the flesh every 2-3 minutes with extra melted butter, and then grill them flesh-side-down for the last minute or so.
Remove from the heat and serve immediately with a drizzle of lemon juice, a scattering of fresh parsley and any extra basting sauce that is left over.
BEER-STEAMED CLAMS WITH CHORIZO AND GARLIC BREAD
Cooks in 25 minutes | Serves 4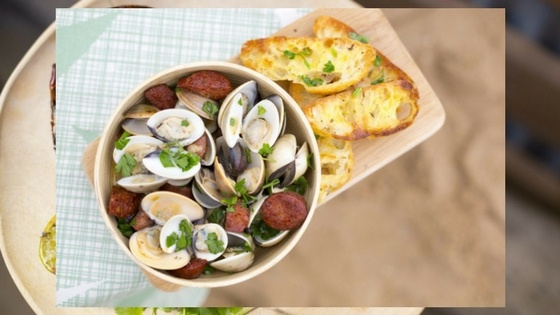 Ingredients
1 Tbsp Willow Creek olive oil

1 Tbsp butter

1 small onion or shallot, finely chopped (or 3-4 spring onions)

150g chorizo sausage, cubed

1 fresh chilli, de-seeded and finely chopped

1 tsp dried mixed herbs

1 clove garlic, minced

1/4 cup cream or cultured cream

½ cup Durbanville Hills white wine/beer

1/2 tsp each of salt and freshly ground black pepper

About 1kg fresh clams, rinsed
For The Garlic Bread
4 fresh Portuguese bread rolls

4 Tbsp butter, melted (or use olive oil)

1 Tbsp chopped fresh parsley

1 clove garlic, minced

1 tsp lemon zest

1 Tbsp lemon juice

1 Tbsp lime juice

Pinch of salt and pepper

Mix together
Method
For the Garlic Bread
Pre-heat the oven to grill setting.
Slice the rolls into just less than 1cm thick slices and lay out on a baking tray.
Brush with the melted parsley and garlic butter and place under the grill for 2 minutes on each side, or until golden and crispy.
For the Beer-steamed Clams
Heat the butter and olive oil over medium-high heat in a heavy-based pan. Fry the onions until softened, about 5 minutes, then add in the chorizo, chilli and garlic and cook for another 2-3 minutes.
Add in the remaining ingredients and simmer for 5 minutes. Add in the clams and cook until they steam open, then remove the pot from the heat and serve with fresh crunchy Garlic Ciabatta.
COURGETTI WITH GRILLED TROUT AND SESAME AND LIME DRESSING
Cooks in 10 - 15 minutes | Serves 2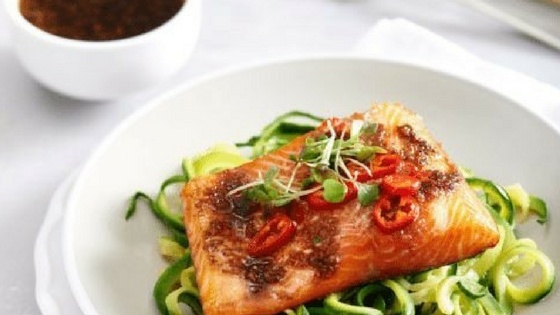 Photo by @CurtisGallon
Have you tried courgetti yet? Or maybe you know them as zoodles (zucchini noodles)? Like Chia Seeds they're a little smug because they're enjoying such global acclaim and adoration at the moment – and there's very good reason. I'm hooked. You have all the fork-twirling satisfaction of spaghetti, all the endless saucy flavour, but none of the heaviness. It's genius and I can't get enough of them. One of our favourite ways to enjoy these pretty green tangles are topped with a handsome portion of grilled trout that's been generously coated in a deliciously sticky sauce of soy, ginger, honey and lime.
I just use a basic spiraliser, it's shaped a bit like a giant pencil sharpener, and it takes just a few minutes to spin your way through a handful of courgettes. They then need just 1-2 minutes in a large pot of salted boiling water, be very careful not to overcook them as they can become limp and nowhere near as exciting as when they're still a little crunch and al dente.
Ingredients
For the Trout
2 x 200g trout fillets (or use salmon)

200g courgette noodles (or use buckwheat noodles)
For the Dressing
3 Tbsp sesame oil

3 Tbsp soy sauce

1-2 tsp fish sauce

3 Tbsp honey

1 clove garlic, minced

1 red chilli, de-seeded and finely chopped

1 Tbsp grated fresh ginger

Juice of 2 limes

Chopped fresh coriander (or pretty micro herbs), to serve

1 Tbsp toasted sesame seeds, to serve
Method
Pre-heat your oven to 200C. Season your trout fillets lightly with salt and pepper.
Mix together your dressing ingredients, pour about 1/3 over the fish fillets and bake them for 10-12 minutes.
Meanwhile, prepare your courgette noodles. When you take the fish out of the oven, cook the noodles in a large pot of salted boiling water for 2 minutes, drain and divide into serving bowls.
Top the noodles with the fish fillets, sprinkle over the chopped coriander and sesame seeds, drizzle over extra sauce and serve immediately.
Love sea food and not quite sure what seafood is on the Green List? Read our blog on the imporatance of choosing sustainable seafood.
For more insights like these straight to your inbox each month Subscribe to our Blog.