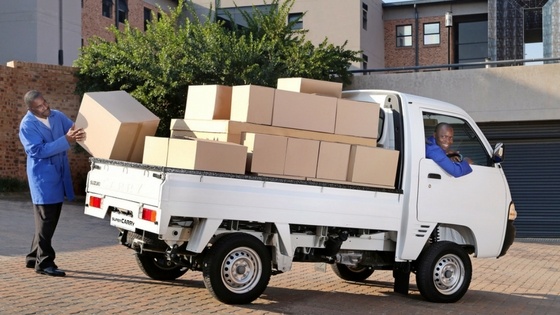 Charl Grobler, former manager of marketing and product planning at Suzuki South Africa, took the Super Carry for a weekend of chores and had more fun than he expected.
We launched the Super Carry in 2016 and though the model is very practical, it's actually a lot of fun to drive too. I borrowed the workhorse from Suzuki HQ for some in-house DIY projects and loved driving it back to Centurion (from Joburg) on the highway.
Like the fun-to-drive Jimny, the Super Carry packs a lot of punch in its compact frame, even though the specs might say different. It was first launched in 1961 in Japan and is now in its eleventh generation. This is the first time a light commercial vehicle is offered by Suzuki Auto SA, and South Africa is the first market outside of India to introduce the punchy 'bakkie'. Says Car Mag, "The latest Super Carry boasts a claimed payload of 750 kg, together with a useful load-bay measuring 1,49 metres wide. Ground clearance comes in at a handy 175 mm, while Suzuki claims a turning circle of 8,6 metres. The Suzuki Super Carry employs a rigid axle and leaf springs at the rear."
Here are the five things I loved about the model and why this workhorse gets the job done in typical Suzuki fun:
UNIQUE DRIVING POSITION You feel like you're driving a truck! It's built quite high up and you get the unique 'truck' experience without all the disadvantages of driving such a massive vehicle.

MID ENGINED Like the best supercars out there, the Super Carry's engine sits in the middle and you almost connected to it.

REAR WHEELED DRIVE Again like a sports car, the rear wheeled drive makes the Super Carry really fun to drive. Without a load it's good for some white knuckle moments.

AIR INTAKE BEHIND YOUR HEAD It's pretty cool to hear the induction noise from the vehicle as you drive - it gives the whole experience a Formula One feeling. No other car puts you that close to the sound of the engine sucking in oxygen.

REALLY FUN all these elements add up to a really fun drive! By the time I reached the Buccleuch interchange (less than 5km into my journey), I had a huge smile on my face.
Essentially, the Super Carry is more than a great value workhorse - it puts a huge smile on your face too! All Suzukis do that; it's part of their DNA.
Read our blog on the Super Carry 750 challenge and learn how this work horse is bult to get the job done .