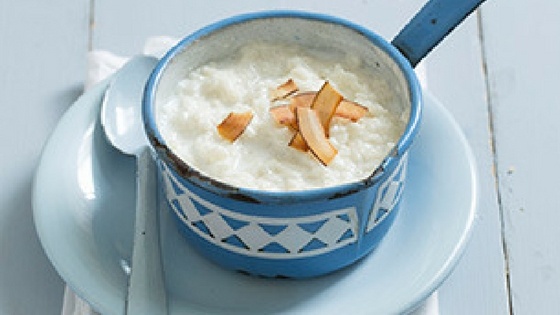 Tired of serving the same old thing at your braai? Here are 6 awesome desserts your guests will love.
Estimated reading time: 4 minutes, 9 seconds.
POTJIE COCONUT-RICE PUDDING
Serves 4 | Hands-on 45 min
INGREDIENTS
500 ml milk

375 ml jasmine rice

250 ml coconut milk

80 ml sugar

1⁄4 tsp salt

1⁄2 tsp vanilla essence

Coconut shavings, toasted, to garnish
METHOD
Place the milk, rice, coconut milk, sugar and salt in a potjie pot over medium-

hot coals. Leave uncovered and bring to a simmer. Cook, stirring frequently, until thickened, about 40 minutes. Stir in the vanilla essence.

Garnish with coconut shavings and serve warm.
MILK TART TRIFLE

SERVES 4 | HANDS-ON 30 min | HANDS-OFF 30 min
INGREDIENTS
11⁄2 tbsp flour

1 tbsp cornflour

2 eggs, separated

625 ml milk

100g caster sugar

1 tbsp butter

1 cinnamon stick, plus extra to garnish

1⁄4 tsp salt

50g sugar

3 cardamom pods, toasted and split

375 ml fruit-cake mix

1 sponge cake, sliced

Ground cinnamon, to garnish
METHOD
Whisk the flour, cornflour and egg yolks together in a large bowl.

Place the milk, caster sugar, butter, cinnamon stick and salt in a pot over medium heat and bring to the boil.

Remove the cinnamon stick and pour the milk into the flour-egg mixture, whisking continuously. Return to the pot and cook over medium heat, whisking until it thickens.

Transfer the resulting custard to a clean bowl, lay cling film directly on to the surface of the custard and cool.

Place sugar and 250 ml water in a small pot over medium heat. Once the sugar has dissolved, continue to simmer until it is a glossy syrup. Add the cardamom pods and fruit-cake mix and simmer for 5 minutes. Strain, reserving both the syrup and the fruit. Remove the cardamom pods.

Dip each slice of sponge cake into the syrup, then arrange a single layer in a large glass dish.

Top with a few spoons of fruit, then pour over a thick layer of the custard. Repeat until all the cake and fruit has been used. End with a layer of custard.

Dust with cinnamon and garnish with a cinnamon stick. Leave to stand for half an hour before serving.
PINA COLADA SPLIT

Serves 6 | HANDS-ON 20 min | HANDS-OFF 2 hours
INGREDIENTS
180 ml coconut flakes, toasted

1L vanilla ice cream, softened

6 bananas, peeled and halved lengthways

1 pineapple, peeled and chopped, leaves reserved to garnish

Pulp of 3 granadillas

90 ml light rum
METHOD
Stir 125 ml toasted coconut flakes into the softened ice cream. Freeze for 2 hours or overnight.

Arrange the bananas and pineapple pieces in serving dishes. Top with a few scoops of the coconut ice cream, a tablespoon each of granadilla pulp and rum, and a sprinkling of coconut flakes. Garnish with pineapple leaves before serving.
STAR-ANISE PEARS WITH CRÉME ANGLAISE

Serves 6 | HANDS-ON 30 min | HANDS-OFF 1 hour
INGREDIENTS
For the star-anise pears
375 ml Marsala wine

300g caster sugar

6 pears, peeled and halved

3 star anise pods
For the crème anglaise
80g caster sugar

6 egg yolks

500 ml milk

1 vanilla pod, split lengthways
METHOD
Preheat oven to 180°C.

Pour the Marsala and sugar into a deep casserole dish, then add the pears and star anise. Cover and poach in the oven for 11/2 hours. (You can also poach the pears in a flat-bottomed potjie over smouldering coals.)
For the crème anglaise
Combine the sugar and egg yolks in a bowl.

Heat the milk and vanilla pod in a saucepan over low to medium heat until just bubbling.

Pour a little of the hot milk into the egg mixture and stir gently. Once combined, return to the saucepan with the remaining milk mixture.

Continue cooking, stirring constantly with a wooden spoon, until the crème anglaise has thickened.

Remove the vanilla pod from the saucepan. Scrape the seeds from it with a knife and return them to the crème anglaise.

Serve the crème anglaise, hot or cold, in a bowl, topped with the warm star-anise pears.
STRAWBERRY CHEESECAKE BITES

Serves 2 | Hands-on 15 min
INGREDIENTS
10 small strawberries

75 ml plain cream cheese

2 tbsp caramel

4 Tennis biscuits, crumbled
METHOD
Cut the top of each strawberry. Scoop out a bit of the strawberry flesh to form a hollow.

Whisk the cream cheese and caramel together. Spoon some of this filling into each strawberry.

Sprinkle the crumbled biscuits on top of the filling.
WATERMELON AND GINGER ICE LOLLIES WITH EDIBLE FLOWERS

Serves 8 | HANDS-ON 30 min | HANDS-OFF overnight
INGREDIENTS
8 wooden ice cream sticks

100g sugar

3 cm ginger, peeled and finely sliced

375 ml fresh watermelon juice, blended and strained

125 ml fresh lemon juice

Edible flowers
METHOD
Soak the ice cream sticks in water for 1 hour.

Combine 125 ml water and the sugar in a saucepan over medium heat. Stir until the sugar is dissolved. Add the ginger and leave to infuse for a few hours.

Remove and discard the ginger pieces.

Combine the sugar syrup, watermelon juice and lemon juice and mix well.

Divide the mixture between 8 ice-lolly moulds and push the flowers into the sides.

Freeze for at least 1 hour and then insert the soaked sticks. Freeze overnight.

To serve, run warm water over the moulds to loosen the lollies.
Looking for more ideas for your braai? Have a look at our tips on how to braai the best steak as well as our favourite braai sides recipes.
Want more useful information like this? Subscribe to our blog and never miss a post from our Suzuki blog.
---