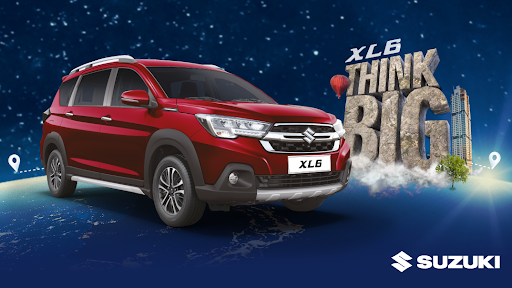 The Suzuki XL6 is more than just a car; it's a statement of style and practicality that's designed to elevate your driving experience to a whole new level.
Estimated reading time: 3 minutes, 5 seconds. In this blog post, we'll take a closer look at the XL6's interior, exterior, boot space, and engine, and discover why it's capturing the hearts of adventure-seekers and families alike.
Interior: A Haven of Comfort and Convenience
Step inside the Suzuki XL6, and you'll instantly be greeted by a sense of spaciousness and sophistication. The interior of the XL6 has been thoughtfully crafted to ensure that every journey is a comfortable and enjoyable one.
Spacious Cabin: The XL6 offers ample room for up to six passengers, making it an ideal choice for families and group outings. The two individual front seats and two middle-row captain seats provide a luxurious seating arrangement, while the third-row bench seat ensures that no one gets left behind.


Adjustable Seating: What sets the XL6 apart is the flexibility it offers. Both the front and middle-row seats are not only adjustable but also slide and recline, allowing passengers to find their perfect position. The middle-row captain seats even feature foldable armrests, adding an extra touch of comfort.


Convenience at Your Fingertips: The XL6 is equipped with a range of modern features to enhance your driving experience. The 7" touchscreen infotainment system with six speakers, Apple CarPlay, and Android Auto keeps you connected and entertained. Electric windows, power steering, front climate control, rear manual air conditioning, multiple power sockets, USB ports, Bluetooth phone connectivity, remote central locking, keyless entry with push-button start, and ventilated cupholders are all standard, making every journey a breeze.
Exterior: Bold, Stylish, and Modern
The exterior of the Suzuki XL6 is a testament to Suzuki's commitment to bold and innovative design. It's a crossover that turns heads wherever it goes.
Striking Front Design: The XL6 features large headlamps and a massive Suzuki hexagonal grille, with the prominent Suzuki "S" logo taking centre stage. The front design is further accentuated by a broad chrome garnish that terminates in the daytime running lights in the headlamp clusters.


Sleek LED Lights: All versions of the XL6 come equipped with LED head and tail lamps, as well as LED front fog lamps. These not only enhance visibility but also give the XL6 a modern and premium look.


Two-Tone Option: If you opt for the GLX models, you have the option of a two-tone colour scheme where bold colours like Opulent Red, Brave Khaki, or Splendid Silver are matched with a Pearlescent Midnight Black roof colour. This adds an extra layer of sophistication to the XL6's exterior.
Boot Space: Versatility for Every Adventure
One of the standout features of the XL6 is its versatility when it comes to cargo space. Whether you're heading out for a weekend getaway or simply need to carry everyday essentials, the XL6 has you covered.
Three-Row Seating: The XL6's flexible seating arrangement means that you can carry up to six passengers comfortably. However, if you need more cargo space, the third-row bench seat can be tilted forward and folded down in a 50:50 configuration, opening up a generous cargo area.
Ample Luggage Space: With the third-row seats folded down, the XL6 offers ample luggage space to accommodate your gear, groceries, or anything else you need to transport. It's the perfect companion for your active lifestyle.
The Suzuki XL6 is a perfect blend of style, comfort, versatility, and performance. Whether you're exploring the city or venturing off the beaten path, the XL6 is your trusted companion for every adventure. It's a vehicle that not only looks good on the outside but also delivers an exceptional driving experience on the inside. Experience the XL6 for yourself and discover a new level of automotive excellence. Book a test drive now.