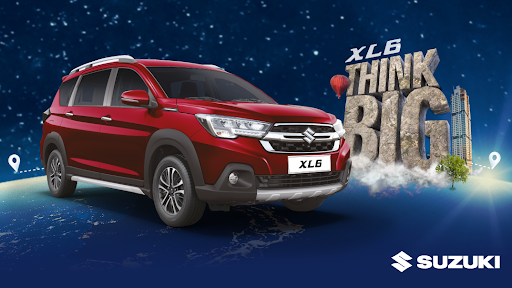 Are you ready to make your next vacation or road trip an unforgettable adventure? Look no further than the Suzuki XL6! This versatile and stylish MPV is the ultimate travel companion, designed to take you places and create amazing memories.
Estimated reading time: 2 minutes, 20 seconds.
Let's dive into why the XL6 is the perfect choice for your next travel escapades:
Room for Everyone and Everything!
The moment you step inside the Suzuki XL6, you'll be greeted by a spacious interior that can comfortably accommodate up to six passengers. Whether you're travelling with friends or family, everyone will have plenty of room to relax during the journey. Plus, with adjustable seating and ample legroom, everyone can find their perfect spot.
But here's where it gets exciting – if you need extra space for your luggage, sports gear, or camping essentials, the XL6 has you covered. Simply fold down the third-row bench seat, and voila! You have a generous cargo area ready to swallow up all your travel gear. It's like having your own personal moving van without sacrificing passenger comfort.
Smooth Sailing on the Open Road
Who says the journey can't be as thrilling as the destination? With the Suzuki XL6's powerful 1.5-litre engine, you'll experience a smooth and exciting drive wherever your adventures take you. Whether you're cruising down the highway, winding through mountain roads, or exploring scenic routes, the XL6's engine delivers the performance you crave. And with fantastic fuel efficiency, you can keep the adventure going without constantly checking the fuel gauge.
Tech-Savvy and Convenient
Travelling should be a breeze, and the XL6 is equipped with all the modern features you need to make it happen. Stay connected on the road with the 7" touchscreen infotainment system, compatible with Apple CarPlay and Android Auto. Access maps, music, and more right at your fingertips. Plus, features like electric windows, power steering, remote central locking, and ventilated cupholders make every aspect of your journey convenient and comfortable.
Safety First, Always
When you're exploring new places, safety is paramount. The Suzuki XL6 takes your well-being seriously. With a robust HEARTECT platform, dual airbags, ABS with EBD, ISOFIX anchors, and seat belt pre-tensioners, you'll travel with peace of mind. Parking in tight spots? No problem! The XL6's reverse camera and parking sensors make it a breeze.
Create Incredible Memories
But the XL6 is more than just a vehicle; it's your passport to adventure! Whether you're embarking on a cross-country road trip, camping in the great outdoors, or discovering hidden gems off the beaten path, the XL6 is your trusty sidekick. Its stylish exterior, comfortable interior, and impressive performance make it the perfect companion for creating unforgettable memories with your loved ones.
So, what are you waiting for? Experience the XL6 for yourself and let the Suzuki XL6 take you on an epic adventure! Whether it's the beach, the mountains, or uncharted territory, book a test drive now.