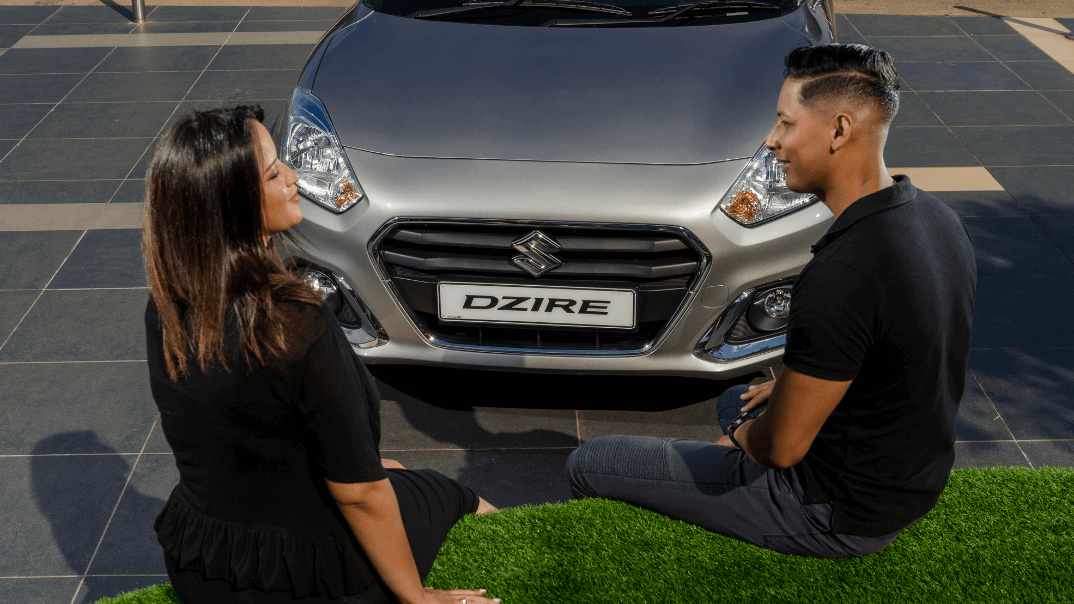 Every Suzuki driver will tell you that there is just 'something special' about this brand. Whether it comes through in the service, the product, or the overall experience, this brand is renowned for its 'magic'. To find out how this is created we take a look at the values on which Suzuki is based.

Estimated reading time: 3 minutes, 30 seconds.
Suzuki is a unique brand with a very definite personality, no matter which vehicle you're referring to or what country you're in. This iconic image is in large part due to five key values: Spirit, Sporty, Straightforward, Value and Excitement...

1. Spirit
When we speak of Suzuki 'Spirit' we are referring to the charisma surrounding the brand. From the design of vehicles, to the way our customers are treated, there is a very specific Suzuki spirit in the pulse. Suzuki lovers will know what we're talking about, and newcomers will experience it the moment they start interacting with us.
Suzuki has a very unique brand personality that echoes with people who live the same values as our brand. The Suzuki spirit is kept alive by the people within the brand – from the factories, to the dealership floors, to our customers; it's the people who make this brand so special. That's what we mean when we refer to the 'Suzuki Spirit'.

2. Sporty
When Suzuki refers to 'Sporty' it's not necessarily in reference to speed or racing. It refers more to the fact that Suzuki is a lifestyle brand – and the vehicles are designed around those who love to get outside and explore. Think Jimny: off-road, roof racks and bicycles. Or just getting away from the bustle and enjoying a picnic. Suzuki is about living life to the full, and the sporty value pillar speaks to that.
Having fun is a crucial part of the Suzuki brand, and vehicles are designed to enable fun in your life. From road trips to shopping sprees or a simple family visit – whatever brings you joy, your Suzuki will seamlessly fit in with your life.
3. Straightforward
Suzuki is known for its authenticity and transparency with regard to its products, and how the company does business.
You can see this in the brand's tone - no vehicle is pitched into a category where it doesn't belong. We are proud of what we produce. We know that many customers are specifically looking for ease, value and comfort.
Suzuki aims to be uncomplicated and straightforward with product and communication. Customers know what they want and adding any pretense around your brand or product is not going to sell more cars; it's just going to confuse people.

4. Value
This point is closely linked with being a veracious brand. Suzuki offers clear value to customers. Whether you are looking at a compact city car, or an affordable mini SUV, Suzuki ensures that each vehicle speaks to the needs of that specific customer. With Suzuki, you know exactly what you're getting, without premiums for unnecessary specifications or trim.
This does not mean that Suzuki vehicles are not well specified! It means that the brand understands its customers and ensures that every vehicle offers the best value in its segment. This is a very logical element: you can put it down on paper and directly calculate the value compared to other brands or vehicles. And while this is the facts and figures side of Suzuki, it underpins all the other values, because without it, Suzuki would not be the brand it is today.
5. Excitement
Excitement is the central value of the Suzuki brand. We aim to create a 'wow' experience for our customers and we are driven to go beyond customer satisfaction. Our goal is to always exceed expectations and delight our customers, thereby earning their affection, trust and loyalty.
And it's not just on paper, this excitement surrounds the Suzuki brand from the factory floor to the customer, and this is the unexpected, unique difference that makes our brand stand out.

Summary
When you combine these values, you get a real idea of the excitement and positive sentiment that surrounds the Suzuki brand. These values make up the essence of Suzuki and that can be seen, felt and experienced across the entire value chain.

How about visiting your nearest Suzuki dealer and find out which Suzuki model is most suited for you.


---
Want to get the latest on road-tripping, car care, auto advice and more? Sign up for all the info you didn't know you needed!