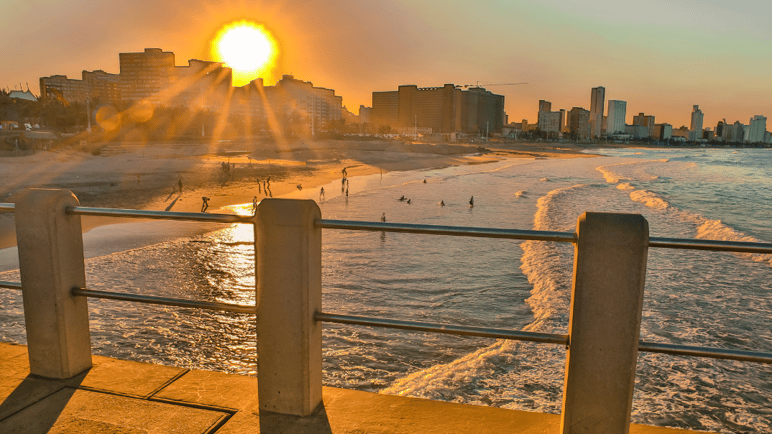 Every major school holiday, thousands of people head for the beaches of KwaZulu-Natal and Durban in particular – returning home after their holiday without having actually taken the time to discover Durban and the wide variety of sights, sounds, and tastes it has to offer
Estimated reading time: 2 minutes, 32 seconds.
Estimated reading time: 2 minutes, 32 seconds.
This short guide will lead you to some of the best 'secrets' Durban has to offer.
1. Florida Road
This vibey, trendy street in Durban has become the 'in' place to be on any night of the week with a wide selection of up-market fine dining venues living alongside cocktail bars and intriguing little bistros. It has a buzz that starts in the morning with people meeting for coffee and continues through the night. The street is also home to many boutiques, galleries, and studios with several of the buildings in the sector more than 100 years old.
2. Johnny Roti's
When the 'munchies' strike after a hard night of partying in Durban, the place to go is Johnny Roti's (also known as Sunrise Chip 'N Ranch) for its famous triple cheese and chip roti with mutton gravy. The place is open 24/7 and is well worth a visit.
3. Beachwood Mangroves
Only a five - minute drive from the city centre is Beachwood Mangroves, a 76-hectare reserve and national monument. It is home to a rare mangrove swamp forest and is an important estuarine habitat at the mouth of the Umgeni River. Travellers can take a stroll on the sturdily constructed wooden walkway, or book a guided walk or canoe trip.
4. The Chairman
One of Durban's best-kept secrets, The Chairman jazz bar could easily find a home in New Orleans. Located on Mahatma Gandhi Road, it is the result of a project by a young Durban - based firm of architects called DGIT that completely revamped the building. It showcases new and upcoming talent alongside established top-flight jazz artists and offers cocktails with evocative names such as 'Surrender Your Booty', 'Bitches Brew', and 'Voodoo Child'. It also has both an extensive wine list and selection of single malt whiskies.
5. Capsicum Restaurant
Do not be concerned if you mention the Capsicum Restaurant to a Durban local and get a blank stare in return – most know it simply as The Brittania, after the name of the old heritage building at the Britannia Hotel where the restaurant is located. It is a firm favourite among locals and has achieved fabled status over the past 33 years. With (mutton or fish) dishes ranging from regular favourites to exotic, The Capsicum is an ideal Durban curry experience. Parking at the venue is free and secure.
---
Download our ultimate guide to planning your road trip - Make memories and get that adventure feeling.
---
Adventuring through Durban can be a blast, but only when you ensure that you're safe at all times. Read our free driver protection and safety eBook here.
---
If you liked what you read about our Durban hot spots, why not subscribe to our blog and be the first to receive fresh content. Subscribe here.