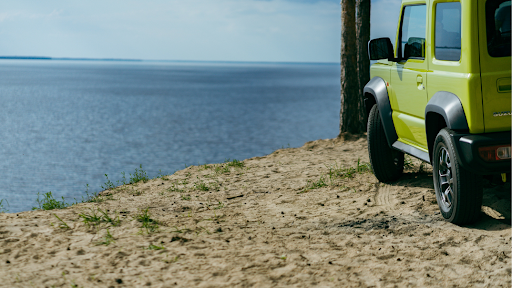 Wherever you're headed for your holiday, it's always best to do some preparations beforehand - because we all deserve a hassle-free break!

Estimated reading time: 2 minutes, 18 seconds.
Holidays and weekend breakaways are all about relaxing and recharging. Whether you're planning an extended road trip or short visits to family and friends, there are things you can do to make sure your time away is frustration-free (at least when it comes to your car).
1. Get your vehicle checked
Most dealerships offer free pre-holiday checks and we strongly advise everyone to make use of these. Even if your vehicle seems to be in top condition, it's a good idea to get the basics checked. It will keep you safer on the road and reduce the risk of a breakdown.
2. Stock up on safety
Check that you have all your safety basics: a good first-aid kit, tyre-changing kit and a stash of masks because there's always someone who misplaces theirs. Make sure to include sanitiser as this comes in handy everywhere.
Make sure you have a decent flashlight and your emergency triangle within easy reach, even when the boot is fully loaded.
3. Prep your playlists
If you're going to do a lot of driving, make sure everyone's playlists are sorted. If the kids have their own music, we suggest looking into some headphones as this can prevent many arguments!
Every holiday trip deserves good music.
4. Take charge
It's difficult enough for one person to keep track of all the phone cables and chargers, but if you're setting off on a family holiday, it will help a lot if you organise these beforehand.
Make sure everyone's cables are compatible with your vehicle charge points and get converters if needed.
It might also be a good idea to have at least one external charger that can be used for multiple devices. It's a winner in a low-charge emergency.
Pro-tip: mark everyone's cables in a different colour to help you keep track.
5. Snack like a pro
We all know that road trip snacks are essential and that everyone has their preferences. To keep things simple you can invest in one cooler bag for the car, or get everyone their own small snack bag. This keeps things tidy and allows you to accommodate everyone's snack preferences.
6. Keep it clean
With all this snacking and singing, you want to pack some bags to collect rubbish in the car. Everyone has their own system, but a good rule of thumb is that everyone cleans their seat and rubbish at every stop. You don't want to arrive at your destination only to spend an hour cleaning your car.
7. Check your route
Whether you're doing a two-hour trip or driving across borders, knowing where key stopping points are will make your trip much more pleasurable. This allows you to plan for essential coffee and bathroom stops, and also let passengers (especially the little ones) work off some energy.
With a vehicle that's been checked and safety and comfort preparations made, the roads are yours to explore. Safe travels!
To prepare for your holiday, download the ultimate guide to planning a holiday road trip.
---