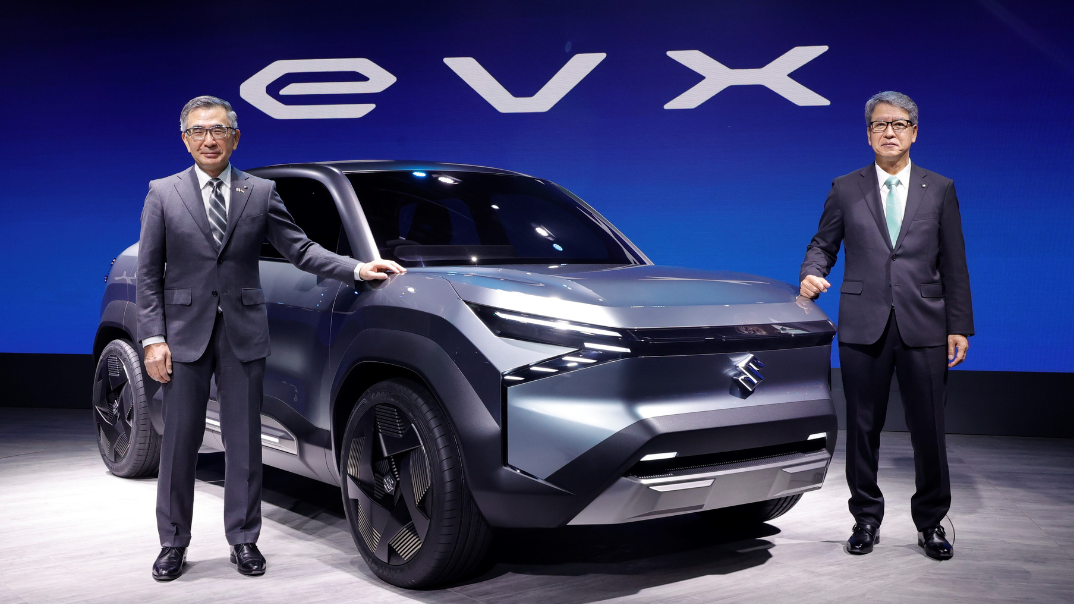 New 4x4 SUV all-electric Suzuki shown in concept form
Unveiled at the 12th

annual Auto Expo 2023 in India
Vehicle to be launched in global markets from 2025
Estimated reading time: 5 minutes, 14 seconds.
Suzuki took centre stage on the first day of India's premier auto show – Auto Expo 2023 – with the unveiling of its first all-electric compact sport utility vehicle (SUV).
The new Suzuki eVX is a concept SUV that combines Suzuki's strong 4x4 DNA with the most advanced features currently available in battery electric vehicles (BEV).
The exterior is designed to be instantly recognisable as a Suzuki SUV. In addition, it aims to carry forward the brand's 4x4 legacy into the new electric era to deliver a true Suzuki SUV driving experience.
The Suzuki eVX will join a line-up of globally popular Suzuki SUVs in 2025 that offers both traditional internal combustion engines and modern hybrid propulsion. This includes the new Suzuki Grand Vitara, which is scheduled for its South African launch in 2023 and which will have the option of a hybrid drivetrain.
Speaking at the launch of the Suzuki eVX, the president of Suzuki, Toshihiro Suzuki said: "I am delighted to unveil the eVX, our first global strategic EV. At the Suzuki Group, addressing global warming is a priority. We are promoting a range of global measures to reduce greenhouse gas emissions.
"Suzuki will continue providing valuable products to our customers around the world by optimising them for the way different people live and drive."
The new Suzuki eVX will be fitted with a 60-kWh battery system and electric motors. It promises an electric-only range of 550 km, as measured in the modified Indian driving cycle (MIDC).
The concept design has an overall length of 4 300 mm, a width of 1 800 mm and height of 1 600 mm. This makes it slightly larger than the current-generation Suzuki Vitara.
Suzuki Auto South Africa joined the rest of the Suzuki world to celebrate the unveiling of its first electric SUV.
While no more information is currently available on the Suzuki eVX in its current concept form, Suzuki Auto South Africa will closely study its final development and its feasibility for the South African market. It will provide more information on this at the global rollout of the production version of the Suzuki eVX from 2025 onwards.
Subscribe to our blog and get all our exciting content delivered to you either weekly or monthly.