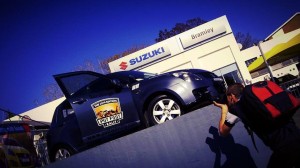 In June the Suzukings will be competing in the 6 000 km Put Foot Rally 2014 through Southern Africa to raise money for this worthwhile charity. Have a look at all the details and if possible support them with some sponsorship. From everyone at Suzuki Auto South Africa to the Suzukings (and Sini Suzuki) - good luck with your adventure!
The Put Foot Rally is a social adventure with a strong charity focus to raise funds for The Put Foot Foundation - the charity organisation responsible for the acquisition and distribution of new school shoes to needy schools throughout Southern Africa.
On the 14th of June, the five crew members, including Sini Suzuki, will be making their way to Cape Town to complete their registration for the rally and attend the briefing at Weltevreden Wine Estate in Stellenbosch.
The start-line on the 17th of June will see 60 teams start their adventure of over 6 000km in 18 days. The 17th of June is also National Barefoot Day, where all South Africans are encouraged to go to work barefoot to highlight the plight of millions of underprivileged children who live every day without shoes. Needless to say, the SuzuKings and the other Put Foot Rally teams will attend the first shoe drop in Khayalitsha barefoot.
All the teams will then travel through the west and northern coasts of South Africa, through Namibia - including the Caprivi Strip, across Zambia and into Malawi on their own accord, as long they arrive at the predetermined checkpoints on time. The return route has yet to be confirmed, with many teams contemplating the return to South Africa via Mozambique while others want to make a beeline to South Africa through Zimbabwe.
There are three shoe drop events during the 2014 Put Foot Rally - first in Khayalitsha, South Africa, secondly in Etosha, Namibia and lastly at the Zambezi Waterfront, Zambia.
With the entry fee sponsored by Suzuki Bramley, Team SuzuKings is now getting their final sponsors and donations sorted for the 4th annual rally. All proceeds donated to the SuzuKings, will directly benefit the Put Foot Foundation. Please consider donating to the Put Foot Foundation by clicking on the link below: Any amount will be much appreciated.
http://www.givengain.com/activist/96110/projects/7103/
Good luck to the team and we look forward to sharing some tales of your adventures when you return!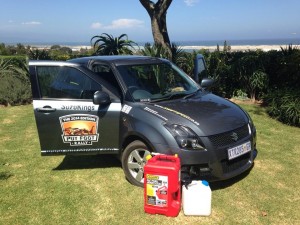 For more information regarding the Suzukings Put Foot Rally team and the Put Foot Rally visit the pages below.