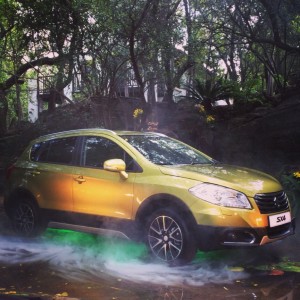 The misty hills of the Magaliesburg was the setting for the launch of the class leading SX4.
On arrival at L'Atmosphere, a quaint wedding venue tucked among the trees in the Broederstroom valley, guests enjoyed breakfast, a business presentation and the reveal of the all new SX4. Ninja warriors started the dramatic reveal, and the SX4 was exposed parked upon a pond of smoky water!
Watch the reveal here
Taking to the road, to experience the capabilities of the SX4 both on and off-road, hungry journalists were hosted to lunch before completing the route back to L'Atmosphere for cocktails and snacks.
For more on the launch, click here