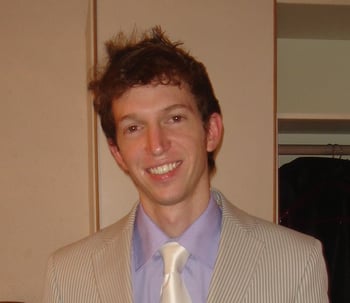 Since moving to Johannesburg earlier this year I've learned a great deal about the art of sitting in traffic each morning. Previously I was on the hot and sunny east coast of South Africa, in my world traffic was no more than a two minute delay along Umhlanga's Ridge.
Being a "car person" I must admit I don't actually mind the daily drive. Even though it's definitely not as exhilarating as a blast up the N2 just outside Knysna, I just slap on the radio and enjoy the amusingly arrogant ramblings of one Mr Gareth Cliff while leaving my mind to wander.
One of the many things I wonder about is those signs people put in the back window, displaying a little snippet of a punch line aimed to brighten the day of those who read them. Or at the very least turn up the corners of your mouth in an "I've got nothing better to be smiling about" kind of way.
Some are actually quite informative. Blonde driving for example gives an immediate warning to watch out for violent movements across the road as the lovely young lady behind the wheel realises she is missing her turn because she was too busy applying her lip gloss to be paying attention to her surroundings. Maybe the sign should be mandatory for such individuals - just a thought.
Then there are those signs that instantly tell you that the person in the car is a complete idiot. "Baby on-board", "Tiny person in transit", "Future [insert unlikely profession] on board". Pray tell me what message are you trying to convey to other road users? That you've just exercised your right to reproduce and feel that this is important information for fellow road users? Trust me, I don't care.
The most common explanation I've heard is that the sign is there to warn you to drive safely while in that cars vicinity. Now that really gets on my nerves. As though I drive like a lunatic, randomly crashing into fellow commuters just for a laugh, being a general nuisance and bringing immense danger to the roads of the Jo'burg metropolis. But because you've displayed a silly sign in your back window I will drastically change the way I conduct myself whilst driving behind you.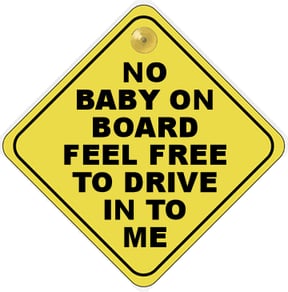 I have some news for you. It won't. The taxi, who is willing to drive on the wrong side of the road, stop in the middle of the street, ramp up onto the pavement and jump red lights, for example, couldn't care less that you have your spawn on the back seat.
Actually nor could I. Because regardless of you and your offspring I don't intend on endangering the lives of anyone on the road, you included. So go and take it down, now!