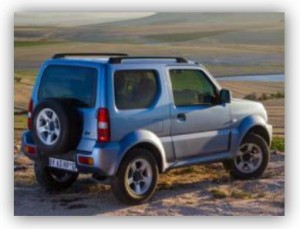 The Suzuki Jimny has been around for what feels like an eternity. However, there's an all-new version which may look similar, but boasts a number of upgrades.
The Suzuki Jimny reviewed by David Taylor
Sharper looks
Visually, there doesn't seem to be much change. The Jimny is still this tiny two-door off-roader that's filled with character and makes motor hacks use words like "plucky" and "charming". Let's start with what's new in the looks department. The Jimny gains a little bonnet scoop, a refreshed front grille and the fog lamp positioning has changed. It's meant to give the Jimny a more aggressive, modern look and it works. I'm not sure why a bonnet scoop has been fitted, as there's no high-performance engine that requires extra cooling, but it's a cute touch nevertheless.
The Jimny's engine is small but powerful enough
The Jimny is powered by a 1.3-litre four cylinder engine with 63kW and 110Nm, and to be honest I was worried there wasn't going to be enough grunt to get around. Thanks to its dinky toy size, the Jimny actually does tootle around town rather nicely. Don't expect anything special in terms of outright performance though, it's not aimed at the speedsters.
Not a car for the highway
My primary concern arose when I took it on the highway. While the car is fine in terms of driving on urban roads, highways are its nemesis. Top speed is rated at 140km/h and doing over 100km/h in the Jimny is a little disconcerting. With gusting Cape winds buffeting the Jimny from the side, the car feels like it could tip over. Put it down to me being paranoid, but if you need to travel on the highway, I wouldn't try go past the national speed limit.
Offroading is the Jimny's party trick
Take the Jimny off the city highway and suddenly it redeems itself beautifully. The soft suspension is perfect for tackling even the toughest of terrain and it'll take a lot to get the vehicle stuck. The car has a low-range gearbox, a lockable diff and exceptional ground clearance which coupled with a smart design, means you're looking at a brilliant off road vehicle.
Superb ability regardless of terrain
Thanks to a good friend who owns a dairy farm, the Jimny was put to the test and despite my best efforts to try find an offroad weakness, it simply refused to give up. Maybe an ultra-steep decent down a loose gravel road would unseat it? Nope, put the gearbox in first and let it crawl down like an army commando. No surprise the Jimny can be found serving in some armed forces around the world.
Basic interior
Inside the Jimny the interior is rather simple and basic. No fancy gadgets here, this is all about comfort and practicality. The seats have been redesigned and now have new fabric, while ISOFIX anchor points for baby seats have been added. You get air conditioning, CD player, air con and electric windows. It's basic, but what more do you want? Satnav? Go get an aftermarket one and connect it to the cigarette lighter then.
Suzuki Jimny conclusion
Think of the Jimny as a Labrador puppy. It's fine around the house, but when you take it for a walk in a big park and unclip the leash, that's when it's happiest. It'll go charging through streams and up embankments in the most enthusiastic of manners, and when it's time to go home, it settles down and becomes docile. I do like the Jimny. In a world filled with generic boxes which are devoid of emotional appeal, the Jimny is something totally different and unique. In the city it's extremely easy to parallel park and drive through narrow streets, and we've seen how formidable it becomes when you turn off the tarred roads. Just don't try get anywhere in a hurry.
Price for Suzuki Jimny 1.3: R201 900
Why you should: Cute

looks, simple character, surprisingly spacious cabin, unbeatable offroad ability.

Why you shouldn't: Doesn't feel like it's designed to go faster than 120km/h
It would be better if: For a future model, perhaps put in an aux or USB input on the radio.
Competitors worth checking out: Daihatsu Terios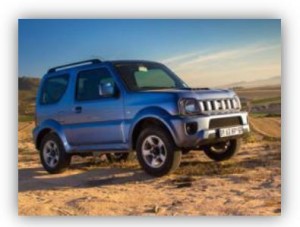 http://www.cars.co.za/motoring_news/The_Suzuki_Jimny_reviewed/1208/