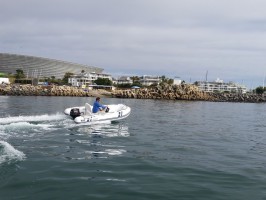 Suzuki Marine is Suzumar range is once again extending its offering. The range currently consists of 3 inflatable boats: DS290AL, DS350RIB and DS390AL, which are all manufactured from PVC material. At Suzuki Marine, we sometimes receive enquiries for hypalon inflatables to be used as tenders for the yachts, and we listened. Suzuki Marine is now importing two Suzumars which are manufactured from hypalon material and will be welcomed by the yachting fraternity. Read all the details below and get in touch with your nearest Suzuki Marine dealer for more information, or to order yours today.
Suzuki Marine has augmented its current range of PVC inflatables with the addition of two hypalon inflatable models, specifically designed for use as tenders by the yachting fraternity.
Both the 3,48 m Suzumar DS350RIB and the 3,79 m DS380RIB are semi-rigid designs manufactured from the rugged hypalon material preferred by yacht builders and yacht owners. The inflatables are fitted with a horizontal seat, although a pilot seat can be provided.
The two inflatables have also been designed to accommodate a centre console, which is supplied separately. This allows the inflatables either to be fitted with a tiller handle motor, or to be supplied with a specific console.
As the DS350 and DS380 are compatible with short-shaft outboard engines only, Suzumar stocks the DF20ATS and DF30ATS Suzuki outboards specifically for use with the two new inflatables.
The new Suzumar hypalon inflatables will be actively marketed to South Africa's world-renowned yacht-building industry, which supplies top-quality motorised and non-motorised yachts to markets around the world, as well as to existing yacht owners seeking to replace or upgrade their current tender.
The advent of the two hypalon inflatables brings the locally available range of Suzumar inflatables to five, with the other three employing a proven and popular PVC construction.
Watch the video below: