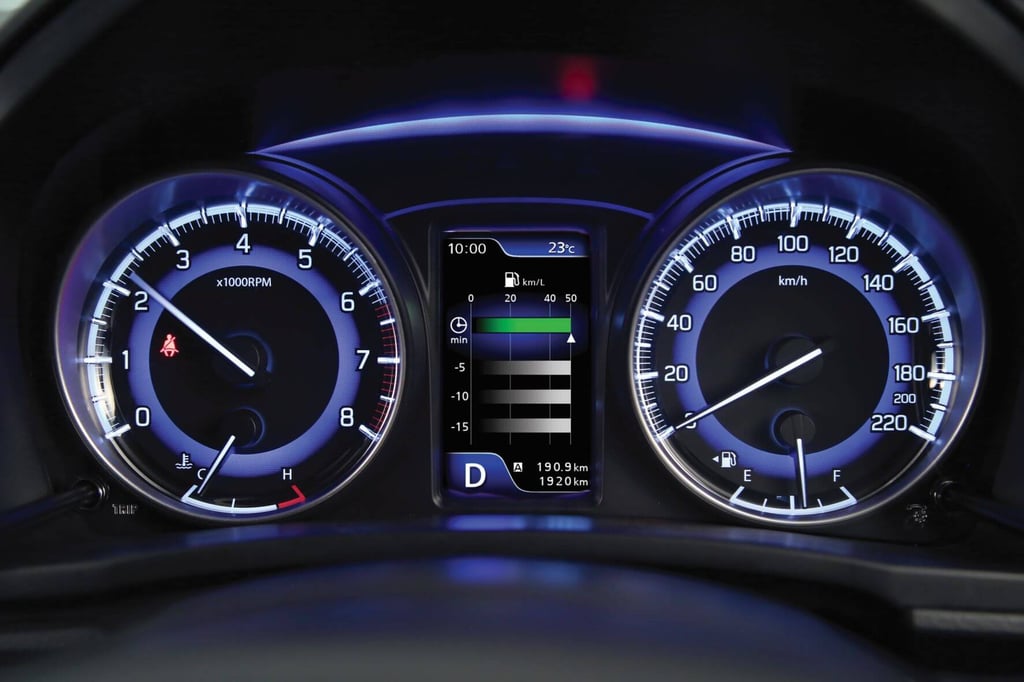 The price of fuel affects everyone. No matter what type of car you're buying, it's worth knowing your litres from your C02 emissions before signing on the dotted line.
Here's a shocking fact: fuel costs take up 40% of your car's running costs. But when reading complicated car reviews, it's hard to always understand what those figures mean and if you're getting a good deal or not.
Here we break down the figures for you so you know when you're getting a good deal:
L/100km
Fuel consumption is measured by calculating how many litres of fuel is burned over every 100km driven. However, there are many factors that influence the amount of litres used every 100km.
For example:
Vehicle size and weight – the more your car weighs, the more l/100km it will use.
Engine size – bigger engines use more fuel.
Traffic conditions – stop-start driving burns more fuel than open road driving as you are constantly accelerating and braking. Moving all that vehicle weight (even a small car) from standstill every few minutes, will severely increase fuel consumption.
Aerodynamics – this plays a bigger role with open-road travelling. 'Boxy' vehicles such as vans experience more wind resistance, which acts as additional weight in a way, and that increases fuel consumption. That said, modern vehicle design includes many small grooves, lines and sweeps that counteract the effect of wind resistance, especially on larger vehicles.
Manufacturers usually publish average fuel consumption figures, which they get by testing vehicles according to specific driving cycles, conditions and temperatures, and then calculating the average. This is why buyers rarely get the exact same l/100km figure from their car as that published by the manufacturer.
Everyone's driving style, and the traffic conditions they find themselves in, varies. The manufacturer's published figure is a great indication of whether or not a vehicle will be efficient, but the actual figure is not set in stone.
G/km
C02 emissions are calculated in grams per kilometre (g/km) – it indicates how many grams of carbon dioxide (pollution) is released into the atmosphere for every kilometre a car travels.
G/km is directly related to your car's fuel consumption (l/km) – the more fuel you burn, the more C02 will be released via the exhaust.

According to buyacar.co.uk,

new emissions testing

will be put in place from September 2017 in Eurpoe. These tests will be done in more realistic driving conditions than before, which means we'll start seeing more real life claimed consumption figures in the future.
Although there is a lot of hype around hybrid and electric vehicles at the moment, especially with France banning all petrol cars by 2040, they are unlikely to reduce C02 emissions in South Africa at this stage. An electric vehicle might not use any fuel, but in South Africa most of our electricity is derived from coal, and as a result an electric car in SA could produce up to four times more C02 than a petrol or diesel car of similar size.
This is one of the reasons why manufacturers such as Suzuki have placed huge emphasis on making their standard fuel cars as efficient as possible. For the foreseeable future, the answer to reducing your carbon footprint is opting for a low-consumption petrol engined vehicle.
---
Ever wondered whether you should be using 93 or if it is worth the extra cost of using 95 Unleaded? This is of course dependant on a couple of factors but we break down the factors you should consider and what you need to know to determine whether you should use 93 or 95 in your car.
---
These days, consumption and emissions play a deciding factor in vehicle reviews and awards. Suzuki has a reputation for creating efficient, fuel frugal cars and partly because of this consumer focused design feature - fuel efficiency - has recently raked in a host of accolades, including the Cars.co.za best Compact Family Car (Suzuki Vitara) and best Budget Car (Suzuki Ignis). Suzuki also walked away with the overall Brand of the Year Award, which is a definite nod to the company's dedication to delivering excellent vehicles, high specification, and impressively low consumption and emissions figures.
Suzuki's entire range is built with fuel-saving measures in mind. All aspects from vehicle size, weight, engine capacity and design (aerodynamics) are rigorously tested to ensure customers get exactly what they need depending on their choice of Suzuki, with the lowest possible l/km and g/km figures.
Experience the Suzuki Way of Life for yourself by discovering all you need to know about service and maintenance.
Looking for more driving tips and tricks as well as fuel efficiency articles and car advice. Subscribe to our blog and get the latest articles delivered straight to you inbox.