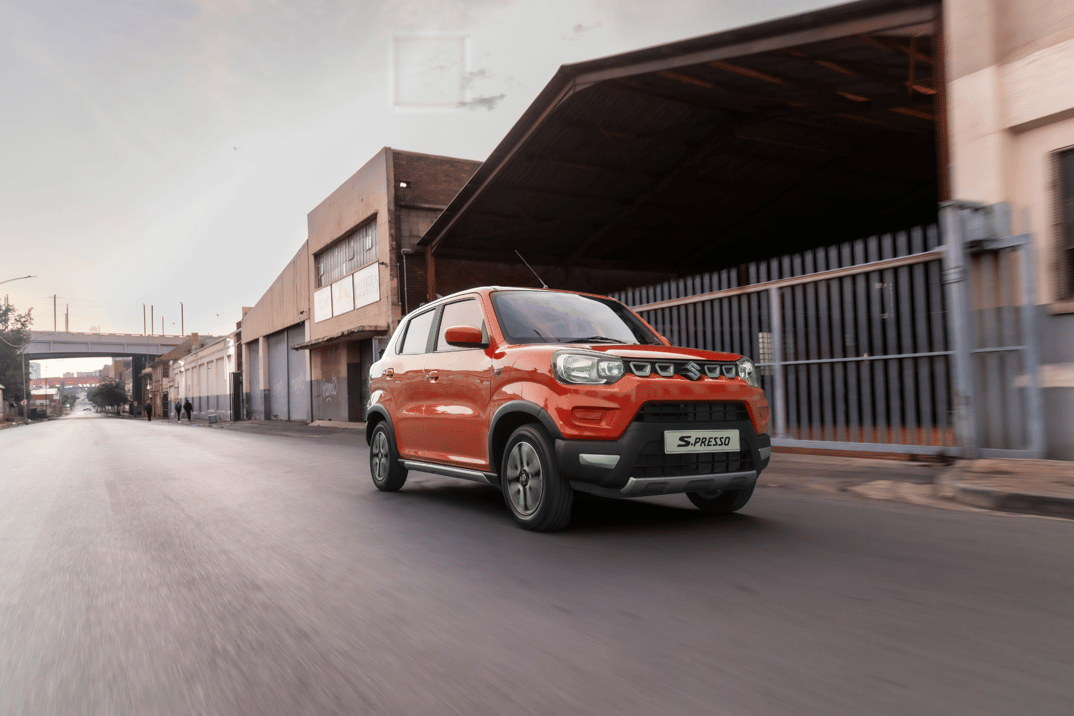 The Suzuki S-Presso is here! And is making waves all over as the new budget-friendly, fuel-efficient car for all South Africans. Read the review round-up to find out what SA media has to say!
Estimated reading time: 5 minutes, 12 seconds.
The S-Presso is Suzuki's latest cheeky model to enter the market and SA media agree its chunky design stands out in a crowd, it's got some fab features that our reviewers love. With high ground clearance, a fuel-efficient engine, and a cheeky colour palette this mini-SUV will steal your heart at first glance.
Throw in a smartphone-friendly infotainment system and a lot of boot space for all those adventures and you've got a winning model. This mini-SUV has high-view seating with 180mm ground clearance which lets you feel on top of the world while exploring.
Read more about the S-Presso here.
Let's hear what the reviewers had to say!
"This new crossover will broaden Suzuki's gravel travel vehicle offering and it has been renamed S-Presso. For loyal followers of the brand, the coffee naming association will not be new, as Suzuki once marketed a two-seater compact sports car named the Cappuccino.
In terms of size, the S-Presso measures 3.67m bumper-to-bumper, 1.52m across and stands 1.55m high. Those numbers class it as slightly smaller than the current Suzuki Ignis.
The styling features a faux grille with hexagonally shaped detailing and some interesting headlamp design, but the overall shape features a collection of quite simple stampings. S-Presso offers 14-inch wheels with stylish wheel covers.
Powering the S-Presso is a naturally-aspirated 1-litre engine, with three cylinders, which is good for 50 kW." - Cars.co.za
And if you want to know more about the specs and prices, read here.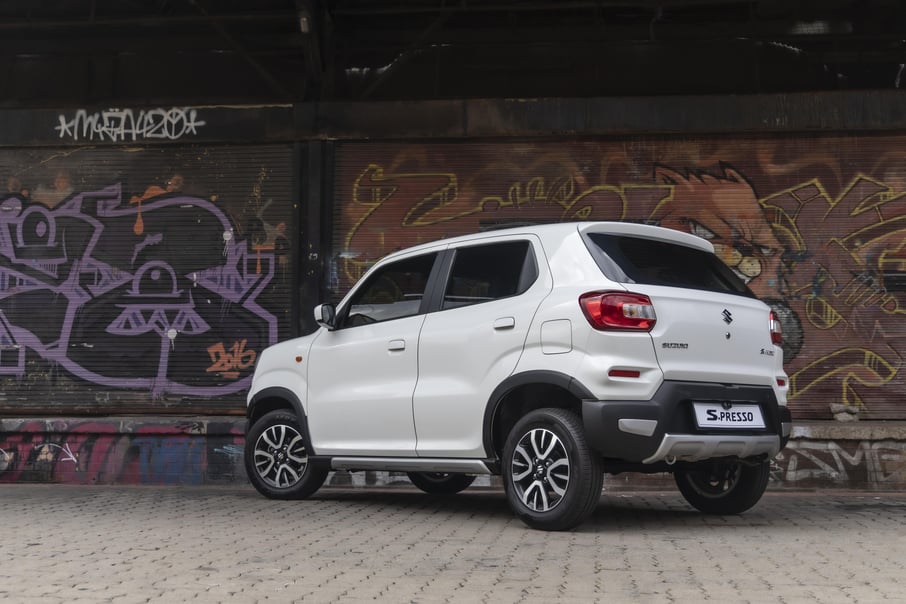 Suzuki shows that they do style and efficiency at a great price.
"I do so enjoy a budget car. The reason being that manufacturers have to create a car that doesn't suck but that also ticks so many boxes. And once I started driving it, I was left rather impressed. It is easy on the clutch control. No stalling, no jerking, just a smooth experience overall." - Juliet McGuire on her blog motoring media.
Juliet McGuire and CAR Magazine editor, Terence Steenkamp have this stunning podcast called Cars, Wine and Roscoe, in Episode 9 of their podcast they discuss the brand new Suzuki S-Presso seeing as both of us managed to drive it just before lockdown. Have a listen if you want to giggle a bit. Roscoe is a dog by the way. Here is what they had to say about the Suzuki S-Presso.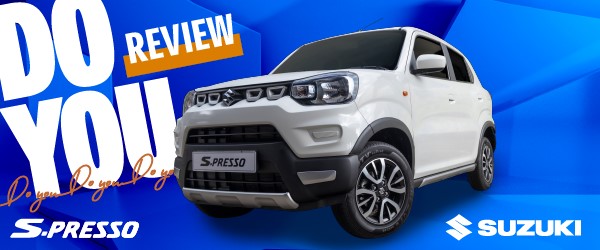 This little car has power, playfulness, and petrol efficiency!
"We already know power will come from Suzuki's familiar naturally aspirated 1,0-litre, three-cylinder petrol engine, delivering 50 kW and 90 N.m to the front axle via a five-speed manual gearbox. In addition, ABS, EBD and dual airbags will be standard across the range." - CARmag
"The S-Presso's interior looks to be a funky space. Colour inserts on selected panels have the same hue as the exterior. This does help the S-Presso exude a sense of youthfulness.
On the higher-spec GL+ models, as well as the S-Edition models, a 7-inch colour infotainment system is standard. It features, says Suzuki, touch technology, and includes Apple CarPlay and Android Auto functionality. As expected, the system is Bluetooth, AUX, and USB compatible.
Perhaps the most impressive aspect of the S-Presso is its pricing. The new model retails from R134 900 for the 1.0 GL manual model, up to R160 900 for the 1.0 S-Edition AMT. The entire range comes standard with a year's insurance, as well as a two-year/30 000 service plan and five-year/200 000km warranty." - Wheels 24
The headline of this review speaks volumes! Is that price for real?! Suzuki launches expressive S-Presso in SA, here Charlen Raymond from Wheels24 had this to say, "Outside, the S-Presso has a very boxy design, but there is a sense of masculinity coming to the fore. Depending on the grade, the S-Presso should give eager buyers a fair amount of options to individualise their car."
He also added "The S-Presso's interior looks to be a funky space. Colour inserts on selected panels have the same hue as the exterior. This does help the S-Presso exude a sense of youthfulness and playfulness."
Potential buyers have the option of six exterior colours: Sizzle Orange, Pearl Starry Blue, Fire Red, Metallic Granite Grey, Metallic Silky Silver, and White.
Calvin Fisher from carshop.co.za gets to grips with the new cheapest car in the country. He says, "The new Suzuki S-Presso is a new SUV-alike tyke, built in India to be affordable. But since it's Suzuki it's also fun and well-enough appointed, plus the company knows how to package space into a small footprint." In summary Calvin said, "I love the name, yes, I know it's an odd one. But for someone who knows of the Suzuki Cappuccino sport kei car, the idea of another coffee flavoured product is, well, cute.
There's a lot of cuteness here, in between the awkward tall and narrow box aesthetic – and I'm happy to see it's translated into the cabin. The dashboard in particular is dominated by a Mini-aping circle that houses the Android Auto enabled touchscreen. It does Apple CarPlay too. Overall, the cabin is a pleasant place to be as long as you're not sitting shoulder to shoulder with another rugby forward. Aircon lives here, adjustable seats and electric windows at the front and you know what, it's 2020 and by now these are pretty much essentials.
So, I'm glad to see Suzuki isn't lagging in these important areas. Would I recommend one? Wholeheartedly. Time will tell if South Africa's cheapest new car is also its best cheap car." Read the full review.
All the reviews agree that the S-Presso is a smooth ride, budget-friendly and fuel-efficient.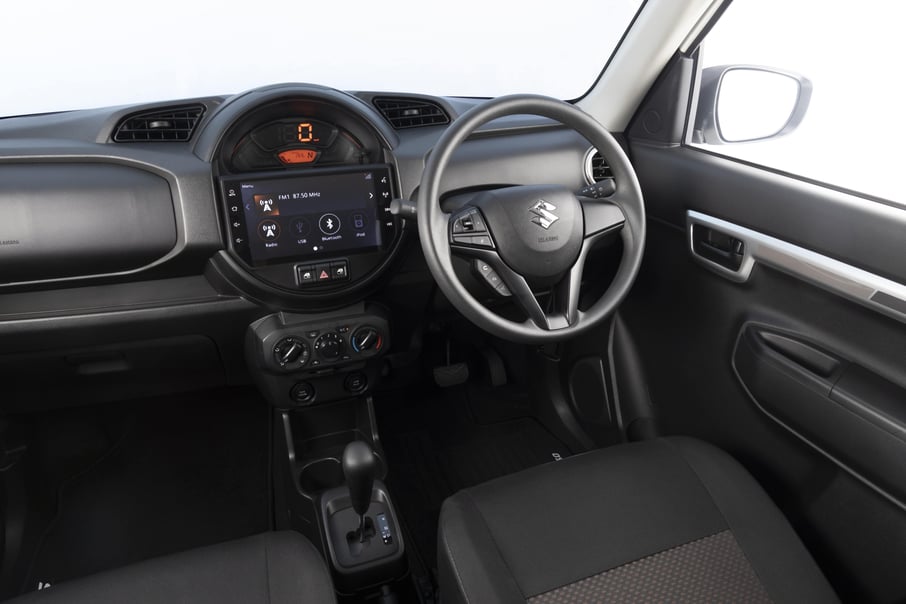 There is a lot more to learn about this little SUV's fuel economy, rear parking assist, smart play studio meter cluster and how safe this car is for you and your family. With five model variants, there's something for everybody and because safety is a focus, all S-Presso models feature reverse parking sensors as standard, while GL+ and S-Edition models will further complement this system with an in-built reverse camera (and touchscreen).
That's why we say DO YOU with the Suzuki S-Presso.
Subscribe to our blog and get all our exciting content delivered to you either weekly or monthly.