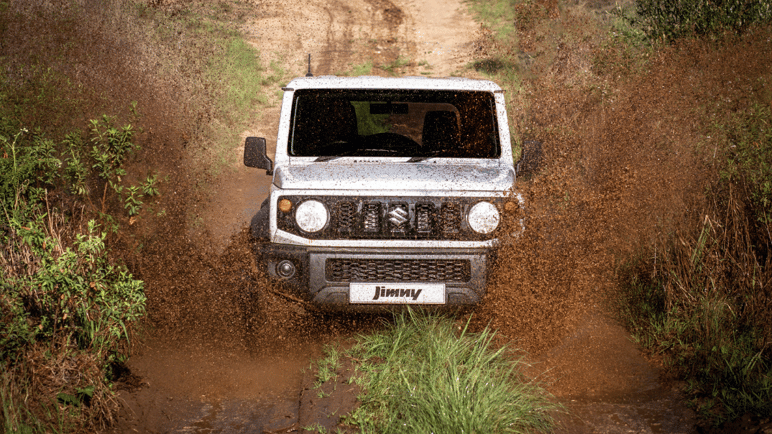 The topic of AI (Artificial Intelligence), specifically ChatGPT, has been making headlines for quite some time now. We decided to ask it some questions about the Suzuki Jimny.
Estimated reading time: 3 minutes, 31 seconds.
The Jimny is one of Suzuki's most popular vehicles in many countries, so it's safe to assume that an AI application such as ChatGPT would have some opinions. In the spirit of research (and fun) we asked a bunch of questions about the Jimny, with some interesting results.
Note: ChatGPT collects information from online sources around the world, which means some features mentioned might not be available in South Africa.
Title: A Compact Off-Roader with Unmatched Versatility: Suzuki Jimny Review
Rating: ★★★★☆
The Suzuki Jimny is an iconic compact SUV that has captured the hearts of adventure enthusiasts around the world. With its distinct boxy shape, rugged capabilities, and undeniable charm, the Jimny stands out in a sea of modern crossovers. This review will delve into its strengths, weaknesses, and overall appeal.
Design:
The design of the Suzuki Jimny is instantly recognisable and harks back to the classic off-roaders of yesteryear. Its compact dimensions and upright stance give it an aura of purposefulness. The boxy shape not only adds to its retro appeal but also maximises interior space. While some may find its aesthetics polarising, it's hard to deny the Jimny's unique and timeless appeal.
Off-Road Capabilities:
Despite its diminutive size, the Jimny is a true off-road warrior. Equipped with a robust ladder frame construction, a selectable four-wheel-drive system, and generous ground clearance, it can conquer rough terrains with ease. The short overhangs and excellent approach and departure angles enhance its manoeuvrability, allowing it to tackle tight trails and obstacles. The Jimny's off-road prowess is further complemented by features like hill descent control and a low-range transfer gear.
On-Road Performance:
On paved roads, the Jimny showcases a satisfactory performance. Its small size and light weight make it nimble and agile, perfect for urban environments. The ride can be a bit bumpy due to its off-road-focused suspension setup, but it's well-damped and composed overall. The compact dimensions also make parking and navigating through crowded city streets a breeze.
Interior and Comfort:
The Jimny's interior is straightforward, functional, and focused on utility. While the materials are not luxurious, they are durable and suited for the vehicle's adventurous spirit. The upright seating position provides excellent visibility, and the controls are well laid out and intuitive. However, tall occupants may find the cabin space a bit tight, especially in the rear seats and cargo area. Despite its limitations, the Jimny surprises with its clever storage solutions and versatility.
Infotainment system:
The Jimny's infotainment system includes touchscreen display (size may vary) that offers features such as navigation, bluetooth connectivity, smartphone integration (e.g. Apple CarPlay and Android Auto), and possibly other multimedia options.
Safety Features:
While the Jimny might not be as advanced in terms of safety features compared to larger and more modern SUVs, it generally includes basics such as airbags, anti-lock braking system (ABS), electronic stability programme (ESP), and possibly some driver assistance features like lane departure warning.
Fuel Efficiency:
The Jimny's small and efficient engine delivers respectable fuel economy. The fuel efficiency of the Suzuki Jimny can vary depending on factors such as the engine, transmission, driving conditions, and market regulations. Here are some estimated fuel efficiency figures for the Suzuki Jimny based on its available engines and transmissions:
1.5-liter four-cylinder Engine:
Manual Transmission: Approximately 6.4L/100km

Automatic Transmission: Approximately 6.9L/100km
The Suzuki Jimny is a niche vehicle that excels in off-road adventures and embraces its unique retro charm. Its compact size, exceptional manoeuvrability, and impressive off-road prowess make it a reliable companion for those seeking rugged exploration. While it may lack some modern features and interior space, its timeless design and go-anywhere spirit make it a standout choice in its class. If you prioritise off-road ability and individuality over luxurious appointments, the Suzuki Jimny is an excellent option to consider.
Conclusion
Our first ChatGPT generated post was a fun exercise, and we're happy to note that our AI friend seems to have a positive opinion of the Jimny. It's true that AI can be prompted to display all the negative comments about a product or topic and the way you ask the questions will make a difference.
In this case, this once again proves why it's so important to test drive vehicles when you're deciding. ChatGPT has unquestionably made online research easier, but nothing beats a real life experience when it comes to choosing your car.