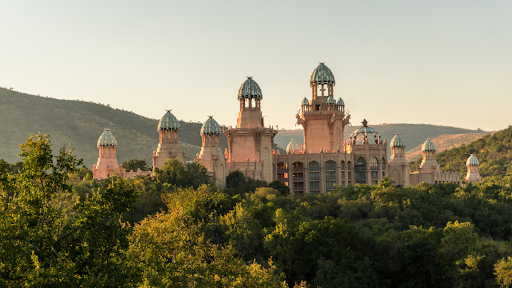 The Big Five, ancient archaeological sites, a dormant volcano, one of the largest man-made dams in the country, and the glitz and glamour of South Africa's version of Vegas, the North West offers some amazing road trip destinations. So, pack your bags and head out to explore!

Estimated reading time: 4 minutes, 58 seconds.
With mountainous landscapes and bushveld scattered with trees and shrubs, the North West province is home to Sun City, the upscale resort with hotels, a casino, and a water park with a massive wave pool. Nearby is Pilanesberg National Park, with an extinct volcano and more than 7 000 animals, including the Big Five. So book a test drive with our favourite compact crossover, the Vitara Brezza and start planning a great road trip–just in time for your next holiday or weekend away.
Find the Big Five
An easy hour and a half's drive from Jozi, Pilanesberg is one of South Africa's most accessible Big Five game parks. Situated inside an ancient volcanic crater, the park is teeming with wildlife (including a staggering 354 endemic bird species) and it's also the only national park in South Africa that offers hot air balloon safaris – an incredible way to experience the scenic bushveld. With accommodation ranging from camping to luxury lodges, it is wallet-friendly and a great (certainly closer) alternative to the Kruger National Park.
If luxury is what you're after, the Madikwe Game Reserve, just a couple of hours down the road from Pilanesberg on the edge of the Kalahari, is viewed as one of the country's most exclusive game reserves and home to an astonishing conservation success story. Feted for its population of critically-endangered wild dogs and leopards, Madikwe is also developing a reputation as a top location for specialised photographic safaris, with the recently introduced submerged photographic "terrapin hide" that pops up in the middle of a waterhole just above the water level. Certainly any photographer's dream!
Glitz and glamour
Just beyond the boundaries of Pilanesberg, Sun City is always a bucket of fun and one of our favourite weekend getaways, with activities for the whole family. For the adults, there's a world-famous golf course and one of Africa's biggest casinos, as well as a number of watering holes, live music venues, and restaurants. For the kids, there's a variety of rides, outdoor activities, and the famous Valley of the Waves.
Running along the edge of Sun City is the charming Letsatsing Game Reserve which we found to be one of the most exciting places to visit in the North West. One of the thrilling activities offered here is rhino tracking–you will shadow a field guide as he tracks wild white rhinos with the help of a telemetry device that picks up a signal from a chip planted in the rhinos' horns. When the telemetry signal is strong enough to suggest the rhinos are close by, you and the guide get out of the vehicle and you'll have the unique opportunity to track, approach, and then observe the rhinos on foot from just a few metres away. Simply exquisite.
Track your heritage and origins
This fascinating Taung Heritage Route takes you to several archaeological sites that fill in significant gaps in the chain of our evolution, as well as the lives of some of South Africa's earliest humans. It was along this route in 1924, that a 2.5-million-year-old fossilized skull of a hominid child was discovered. This site is officially part of the UNESCO Cradle of Humankind World Heritage Site. The entire Heritage Route spans 45 kilometres and encompasses several natural wonders, including a limestone waterfall and many natural rock basins, streams, and caves that are collectively known as the Blue Pools.
The Bakgatla-ba-Kgafela are a subgroup of the Tswana people and their history in this province is a long and tumultuous one. But despite it all, a strong culture, sense of identity, and hospitality has emerged intact and can be experienced at various cultural villages and the cultural museum in Saulspoort, about 35 kilometres from Sun City.
Weekends at Harties & Magalies
A particularly popular weekend playground for Gautengers, Hartbeespoort Dam offers a great opportunity for a variety of watersports such as windsurfing and jet skiing; while the Crocodile River that feeds the dam offers white water rafting, canoeing, and tubing. Beneath the dam's surface, you'll find one of South Africa's few inland dive sites and, rather bizarrely, a sunken bus and airplane. Heading away from the water and into the surrounding hills and mountains, there are beautiful hikes and walking trails as well as good rock climbing. Quad biking, paragliding, and hot air ballooning are also popular ways to explore the area.
A favourite outing in the area is the Elephant Sanctuary, where visitors can take part in daily interactions with resident African elephants. During your guided walking tour, you will learn about these incredible animals and the conservation issues affecting their survival in the wild. The elephants roam freely in the forest but are used to humans and allow up-close encounters. You can walk hand-in-trunk with them, see where they sleep at night, and help their keepers brush and feed them.
Only 15 minutes from Hartbeespoort town, you will find the Ann van Dyk Cheetah Centre. Established in 1971 as a breeding program to help bolster the cat's dwindling wild populations, the centre no longer offers hands-on experiences. Still, you can view the cheetahs and the resident African wild dogs, vultures, and several smaller cats on a guided game drive through their open enclosures.
On the edge of Harties, the dramatic Magaliesberg mountain range offers an incredibly diverse flora for nature lovers and hikers opting to take on the Magalies Meander. Additional activities in this area include incredible mountain bike trails and, if you feel like putting your Jimny through its paces, you can choose from some awesome trails such as Piesangkloof, Hennops and Kungwini. If adrenaline is what you're after, the Magalies Canopy Tours offer a completely different view of these majestic mountains.
Did we miss anything on our North West bucket list? Why not head out to visit and tell us all about it? To make your road trip unforgettable, download our tricks and tips to make the most of your time on the road: The ultimate guide to planning a holiday road trip | Suzuki
The North West awaits you! Book a test drive in one of the Suzuki family members today, head out and explore!
---
Mzansi offers so many options to explore, from beautiful natural bushveld scenery found in the North West to some of the most gorgeous coastlines in the world and everything in-between. Be sure to subscribe to your blog/newsletter to find your inspiration and book a test drive.
---