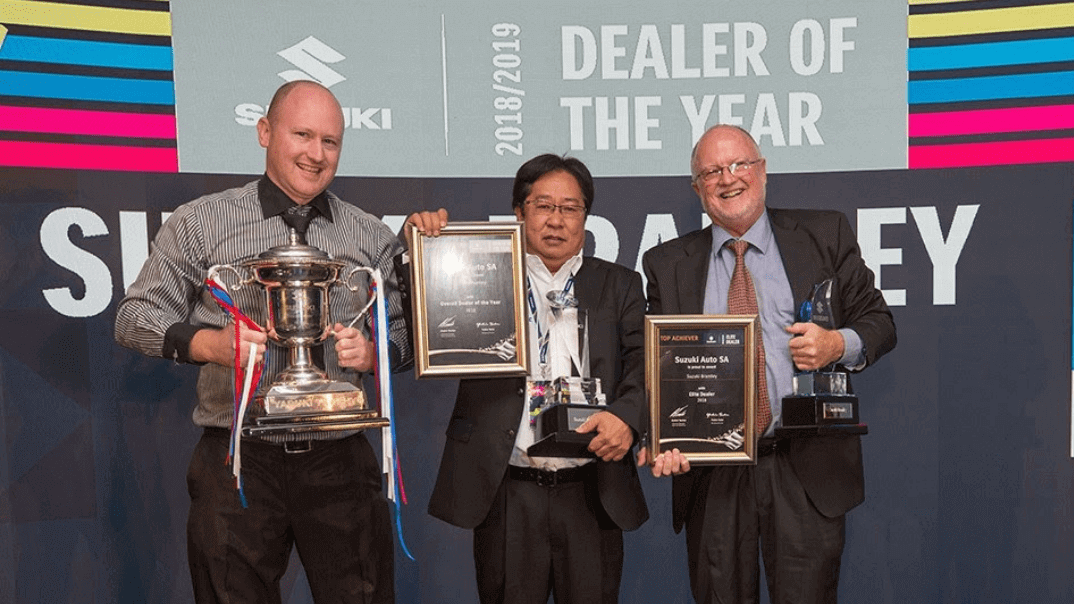 The coveted 2018/19 Suzuki Dealer of the Year trophy belongs to Suzuki Bramley.
It is the large dealership in Kew, Johannesburg's second win in three years and fifth win since the Japanese brand entered the South African market in 2008, making it the best-performing dealer.
"Suzuki Bramley was our inaugural Dealer of the Year-winner, and it has since maintained its high standards and kept its customers happy. We are very proud of what this dealership has achieved, and we have awarded its consistency with our first-ever Elite Dealer Award," says Andr? Venter, divisional manager for sales and marketing at Suzuki South Africa.
Aside from winning the Elite Dealer Award and the overall Dealer of the Year Award, Suzuki Bramley also won the Top Sales Volume Dealer Award for large dealers and the Overall Best Practice Award for the second quarter and for Suzuki's full financial year.
Bramley's – Greg van Kerkhoven won the Sales Manager of the Year trophy.
Nine other high-performing dealers also received special recognition for maintaining very high standards for service and sales. They are Suzuki Centurion, JHB South, Queenstown, Worcester, West Rand, Boksburg, Montana, Polokwane and Klerksdorp.
"This year, we awarded dealers from as far afield as Eswatini, Piet Retief and Middelburg. It not only means that our entire dealer network has maintained very high standards, but it also shows how our growing network has now started to reach smaller towns and rural areas," says Venter.
Suzuki Worcester won the Best Practice Service category, and Johannesburg South was the Best Practice for Parts. Centurion, last year's overall winner, won the top award for the best service satisfaction and the best customer satisfaction.
Further north, Suzuki Middelburg was identified as the Dealer to Watch, while Suzuki Queenstown was nominated as the most improved dealer in the Suzuki network.
In order to best recognise its growing group of dealers, Suzuki introduced several new category prizes for best sales performance, best market share and for the best parts, service and sales managers.
IPOP and the PENTA Motor Group (the latter also co-sponsors the AutoTrader Car of the Year competition), were both recognised as dealer groups that sold more than 1 000 vehicles in the period. Suzuki Piet Retief won the new category for the dealer with the best market share in its region, and IPOP was recognised as the dealer group with the highest sales volume.
The new awards for the top parts, service and sales managers went to Werner Taljaard of JHB South (best parts manager), Anine Muller of Montana (best service manager) and Greg van Kerckhoven of Bramley (best sales manager). Barend van Tonder of Suzuki Middelburg received this year's trophy for the best technician in the network.
For the final awards, Suzuki awarded its best dealers in the rural, small, medium and large categories, before picking the overall top dealer. Suzuki Bramley is the Top Large Dealer; West Rand – the winner of the Mobility Finance Support prize – won the award for the best Medium Dealer, and Klerksdorp was the winner of the small category. Suzuki Queenstown won the new category for the best rural dealer.
The Suzuki Dealer Awards were held on the last day of the Suzuki Dealer Conference, during which Suzuki discussed its rapid sales growth and new position as a top 10 vehicle brand in South Africa. The company also unveiled some of the upcoming new vehicles to dealers, such as the Suzuki Swift Sport with its new 1.4 Boosterjet engine and sport suspension, which will be launched in South Africa soon.
"We are truly heartened by the level of support that we receive from our dealer network," says Venter. "Thanks to their hard work and dedication and with our range of current and upcoming products, I am sure that we can make 2019 another very successful year for the brand."
Full list of winners
Award

Winner

Elite Dealer Award

Suzuki Bramley

Platinum Dealer Award

Suzuki Centurion

Suzuki JHB South

Suzuki Queenstown

Suzuki Worcester

Suzuki West Rand

Suzuki Boksburg

Suzuki Montana

Suzuki Polokwane

Suzuki Bramley

Suzuki Klerksdorp

Best Practice Sales (overall)

Suzuki Bramley

Best Practice Service (overall)

Suzuki Worcester

Best Practice Parts (overall)

Suzuki JHB South

Best Service Satisfaction Index

Suzuki Centurion

Best Customer Satisfaction Index

Suzuki Centurion

Dealer to Watch

Suzuki Middelburg

Above 1 000-unit sales for the year

IPOP

PENTA Motor Group

Top Sales Volume – Group

IPOP

Top Sales Volume – Dealer

Suzuki Bramley

Best Market Share – Dealer

Suzuki Piet Retief

Most Improved Dealer

Suzuki Queenstown

Technician of the Year

Barend van Tonder

Suzuki Middelburg

Parts Manager of the Year

Werner Taljaard

Suzuki JHB South

Service Manager of the Year

Anine Muller

Suzuki Montana

Sales Manager of the Year

Greg van Kerckhoven

Suzuki Bramley

Mobility Finance Support

Rural Dealer – Gold

Suzuki Queenstown

Small Dealer – Gold

Suzuki Klerksdorp

Medium Dealer – Gold

Suzuki West Rand

Large Dealer – Gold

Suzuki JHB South

Overall Mobility Finance Support winner

Suzuki West Rand

Top Large Category Dealer

Suzuki Bramley

Top Medium Category Dealer

Suzuki West Rand

Top Small Category Dealer

Suzuki Klerksdorp

Top Rural Category Dealer

Suzuki Queenstown

Overall Dealer of the Year

Suzuki Bramley
For more insights like these straight to your inbox subscribe to our blog.