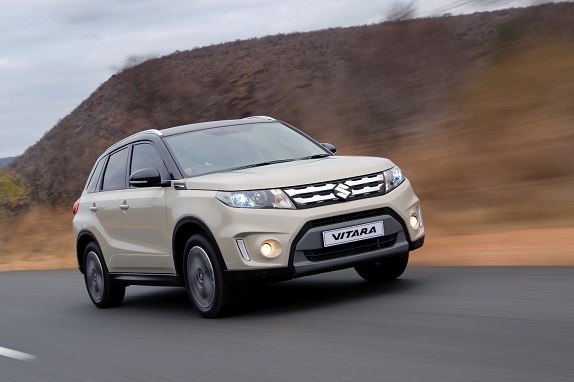 The release of the revitalised Suzuki Vitara has been the highlight of the year. Dedicated Suzuki fans have long been awaiting its revival and arrival, and now finally it's alive and roaring. With a 27 year history, the Vitara is reinventing itself with the second generation. Smart. Streamlined. Suzuki.
With a new interpretation of the Vitara, the shape is both contemporary and timeless. It features a full five-star EuroNCAP safety rating, with seven airbags across the range. The extensive personalisation options allow for endless possibilities.
Read the full press release, and fall in love.
A new direction - but the spirit lives on!
An all-new, innovative interpretation of the Suzuki Vitara ethos
Smart, streamlined shape expresses contemporary design language
Lightweight construction and efficient drivetrain ensure superior economy
Advanced AllGrip all-wheel drive system delivers go-anywhere talent
Full five-star EuroNCAP safety rating, with seven airbags across the range
Extensive personalisation scope allows for individuality
Summary
The Suzuki Vitara has been an enduring success since the Japanese automaker launched the first Vitara 27 years ago.
At the time, the notion of a compact SUV was as unique as it was novel, and in that sense, the Vitara - and the Grand Vitara that succeeded it - pioneered the small SUV/crossover segment long before it became a recognised trend.
Almost three decades later, Suzuki is launching an all-new Vitara that builds on the SUV spirit of the original Vitara.
Totally reimagined and completely new from the ground up, the new Vitara combines a contemporary, streamlined shape with the raised stance of an authentic compact SUV, but also offers a spacious, car-like interior with comprehensive appointments.
At the same time, a combination of sleek aerodynamics, low kerb weight and an efficient drivetrain ensures that the Vitara scores high marks as far as fuel economy and CO2 emissions are concerned.
The new Suzuki Vitara competes in the compact crossover segment - arguably one of the most closely contested sectors in the SA new vehicle market. But when equipped with Suzuki's innovative AllGrip all-wheel drive system, it also becomes a contender in the compact SUV sector.
As result, the Vitara is perfectly positioned to attract buyers from both segments, while also offering a fresh design, exceptional economy, a high degree of personalisation, and superior active and passive safety standards. The AllGrip system adds real all-terrain capability, with four user-selectable driving modes.
The five-model Suzuki Vitara range spans three specification levels - GL, GL+ and GLX - and a choice of two transmissions, as well as either front-wheel or AllGrip all-wheel drive. All five models are equipped with the same, highly efficient four-cylinder petrol engine.
The 1,6-litre unit combines willing performance with exceptional efficiency, ensuring swift dynamics and frugal fuel economy. Maximum power output of
86 kW at 6 000 r/min is coupled to a torque peak of 151 Nm at 4 400 r/min.
AllGrip all-wheel drive, offered on two of the five Suzuki Vitara models, is a four-mode system that optimises traction in variety of driving conditions. It senses when additional traction will be required, and divides power between the front and rear axles accordingly.
The four selectable modes allow the system to be optimised for specific driving conditions. In addition, the AllGrip system includes a new hill descent control function.
Safety is another key hallmark of the new Suzuki Vitara. All five models are equipped with a full array of active and passive safety features that includes ABS anti-lock brakes with brake assist, electronic stability control, seven airbags (including a knee airbag), front seat belts with pre-tensioners and load limiters, and IsoFix child seat tethers.
As a result, the new Vitara attained a full five-star safety rating under the latest, stringent EuroNCAP crash safety tests.
"The all-new Vitara is a milestone vehicle for Suzuki," says Yukio Sato, managing director of Suzuki Auto South Africa. "It embodies all the core values of the original, pioneering Vitara, but contextualises them in a completely new, thoroughly contemporary crossover vehicle that reflects the demands of the modern motorist."
"Thus, the new Vitara not only offers versatility and practicality, but also addresses key elements such as fuel economy, efficiency and safety more comprehensively than ever before."
"The result is a compelling compact crossover that will not only please existing Suzuki fans, but also attract new customers to the Suzuki fold," Sato concluded.
Exterior Design
While the new Vitara is a completely new from the ground up design, it also reflects an authentic Suzuki design language. It's a compact vehicle, measuring just 4 175 mm long, 1 775 mm wide and 1 610 mm high, while short overhangs and a relatively long wheelbase express agile and wieldy dynamics.
The front view is dominated by Suzuki's traditional clamshell bonnet design, which creates a solid visual foundation. A bold, two-blade grille links the bonnet to the trapezoidal lower air intake, which creates a strong visual link with the ground.
Slim, clear-lensed headlight clusters, colour-coded bumpers, recessed fog lamps (except on the GL model) and daytime running lights are all neatly integrated into the front-end design, while the short front overhang and raised stance create a purposeful appearance.
Those short overhangs become more apparent when viewing the Vitara in profile, allowing approach and departure angles of 18,2 degrees and 28,2 degrees respectively. The ramp breakover angle is 17,7 percent, while the minimum ground clearance is a useful 185 mm.
The side view also showcases the smooth, aerodynamic roofline, a powerful shoulder line, and an accent line that rises sharply over the rear fender to emphasise the Vitara's muscular haunches. Roof rails, a wide opening tailgate and high-mounted tail light clusters link utility to aesthetic appeal.
Talking of which, the Vitara's designers have added some effective visual accents, including fender garnishes at the base of the A-pillars, and blacked-out B and C-pillars.
Aerodynamic efficiency played a key role in the design of the new Vitara, extending from the wind-cheating overall profile to detailing such as the carefully shaped bumper apertures, flat underbody cladding, and smooth design of the exterior mirrors and front bumper edges.
The new Vitara also introduces three brand new colours - Atlantis Turquoise pearl metallic, Horizon Orange metallic, and Savannah Ivory metallic. In addition, the roof and grille can be ordered in contrasting hues, depending on model and colour.
Indeed, the ability to personalise the Vitara to reflect individual style and preference is another innovative aspect of the newcomer. With eight exterior colours, four roof colours and three grille finishes (chrome, black an white), prospective buyers are offered a wide range of options to choose a Vitara that matches their personal preference.
There are also to optional, added-cost accessory packages that take the concept of individualisation another step further. The Urban Package adds chromes fog lamp bezels, subtle body side mouldings and a roof spoiler, while the Rugged Package includes front and rear scuff plates, bold side body mouldings, a contrasting fog lamp bezel and loading protection.
Interior design
The ability to personalise the Vitara extends to the cabin. But it's also a roomy, comfortable space with an extensive list of standard convenience and safety features across all five models.
A user-friendly layout and tactile quality are core design elements, together with intelligent packaging that ensures an unexpected sense of space.
The clean sweep of the dashboard hosts a binnacle-protected instrument cluster directly ahead of the driver, and a centre stack that is home to the switchgear for the air-conditioning and audio system. A U-shaped centre console houses the gearshift lever.
The main instrument binnacle is dominated by dual analogue dials for speed and rev count, while an information display between the two dials offers selectable trip computer information, including instant/average fuel consumption, operating range, average speed, outside temperature, a trip meter, odometer and a digital clock.
The MP3/WMA-compatible multi-speaker audio system includes a CD player and FM/AM tuner, as well USB connectivity. In addition, integrated Bluetooth connectivity allows hands-free telephony.
The steering wheel is adjustable for tilt and reach, and depending on model, is equipped with convenient multifunction controls for the audio system, hands-free telephony, and cruise control and speed limiter systems.
The front bucket seats are height adjustable for both driver and front passenger, while the rear bench seat is split 60/40 and can be folded flat partially or completely to provide a versatile mix of loading space and rear seating.
The luggage compartment is easily accessible, thanks to a tailgate that opens all the way down to bumper level. At 1 120 mm wide and 730 mm high, the loading aperture easily copes with bulky objects.
The Vitara offers 375 litres of luggage space with the rear seatback raised, rising to 710 litres with the seatbacks folded down. A luggage board allows the luggage space to be divided for flexible loading solutions.
Interior stowage includes front and rear door pockets with integrated holders for bottles of 1,5 litres, a glove compartment, a driver's side storage binnacle, dual front and rear cup holders, and a centre lower compartment which also hosts the USB and accessory sockets.
As mentioned, the interior of the new Suzuki Vitara can also be personalised by specifying contrasting or colour-coded accents to elements such as the dashboard insert, as well as the air vent and clock surrounds.
Drivetrain
The new Vitara is powered by Suzuki's latest M16A 1,6-litre petrol engine. The four-cylinder power unit has been optimised for performance and efficiency through a variety of measures and technologies, including friction reduction, and reducing the mass of internal components.
The multipoint fuel-injected 1 586 cc engine also benefits from VVT variable valve timing to deliver a maximum power output of 86 kW at 6 600 r/min, combined with maximum torque of 151 Nm at 4 400 r/min.
While the same engine is used across the entire Vitara model range, would-be buyers can opt for either a five-speed manual or a six-speed automatic gearbox. The manual gearbox features optimised gear ratios benefiting both economy and performance, while a counterweight ensures a smooth, positive shift action.
The six-speed automatic transmission offers an even wider spread of ratios for improved response at pull-off and lower engine revs during open-road cruising. Manual override is available via shift paddles mounted behind the steering wheel.
True to the Vitara's SUV heritage, two of the five models come equipped with Suzuki's latest-generation AllGrip four-wheel drive system. Specifically adapted for its application in the Vitara, AllGrip offers four driving modes and adds real all-terrain capability without compromising fuel economy – usually the Achilles heel of all-wheel drive systems.
The AllGrip system uses a feedback function to allocate torque to the rear wheels when the front wheels start losing traction.
For the Vitara, a new feed forward function enhances the system's effectiveness even further by using information such as the road surface condition, accelerator pedal position and steering angle to predict a loss of traction, and to send torque to the rear axle even before front wheelspin actually occurs.
The AllGrip system's default driving mode is Auto, which prioritises fuel economy during typical day-to-day on-road driving conditions by specifying front-wheel drive. However, it will introduce all-wheel drive when a loss of front-wheel traction is detected.
In Sport mode, AllGrip benefits composure on twisty roads by introducing all-wheel drive relative to throttle input. At midrange engine speeds, the accelerator/torque characteristics are adjusted to optimise engine response for confident cornering.
The Snow mode can be selected when traction is severely compromised, such as on muddy gravel tracks. All-wheel drive is selected by default, while traction and stability are optimised, based on steering and throttle input.
Finally, there is a Lock mode, which invokes a limited slip diff to brake the spinning wheel, thereby transferring the available torque to those wheels that retain traction.
The AllGrip system is further augmented by the inclusion of Hill Descent Control, which limits the speed of descent when negotiating steep downhills, thus ensuring optimum driver control.
Chassis and suspension
The new Suzuki Vitara employs an independent MacPherson strut-based front suspension. It employs reshaped lower arms, an improved suspension frame configuration and optimised struts to deliver higher rigidity and thus enhanced overall stability.
At the rear, the torsion beam design features the same closed-section beam design as the SX4 S-Cross, which achieves superior rigidity and a supple ride.
An all-disc braking system links ventilated front discs to solid discs are the rear. The callipers have been designed for both weight reduction and drag loss, thus benefiting both braking performance and efficiency.
Safety
The new Suzuki Vitara comes equipped with a comprehensive array of active and passive safety features. Active systems include electronic stability programme (ESP), and ABS anti-lock brakes with electronic brake force distribution (EBD) and electronic brake assist (EBA).
The passive safety features include seven airbags (dual front, side and curtain airbags, as well as a knee airbag for the driver), as well as a brake pedal release system. The front seating positions are equipped with seat belts featuring pre-tensioners and load limiters.
Head restraints are provided for all five seating positions, while IsoFix child seat tethers are also included.
From a pedestrian safety perspective, the bonnet shape and new structures for the cowl top, wipers and bumpers have all been designed to absorb impact forces when a car collides with a pedestrian.
The body structure of the new Vitara expresses Suzuki's Total Effective Control Technology (TECT), aimed specifically at occupant-protecting impact absorption and low weight. Thus, extensive use of ultra-high tensile steel also contributed to the Vitara's outstanding crashworthiness.
As a result, the new Vitara achieved a five-star rating in the authoritative 2015 EuroNCAP safety ratings.
The model range
The new Suzuki Vitara range consists of five models, spanning three specification levels, a choice of front or all-wheel drive, and either manual or automatic gearboxes. The same 1,6-litre petrol engine is used throughout.
Vitara 1.6 GL
The Suzuki Vitara 1.6 GL may be the most affordable member of the new Vitara family, but it still offers an extensive array of features, functions and capabilities. It links Suzuki's M16A 1,6-litre engine to a five-speed manual gearbox and front-wheel drive.
The sleek, aerodynamic shape, with its short overhangs and extended wheelbase is a real head-turner, while the raised stance expresses the Vitara's SUV heritage. Exterior features include wheel arch extensions and front and rear skid plates, while the grille, exterior door handles, exterior mirrors and fender garnishes are finished in contrasting black.
The GL is equipped with 16-inch steel wheels fitted with full wheel covers, and shod with 215/60 R16 tyres.
The smart, spacious interior features durable cloth upholstery throughout. Both front seats offer height adjustment in addition to adjustment for reach and backrest handle, while the rear bench seat is split 60:40, allowing each section to folded flat individually.
Comprehensive instrumentation is standard, and includes a trip computer with a digital display between the analogue rev counter and speedometer. It shows selectable information on average speed, instant and average fuel consumption, operating range, exterior temperature and gear selected.
The display also includes a gear shift indicator, seatbelt reminders, door ajar alerts and a low fuel warning light. A tilt and reach-adjustable steering wheel is equipped with multifunction controls for the audio system and hands-free telephony.
Electrically operated front windows and exterior mirrors are standard, as is remote central locking, manual air-conditioning with pollen filter, and a four-speaker audio system. The latter is MP3/WMA compatible and equipped with a CD player, FM/AM tuner, USB socket and Bluetooth connectivity for hands-free telephony. A 12V accessory socket is also provided.
The interior offers ample storage, including front and rear door pockets with
1,5-litre bottle holders, front and rear cup holders, and a glove compartment ahead of the front occupant. The 375 litre luggage compartment is equipped with a luggage cover.
Safety is comprehensively addressed via active measures such as ABS anti-lock brakes with EBD and EBA, as well ESP stability control, while passive systems include seven airbags, front seatbelts with pre-tensioners and load limiters, head restraints for all seating positions, and IsoFix child seat tethers.
An integrated alarm/immobiliser is standard, as are locks with freewheeling key cylinders.
Vitara 1.6 GL+
There are two Vitara models offering the GL+ specification level. Both feature the same combination of 1,6-litre engine and five-speed manual gearbox. However, the difference between the two is the addition of Suzuki's innovative AllGrip four-wheel drive system on the second GL+ model.
The GL+ specification includes all the standard features of the GL, but there are several important additions and upgrades. Immediately apparent are the 16-inch alloy wheels, as are the colour-coded grille, door handles and exterior mirrors.
GL+ models can also be ordered in a two-tone exterior execution, with the roof finished in a contrasting colour to the main body colour.
The fender garnishes are finished in grey, and front fog lamps are standard, while dark-tinted privacy glass is fitted to the rear door windows, the rear quarter windows and the tailgate window.
Inside, the fabric upholstery gets smart, contrasting stitching, while a sprinkling of chrome and silver accents adds further appeal. The steering wheel gains leather trim, and the already comprehensive standard equipment list is further extended.
Thus, electric rear windows are now standard, as is cruise control (with steering wheel-mounted controls), and an analogue clock in the centre of the dashboard. The manual air-conditioning makes way for automatic climate control air-con.
The luggage compartment of the GL+ gains the added versatility of luggage area divider board, as well as a 12V accessory socket and a boot light. The GL+ with AllGrip features a drive mode selector in the centre console, as well as a drive mode indicator in the instrument cluster's digital display.
Vitara 1.6 GLX
The GLX designation is reserved for the two flagships of the new Vitara line-up. Both models are powered by the same M16A 1,6-litre engine as the other variants.
However, the front-wheel drive GLX swaps the five-speed manual transmission for a six-speed automatic gearbox, complete with steering wheel-mounted shift paddles. The AlllGrip-equipped GLX retains the five-speed manual gearbox.
Exterior features unique to the GLX models include17-inch alloy wheels shod with 215/55 R17 tyres, while a panoramic glass sunroof is standard. The roof is electrically operated, and features a motorised internal blind.
Also unique are the silver roof rails, while the front grille and fender garnishes boast a chrome finish. The headlights feature LED projector low-beam elements, and LED daytime running lights. The exterior mirrors feature integrated indicators, and fold away at the press of a button.
The interior gains an even more upmarket ambience, thanks to the suede upholstery, while there's a further equipment upgrade: front and rear parking sensors are standard, as is Hill Hold Control, automatic headlight activation and keyless starting.
Warranty, maintenance and service intervals
The Suzuki Vitara range is backed by a comprehensive three-year/100 000 km warranty, as well as a four-year/60 000 km service plan, and a three-year roadside assistance package. Services are at 15 000 km intervals.