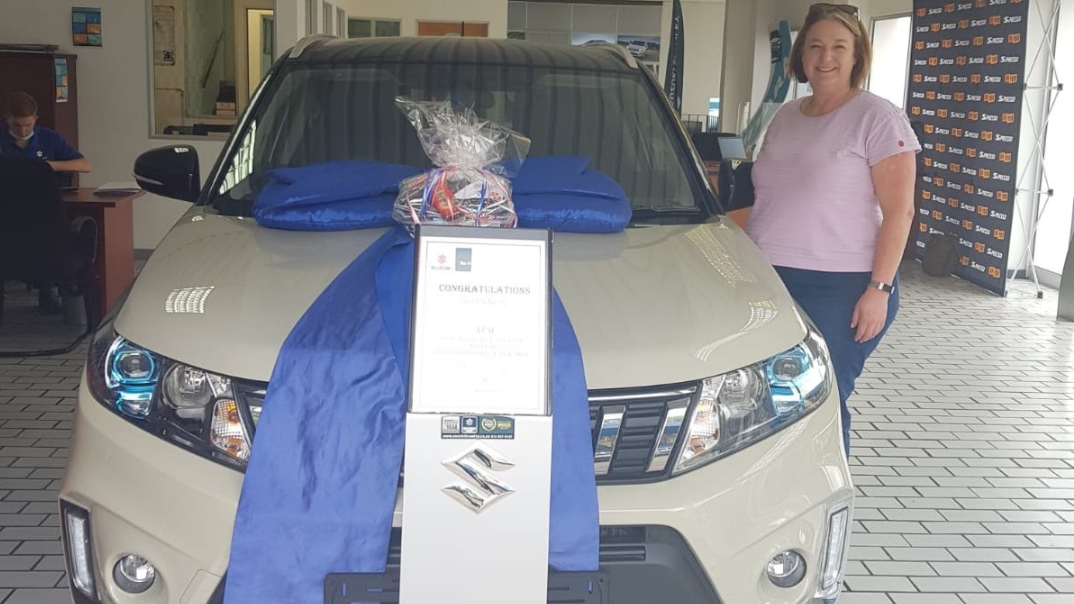 Shannon Drake is brand new to the Suzuki family. She only took delivery of her new Vitara a few weeks ago, but she already knows it's the perfect set of wheels for her lifestyle.
Estimated reading time: 2 minutes, 5 seconds.
Shannon Drake recently drove home in her Suzuki Vitara Turbo. "This was not a spur-of-the-moment purchase," says Shannon. "I have been researching new cars since January. So by the time I walked into the Suzuki dealership, I knew exactly what I was looking for."
She previously drove a Ford EcoSport, so when the time came to replace her car, Shannon dove into her online research. "I knew I wanted another compact SUV," she says. "I love the versatility and driving style, and it just suits my lifestyle. So I started narrowing down the list of compact SUVs and the Vitara was the clear winner."
Shannon was looking for a compact SUV that offered value for money, looked stylish, and included all the features she requires in a vehicle. "We all have that one thing that our car simply must have, and for me it was that the infotainment screen must be positioned in the dashboard. It's just my thing!" None of the other compact SUVs on her shortlist, and price range, offered this feature, so Shannon headed straight for her nearest Suzuki dealership for a test drive.
From the spacious interior (she has two dogs she travels with) to the impressive boot space, the Suzuki Vitara Turbo made an even better impression in person than it did on paper. Shannon says the Suzuki team was very welcoming, answered all her questions, and were equally helpful with all the admin that comes with buying a new car.
Now that she's spent some time behind the wheel of her new Vitara, Shannon says there are many small details that continue to surprise and delight her. "I find the interface for my phone just works beautifully. I'm constantly using Waze and this just makes my life so much easier," says Shannon.
Although she hasn't had the opportunity to hit the open road in her new Suzuki, Shannon looks forward to her first road trip. "I've been ridiculously busy the last few weeks, so I am looking forward to simply turning up the music and spending some quality time with my amazing new Vitara!"
How about visiting your nearest Suzuki dealer and find out which Suzuki model is most suited for you.
---
Love our blog and want more? Subscribe and get our latest articles delivered to your inbox - hot off the presses!