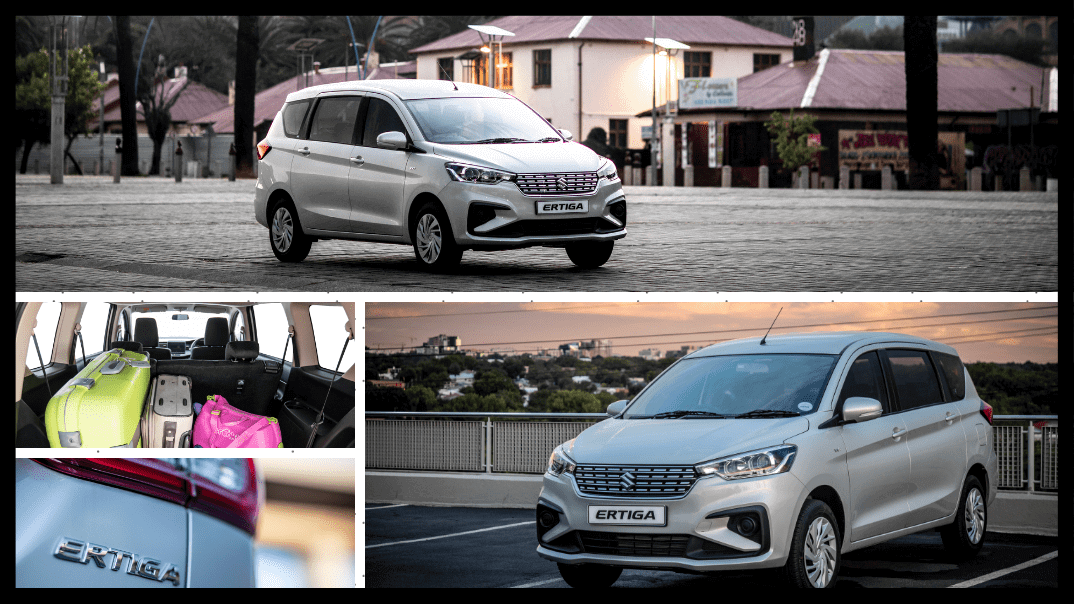 Launched on 08 March 2019, the new Suzuki Ertiga caused quite the stir in the South African motoring community. Here's a round-up of some of the reviews from petrol-heads who test drove the all in Ertiga at the launch.

The new Ertiga gave South Africa the ability to go #AllIn at the official media launch, proving that this elegant seven seater Suzuki is what every family needs. But don't just take our word for it, here's a round-up of reviews from people that test drove the new Ertiga for themselves.

The south african media has spoken

"The vehicle, purposed to offer good value to budding families wanting to save a few bucks, is slightly bigger than the outgoing model and also boasts a new engine. There is adequate feedback from the steering wheel, too. Suzuki plays the beat-the-budget game and its vehicles, including the new Ertiga, attest to that.

In traffic, the Ertiga's short overhang at the front means that you can navigate through the city bustle with confidence and not be too worried that the big vehicle will struggle like a Golden Arrow bus. To further assist manoeuvrability is a turning circle of only 5.2m. Regarding price, Suzuki South Africa managed to keep pricing competitive whilst at the same time fitting the MPV with a new multimedia system and a revised interior." - Wheels24

"Like the outgoing generation, another highlight is the Ertiga's ride quality. It's comfortable to drive and manages to deliver a smooth and pleasant ride. The engine is refined and the steering is nicely weighted, providing ample feedback through the tiller. In terms of practicality, the Ertiga shines brightly indeed. Second-row passengers are afforded generous space in all directions, and for added comfort, the seats can recline, which is a boon for long- distance travelling.

There are also dedicated rear air conditioning vents mounted in the roof for those seated in the rear. Should you consider buying the Ertiga? The short answer is, yes! As you would expect with most new-generation cars, prices go up and this too is the case for the new Ertiga. It is, however, good to know that the new Ertiga has improved appreciably overall which helps to justify its new asking price." - Gero Lilleike, cars.co.za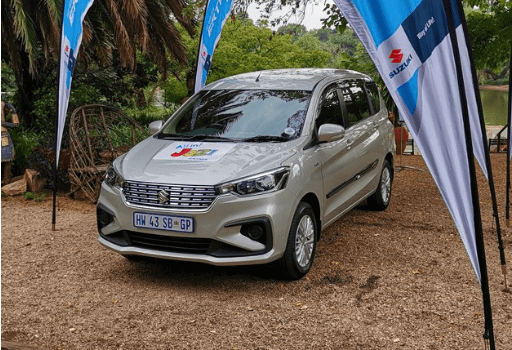 Image from Charlen Raymond, wheels24
"As was the case with the (outgoing) first-generation Ertiga, the new one is based on the oily bits of a Swift. This time around, it uses the same "Heartect" platform as you'll find in a new Swift, Baleno or Ignis – only stretched in certain directions to suit its configuration. Longer and wider than the old model, but sitting on an identical wheelbase, this all-new model promises more versatility and improved safety, without growing so big as to become cumbersome to drive.
Thanks to the slightly stronger engine, the gear ratios have been revised to give more relaxed cruising and better fuel economy. Handling prowess is obviously not a high priority for this kind of vehicle either, but the suspension and tyres are certainly up to the modest demands made by the hard-working engine.

It is very comfortable, though – being originally an Indian-market car, the springs and dampers are tuned to give plenty of wheel travel and an absorbent ride. There's a strong likelihood that local buyers will appreciate these smooth-striding road manners more than they'll appreciate sporty handling in any case, so these compromises are entirely appropriate. Straight-line stability at speed is also noticeably better than before, possibly as a result of improved aerodynamics." - Martin Pretorius, Autotrader
One of our favourite auto fanatics, Chris Wall, was just as excited about the launch as we were and really enjoyed the special day we planned for new Ertiga.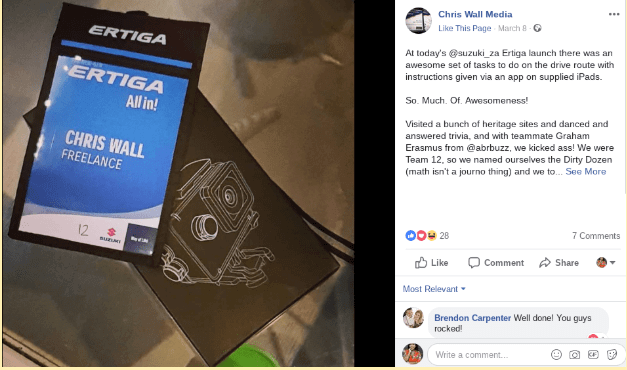 "Locally, there's a huge demand for these cars. There's a large chunk of the population that relies on the taxi system for transportation. They're also a perfect fit for any company ferrying tourists, school kids and the elderly. Not to mention families, who simply want something large, economical and reasonably well equipped.
We spent the day driving around the busiest streets in Johannesburg, stopping at various points to complete some tasks. The drive was comfortable, the infotainment was easy to understand, the air-conditioning kept us cool and the engine provided forward momentum while not consuming copious amounts of petrol." - Leisure Wheels
Here are a few tweets of how the media felt about the #AllIn experience: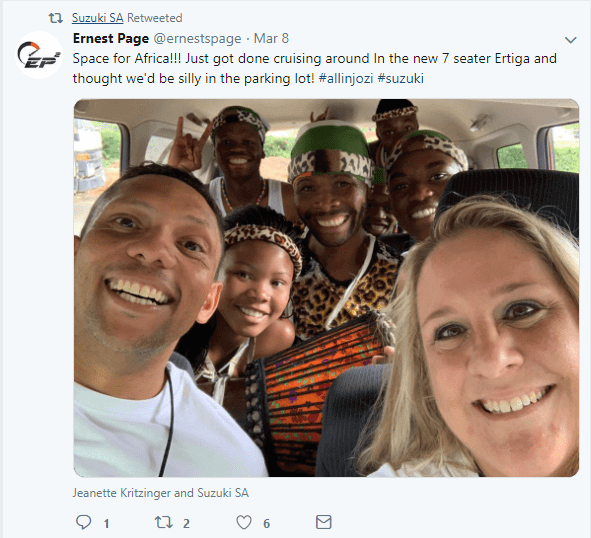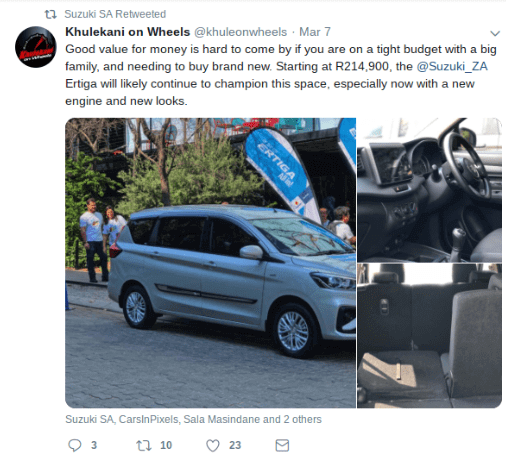 ---
Here is a video review for you to enjoy and see why the new Ertiga is really #AllIn and perfect for any South African family:
---
What are you waiting for? Book A Test Drive in the new Suzuki Ertiga and experience #AllIn for you and your family.