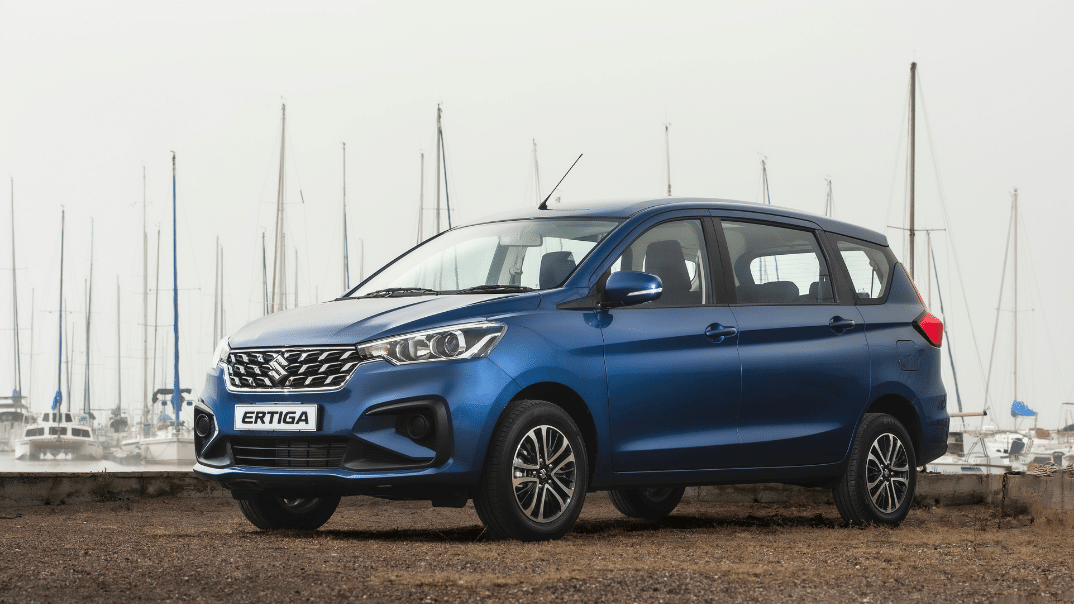 Suzuki has created a market for seven-seat luxury vehicles below R300 000 with the launch of the Ertiga GLX model.
Available with the choice of a manual (R267 900) or automatic (R282 900) gearbox, the Ertiga offers a range of luxuries not common to the sub-R300 000 MPV market. It joins other luxury-value leaders, such as the Ignis GLX and Swift GLX, of which the latter was recently launched. The Ertiga range now offers five models.
The Ertiga GLX will offer all of the luxuries currently available on the GL model and add a host of styling and luxury features, which will make it stand out from the range and other seven-seat vehicles in this category.
Viewed from outside, the Ertiga GLX is finished with high-quality chrome on the door handles and rear garnishes, with the latter discreetly hiding a new reverse camera. The gloss from these additional trim pieces is mirrored in the new 15" alloy wheels, which replace the steel wheel and hubcap combination of the GA and GL models.
A keen observer will also notice the addition of front and rear mud flaps and front fog lamps, which are housed in the sculpted lower side-intakes.
At the rear, Suzuki has added a curved LED light strip to the LED combination lamps. This adds a unique rear visual signature to this GLX model.
In the cabin, the new wood-grain trim is the first sign of the upgraded interior luxuries. Other additions include a height-adjustable driver's seat and new centre console box that doubles as a central armrest for the driver and front passenger.
Like its sibling GLX-models, the Ertiga GLX foregoes a standard key with remote central locking for a combination of keyless access and a Start/Stop button. It also replaces the standard air conditioning system with automatic climate control, which includes an ambient temperature sensor to ensure that the pre-set interior temperature is maintained.
Fans of Suzuki's new digital interface will also be delighted to hear that the large upper section of the Ertiga central stack, which in other models houses the radio, USB and Bluetooth set-up, is replaced with the company's 7" touch-screen infotainment system.
This system allows the driver to control all infotainment functions via the touch-sensitive screen or via voice commands, and it integrates seamlessly with the latest version of Apple's CarPlay and Google's Android Auto. This means that smartphone owners will be able to mirror their phone screen and much of its functionality on the infotainment system. It also allows the use of features such as Google Assistant and Apple's Siri, without the need to pick up or unlock the phone.
Suzuki has added a second 4.2" (10.6 cm) colour multi-info display in the instrument cluster. This screen displays driving information such as instantaneous and average fuel consumption, driving range, power and torque delivery, and fuel consumption and speed for the current driving cycle.
Safety is well taken care of, like all other Ertiga models, with the inclusion of ABS-brakes with electronic brake force distribution, two front airbags and Suzuki's ultra-rigid TECT platform, which includes energy dispersion channels, crumple zones and additional impact bars in all doors.
The GLX model will share its siblings' new K15B engine, which is also used on the new Suzuki Jimny. This 1.5 litre 16-valve four-cylinder petrol engine has a maximum output of 77 kW at 6 000 rpm and 138 Nm at 4 400 rpm. Both the auto and manual models use 6.2 litres of fuel per 100 km in a combined cycle.
The Ertiga GLX will be available from early September at Suzuki dealers across South Africa. It offers an extended 4-year / 60 000 km service plan and will include Suzuki's promotional 5-year / 200 000 km mechanical warranty.
The Ertiga range now offers the following models:
Ertiga 1.5 GA (manual)
Ertiga 1.5 GL (manual)
Ertiga 1.5 GL (automatic)
Ertiga 1.5 GLX (manual)
Ertiga 1.5 GLX (automatic)
Get the Suzuki sensation and go through the range, test drive the vehicle, and see the difference for yourself! Book a test drive at a dealership near you today.
---
Receive insider tips to help you get the best possible deal on your car by downloading our guide, Questions to ask your dealer, and take it with you to your dealership to ensure you don't forget to ask any important questions.