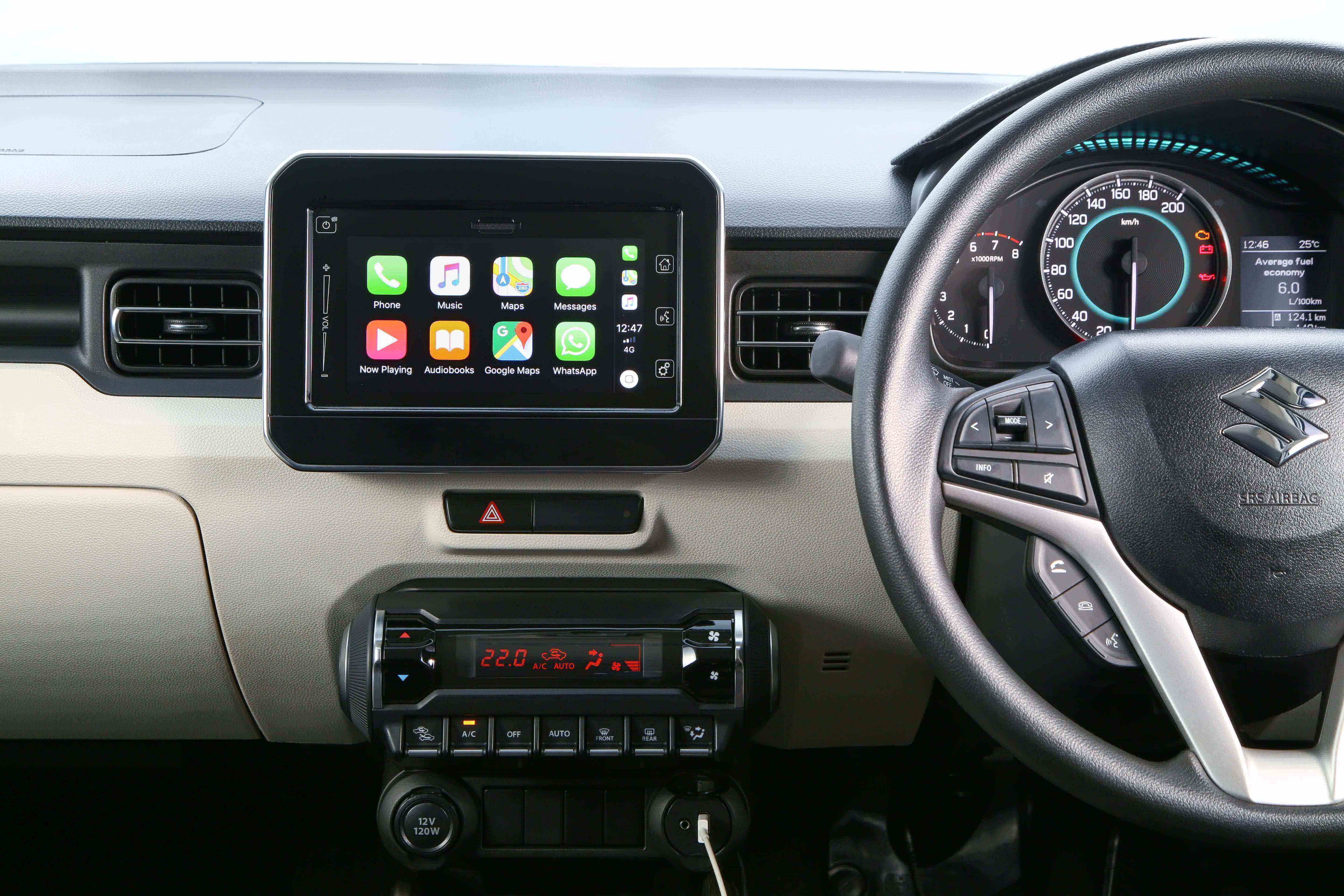 Suzuki is always
striving to bring you fantastic features
that make your Suzuki car even more awesome - and that's exactly what the 7-inch infotainment centre does.
Estimated reading time: 2 minutes, 21 seconds.
Suzuki's product planning division is always hard at work bringing our customers the latest features without losing the things you know and love about Suzuki such as reliability and safety.
We've been researching and conducting various case studies during the last few years to bring the Suzuki Smartphone Linkage Display Audio (SLDA) radio into South Africa. We wanted to ensure that the right specification and feature-packed radio comes in at a reasonable price that we know you'll love.

The new Jimny was the first Suzuki model to launch the 7-inch infotainment centre in South Africa. Soon after that, it was introduced in the refreshed Vitara, the Baleno and the Ignis – and shortly thereafter in the newly updated Ciaz.

Staying true to Suzuki's practical interior design ethos, this infotainment system really sets itself apart from other touchscreen systems in South Africa. There are some touchscreen systems that have navigation functionality integrated into the audio or touchscreen system. Of course, this is a convenient system but the cost of these systems is usually very high and they often need to be updated with the latest software to remain relevant.

Some manufacturers charge an extra, exorbitant amount to make the SD card navigation files available. What makes SLDA better is the fact that Apple CarPlay and Android Auto mirrors your Maps and Navigation services directly from your phone, meaning that the system itself is inexpensive and the data will always be updated, as long as your phone remains updated. You can watch our 7-inch infotainment centre in action in the video below.
Voice-activated virtual assistants like Apple's Siri and Google Assistant can be activated. If you don't have Apple Carplay or Android Auto functionality on your phone, there's no reason to worry. The 7-inch infotainment centre can still connect to your smartphone via Bluetooth and USB.

The 7-inch infotainment centre also has its own voice command functionality to access phonebook items and to enable totally hands-free operation. Your music and audio can still be streamed to the infotainment centre via Bluetooth, USB or SD Card.

We would have loved to have fitted all our Suzuki models with the 7-inch infotainment centre but the main criteria and aspiration for the infotainment centre is that all top-of-range models should eventually have infotainment as standard. Currently, the 7-inch infotainment centre is available in the Ignis GLX, Baleno GLX, Ciaz GLX, Vitara GL+ and GLX as well as the Jimny GLX, while every model (except for the Jimny) is also fitted with a reverse camera as standard.

Do you want driving advice, fuel-saving tips, and guides to choosing, buying and caring for your car? Subscribe to our blog and we will deliver the latest articles straight to your inbox. Stay up to date with all things car related by downloading our 101 Car Facts.