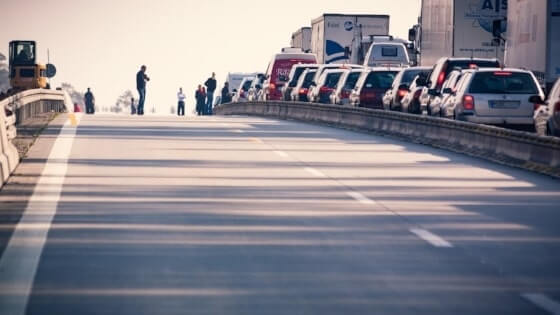 Whether you drive 5km a day or 50km, keeping an updated emergency kit in your car can be a life-saving decision.
They're called 'accidents' for a reason – we don't plan them, but the moment you get into a car, you're at risk. It sounds harsh, but that's the reality, and keeping an emergency kit in your car can quickly become one of the most important decisions of your life. Below are the essentials:
1. Emergency triangle
Some of the most serious accidents occur when a stationary vehicle is hit by another going at full speed. If your car breaks down or is stationary on any portion of a public road, switch your hazard lights on immediately. Your triangle must then be placed on the roadway at least 45 m from the back of the vehicle, facing traffic approaching from the rear. This ensures that your car is visible to other motorists, giving them time to slow down.
Having an emergency triangle is a legal requirement in South Africa. Motorists need to have at least one double-sided reflective triangle, to SABS specifications, in their cars at all the times. Vehicles first registered before 1 July 2006 (when this law only applied to commercial vehicles) are exempt from the rule, however it's in your best interest to carry one anyway. New vehicles come with an emergency triangle, but many people don't know where it's kept in their car. Consider it part of your emergency kit, and make sure you know how it works (some can be tricky to unfold).
2. Fire extinguisher

This is so important, and so many drivers don't think to keep an extinguisher in their car. There are many small extinguishers available, and they're easy to store within easy reach. Just remember to check the expiry date on your fire extinguisher regularly. In the event of an accident, or if you come across an accident where a vehicle is on fire, a fire extinguisher can mean the difference between life or death. Fire spreads quickly, and in most cases the fire department simply can't get to the scene fast enough, often due to traffic conditions.
3. First aid kit
Many vehicles can be specified with a first aid kit, and these are often very handy. In some cases you may want to add a few extras. For example, if anyone in your family has serious medical conditions, it's a good idea to keep critical medicines in the car. That said, lots of medication can't be stored in a hot car, but depending on your needs, there may be alternatives you can keep on hand that could buy you some time in the event of an emergency.
Your first aid kit should contain the essentials: latex gloves, bandages, plasters, scissors and antiseptic. Many people who have done standard CPR courses carry extras such as a CPR mouthpiece so that they're able to help in the event of an accident.
There are numerous pre-packed first aid kits available.
4. External cellphone charger
Many of us charge our phones in the car, but if you get stuck next to the road with an unresponsive vehicle, the last thing you want to see is 0% battery on your phone. Keep a pre-charged external battery in your car – the odds may seem low, but you'll be extremely grateful when you do need it. Keep in mind that these lose their charge over time.
5. Snacks and water
This may sound a bit 'survivor', but we refer back to the term 'accident'. Do a quick survey amongst your friends and colleagues and you'll most likely find someone who managed to get stuck next to the road for hours. And overturned truck on the highway can have the same effect, leaving you sitting in your car with nowhere to go. If you have children with you, it's even more important to keep them hydrated (and happy) while you wait for help, or for an accident scene to be cleared. Drivers who suffer from conditions such as low blood sugar should be especially vigilant to ensure their 'emergency snacks' are always well stocked.
6. Flashlight
We've all seen those horror movies! Make sure you have a decent flashlight, and regularly check the batteries. Horror movies aside, a flashlight could save your life in the event of an accident at night. It can help you check for serious injuries, find your cellphone or first aid kit. It may also be needed to flag down help or identify your position if your vehicle left the road during the accident. It's a must-have in any car.
7. Copy of your driver's licence and medical aid details
This is an excellent habit – keep a certified copy of your driver's license in your emergency kit, as well as medical aid and contact details. If you're involved in a serious accident, and first responders can't access your phone or find your wallet / purse, they're likely to check your emergency kit for details. It's simply extra insurance.
8. Jumper cables
No car is perfect, and even a brand new luxury sedan can still suffer from a flat battery. In some cases this may mean being towed in (in some new cars the battery is not accessible), but in many cases you'll be able to jump start the car. Keep a set of jumper cables in your emergency kit.
9. Tyre repair kit
A tyre repair kit is one of the most important items to keep in your car. A flat tyre is not only frustrating, but if you get stuck on the wrong road (or a busy one), it can be extremely dangerous. Most tyre repair kits are a quick fix and will at least allow you to drive to the nearest service station. If you are unsure how to use a tyre repair kit, check out this handy article on how to repair a puncture.
Depending on your driving routes and habits, as well as whether you normally have children in the car or not, you can adapt your emergency kit to suit your needs. The above items, however, should be standard fare.
Want to get all the latest Suzuki content sent straight to your inbox? Subscribe to our blog and never miss a post.
Suzuki offers useful advice on safety and driving but we also offer advice on choosing the right car for your needs. If you want some help deciding which car is right for your child, check out this useful guide to buying your child their first car.