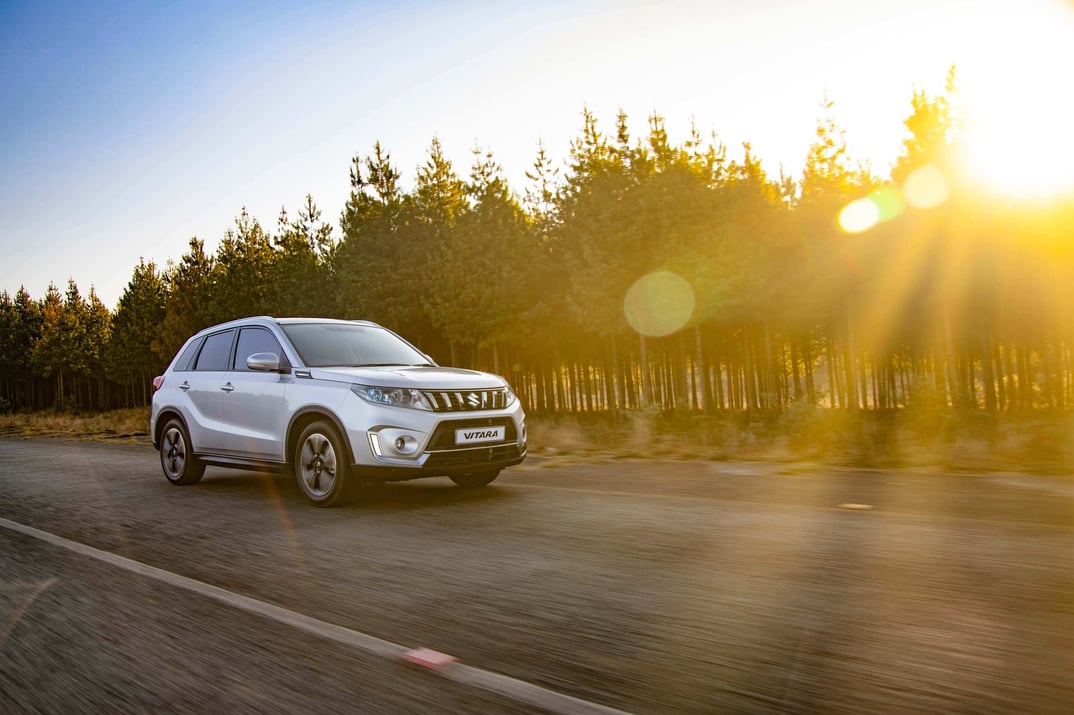 With the festive season just around the corner, it's the perfect time of year to pack your bags and hit the road for a seaside adventure.
Now, while there's nothing wrong with parking off at your favourite beach for a week or two, there's just something about following the bends and curves of the Indian Ocean coastline for a more diverse experience.
Sound like fun? Here's an itinerary outline for an epic road trip from Durban to East London, taking you through some of the country's most picturesque coastal villages and breath-taking natural scenery.


Durban → Port Edward
You'll start your journey in Durban, leaving the hustle and bustle of the city behind as you hit the N2 southbound. The road will take you through a variety of popular beach resorts, including Amanzimtoti, Umkomaas, Scottburgh and Ifafa and finally on into the Hibiscus Coast at Port Shepstone. Here, you'll leave the national road and follow the R61 through Shelley Beach, Uvongo and South Broom, finally reaching your destination on the very border of the Eastern Cape – Port Edward.
Distance: 163km
Activities at your destination: As the last outpost of Kwa-Zulu Natal's south coast, Port Edward may seem like nothing but a sleepy little hamlet to many. However, the town has an incredible array of activities to suit every taste! Outdoor-lovers are spoiled for choice when it comes to beaches and can also opt for boating adventures on the Umtumvuna River.
Those who enjoy wining, dining and a little bit of luxury, will love the Wild Coast Sun, where the kids can also play their hearts out at the Wild Waves Waterpark. Anyone with a penchant for an aromatic caffeine kick, will certainly appreciate a tour of Beaver Creek Coffee Farm, followed by a tasting.
Finally, pay a visit to the Crag's View Wild Care Centre to see the good work they do in the rehabilitation of vulnerable creatures and don't forget to bring something to donate.
Accommodation: Spend the night right on the water's edge at the Umtumvuna River Lodge. It's a popular wedding venue, so be sure to book well in advance!
Snack stops en route:
Where to snap a selfie: With the lush subtropical vegetation all round, almost anywhere provides a perfect backdrop for a holiday pic or two.
Other places of interest: Located about 21km inland from Port Shepstone, Oribi Gorge Nature Reserve is a firm favourite among adrenaline junkies. With anything from bridge swings to white water rafting, it's definitely worth a sho't left if extreme is what you're after.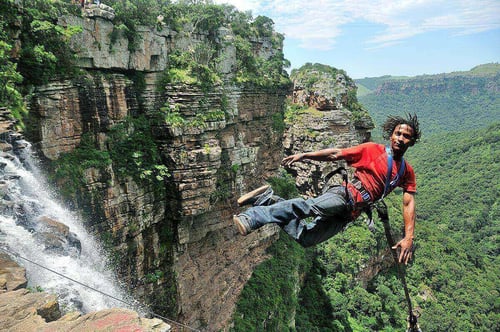 Image source: Wild 5 Adventures

Port Edward → Port St. Johns
Sticking to the R61, you'll head back inland for most of this leg, passing through both rural villages and larger towns, such as Bizana, Flagstaff and Lusikisiki. Although it's a beautiful drive, it's not necessarily easy – keep your eyes constantly peeled for potholes and stray animals as you go.
Distance: 200km (but give yourself a good 4 hours for the drive)
Activities at your destination: Known as the 'jewel of the Wild Coast', it's hardly surprising that Port St. Johns is filled with incredible experiences just waiting to be discovered. Firstly, there are the three beaches – quite unimaginatively named First, Second and Third - all which are perfect for long walks, games and soaking up the sun. However, if you want to have a swim or a surf, it's best to stick to the more protected Second.
The area also boasts numerous hiking trails and, with the help of local tour guides, you can gain first-hand experience of the Xhosa culture and customs.
Accommodation: Amapondo Backpacker Lodge offers a comprehensive range of accommodation choices and is also a good spot to find out about local tours and excursions.
Snack stops en route: The R61 between Port Edward and Port St. Johns doesn't have a huge array of places to pull over, apart from petrol stations in the bigger towns. However, once in Port St. Johns, try the following:
Where to snap a selfie: At the famous blowhole just outside Port St. Johns that is known to shoot water up to 20m into the air... especially when seas are rough.
Other places of interest: Visit the charming 100-year-old Cape Hermes lighthouse overlooking the Mzimvubu River or follow the Waterfall Bluff trail to witness the spectacular site of a river spilling over cliffs and into the sea.


Port St. Johns → Coffee Bay
Once again, the roads between these two Wild Coast hot spots could pose some serious challenges. If your vehicle is ready for an off-road challenge, by all means divert off the R61 and onto the notorious gravel roads. However, if you're feeling more conservative, stick to the tar up until Mthatha and then take the well-trodden route to Coffee Bay from there.
Distance: Via Mthata - 198km (allow about 4 hours for the drive)
Via Old Bunting – 111km (allow about 3 hours for the drive)
Via Ngqeleni – 134km (allow about 3-and-a-half hours for the drive)
Activities at your destination: Hang out with local cows and kids on Mdumbi Beach. Secluded and unspoilt, it's a great spot for all sorts of sand-based activities, but also for swimming and surfing. Once you've had your fill of the beach, spend time exploring the different backpackers and their bars, perhaps even joining a djembe circle at Jah Drums.
Of all the activities you can do in Coffee Bay there is, however, only one that you simply cannot miss out on: a visit to Hole in the Wall. While it's possible to reach this spectacular natural rock formation by road, hiking over the rolling hills is the far more scenic and memorable option. Just be sure to take enough snacks and drinks to keep your energy levels up.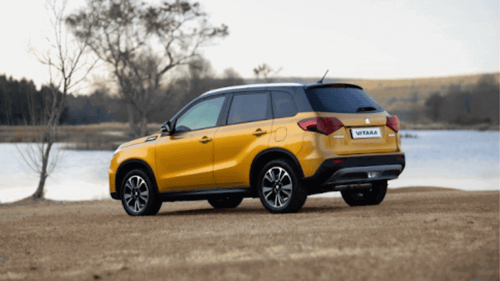 Accommodation: As mentioned above, Coffee Bay really does have a wealth of well-run and unique backpackers. However, Coffee Shack could be considered the quintessential spot to stay. If you're in the mood for something slightly more comfy, try the Ocean View Hotel.
Snack stops en route: Once again, the more exciting restaurant options are located in the destination itself. Be sure to check these out:
Where to snap a selfie: With Hole in the Wall as a backdrop.
Other places of interest: Feel the need for some pampering? Hole in the Wall Resort & Spa will have you feeling fresh as a daisy.

---
Looking for a list of must-do activities in South Africa? Our friends at bookmundi have just what you need. Here's their list of 13 Things to do in South Africa.
---
Coffee Bay → Mazeppa Bay
From Coffee Bay you'll head back inland again and meet up with the N2 just outside of Mthatha. At Idutywa, turn off onto the R408 to head back to the coast once more, where Mazeppa Bay will offer you a warm welcome at the end.
Distance: 223km (allow almost 4 hours for the drive)
Activities at your destination: Drawing far less visitors than Coffee Bay and Port St. Johns, Mazeppa Bay is a great spot to relax and recharge. Fishing, walking, swimming and poking around the fascinating rock pools are all perfectly good ways to spend your time, and so is visiting the town's famous little offshore island via a beautifully rustic suspension bridge.
Bird-lovers and botanists will love the Manubi Indigenous Forest, where magnificent Yellowwood and Sneezewood trees tower over a network of hiking trails and offer a refuge for a huge array of feathered friends.
Accommodation: Treat yourself and check into the charming Mazeppa Bay Hotel.
Snack stops en route: This part of the world isn't great for dining diversity, so stock up on some fresh seafood in Coffee Bay and cook it over the coals on arrival. Or enjoy a decent meal at the hotel.
Where to snap a selfie: The suspension bridge is sure to inspire some Instagram-envy.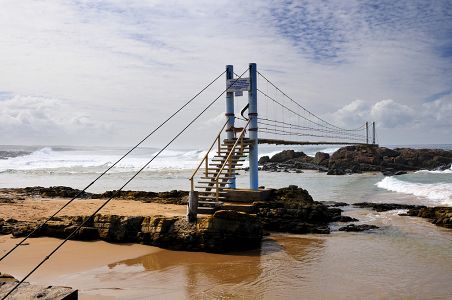 Other places of interest: En route from Coffee Bay, you will pass by Qunu, Madiba's hometown. Stop off here and visit the Nelson Mandela Museum.


Mazeppa Bay → Cintsa
Head back east to Butterworth, where you will meet up with the N2 once more. This stretch of road is well-maintained and will take you over a few scenic passes, as well as the Great Kei Bridge. Keep your eyes peeled for the Cintsa turn-off to your left, just a few kilometres after the R349 exit to Kei Mouth.
Distance: 152km (allow about 3 hours for the drive)
Activities at your destination: Even though you could probably push through all the way to East London, the little town of Cintsa is so magical you simply cannot give it a miss. Most activities in the area are focused around the Cintsa River, its estuary and the endless stretch of wild beach surrounding it. Sign up for a surf lesson, go for a horse ride along the dunes or simply set out on a sunset stroll.
You can also enjoy a local and lekker craft beer experience at Emerald Vale Brewery where they currently produce four different brews, as well as their very own iced tea.
Accommodation: Buccaneers Lodge & Backpackers comes highly recommended. Spread out over 8ha of indigenous forest, they have a truly diverse accommodation offering and a bar with an unparalleled view of the beach.
Snack stops en route: Save your appetite for Cintsa and enjoy meals at:
Where to snap a selfie: On the bar deck at Buccaneer's sipping an ice cold Emerald Vale brew.
Other places of interest: Located between Cintsa and East London, the Areena Riverside Resort is a great accommodation alternative and also has a wonderful riverside restaurant.


Cintsa → East London
The final and shortest stretch of your epic coastal journey will take you right back to the N2 and into the capital of the Sunshine Coast: East London.
Distance: 43.4km (a smooth 40 minutes' drive)
Activities at your destination: Although it may not be as big as Joburg or as beautiful as Cape Town, East London is full of fun surprises.
If you're into art, culture and architecture, be sure to visit Fort Glamorgan which was erected on the banks of the Buffalo River in 1848 to guard the supply line to King Williams Town. Explore Xhosa culture and cuisine at Khaya la Bantu Cultural Village and check out the majestic Victorian Renaissance City Hall with its impressive equestrian statue out front. The 19m tall Hood Point Lighthouse is also worth a visit.
Looking for something a little more quirky? Visit East London local, Peter Bruton's private Coca-Cola museum. Since the 1970s, he's preserved more than 6 500 items related to this resilient and legendary beverage brand. To get a peek, give him a call on 082 967 8585.
Of course, the city also has its fair share of foodie experiences. Head to Imbizo Café for African cuisine with a generous helping of jazz to jam out to on the side. At Grazia's Fine Food & Wine you can sip bubbly, while enjoying dainty gourmet delicacies. For more family-friendly options, check out Lavender Blue Market and Country Bumpkin Restaurant.
Beaches and birding are also big attractions, and so are the Apex Predators Snake Park and Xtreme Valley Golf Course.
Accommodation: We suggest perusing Airbnb for accommodation options that suit your needs and your pockets.
Where to snap a selfie: In front of the pink facades of City Hall.
Other places of interest: One of East London's biggest suburbs, Gonubie is home to a selection of magnificent beaches and nature trails.
Happy travels and enjoy the journey!

---
Want more great holiday content from Suzuki? Download our free ebook of family car games with South African bingo, free colouring in and other great games and printables.
Get all the latest content from the Suzuki blog delivered straight to your inbox, subscribe to our blog and never miss a post.