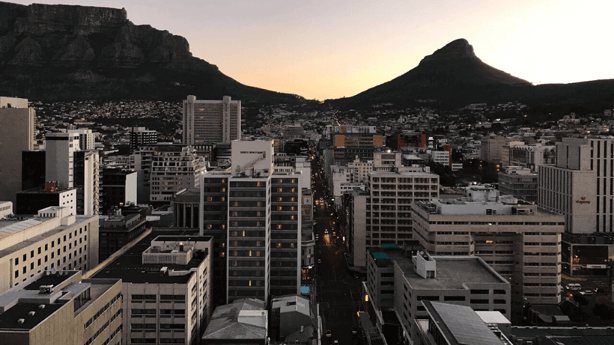 Instead of rushing to the coast, why not try this eight-day road trip itinerary through five provinces for your most memorable road trip yet.
Hitting the long road between Johannesburg and Cape Town is hardly an unfamiliar concept to most South Africans. In fact, it could almost be considered a rite of passage.
Traditionally, the 1 400km straight along the N1 is seen as a bit of a necessary evil and most people attempt to do it in two purposeful legs. While we understand the urgency to get to the ocean (or possibly to the bushveld, if you're doing it in reverse), the truth is - you're missing out on a whole lot of national treasures in the mad rush.
So, here's a wild proposal: why not change your mindset to one of exploration and meander down to the coast through five provinces over eight full days instead?
Here's our ideal itinerary:
Joburg → Verkykerskop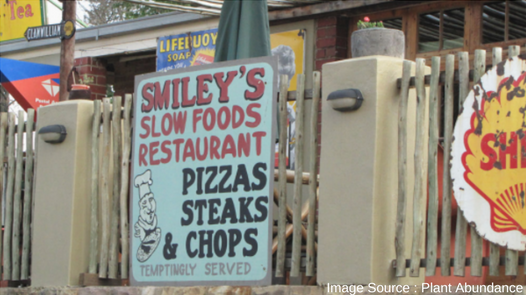 Heading out of Joburg via the N3 may feel completely counterintuitive, as all Gautengers know this road leads straight to… ahem… Durban (aren't we going to Cape Town, you hear the kids ask?). However, while taking you east, it's heading south too… so just hear us out.
Instead of heading straight to traditional halfway stop, Harrismith, take a shot left along a gravel road just outside Warden and head to the charming Free State hamlet of Verkykerskop.
Distance: 258 km
Activities at your destination: More than any list of exciting things to do, it's really Verkykerskop's back story that makes it such an attractive place. Once nothing more than a dusty Free State town, it became the fertile soil in which the pastoral dreams of Matt Hoffman and Beth Hillary – both Joburg music industry moguls – took root and grew. Passing through the town one day, something about its setting charmed the couple and before they knew it, they'd bought the general dealer, the old mill and a few other properties around the village. This led to a number of magical developments, such as Smiley's Slow Food, Skinderhoekie Coffee Shop, Slagskaap butchery and Pik-'n-Wyn wine shop. In short, it's a special place, run by people with soul.
Accommodation: There are a number of quaint overnight options in town, including the Central Motel, Townsview Cottage, Outpost Inn, The Star Cottage and a campsite.
Snack stops en route: Stop for breakfast or morning tea at the Diamante en Goud Tea Garden in Heidelberg.
Where to snap a selfie: At Smiley's Slow Food – the whole place is decorated with local vintage memorabilia.
Verkykerskop → Golden Gate Highlands National Park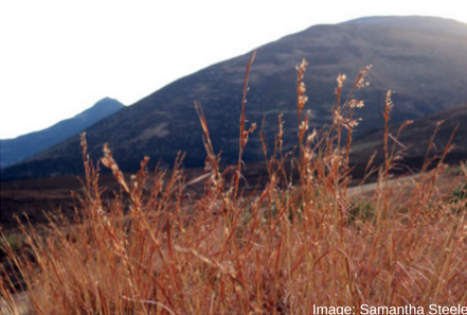 Leave Verkykerskop along the R722, briefly connect with the N3 and head to Harrismith. Here, you will leave town via the R74, which will connect with the R712 taking you straight past the Sterkfontein Dam and all the way into the park.
Distance: 122 km
Activities at your destination: While it may not be home to the Big 5, Golden Gate Highlands National Park is rich in biodiversity, offers spectacular scenery and a range of riveting outdoor activities – from hiking trails to horse riding.
Accommodation: If you're looking for something slightly secluded and cosy, spend the night in a Highlands Mountain Retreat log cabins overlooking the Malutis. Alternatively, the park also offers other accommodation options, including a hotel, camp site, some chalets and even a Basotho Cultural Village.
Snack stops en route: Your route will take you right through Harrismith, where you simply must stop at the warm and inspiring Dom's With Love. Run by mother of five, Dom Molete, it's a favourite among locals and road trippers alike, serving the type of cappuccinos that will keep you coming back for more.
Where to snap a selfie: Either with Golden Gate Highlands National Park's iconic Brandwag buttress in the background, or if you like your selfies with a side of sweat, on top of it.
Golden Gate Highlands National Park → Bloemfontein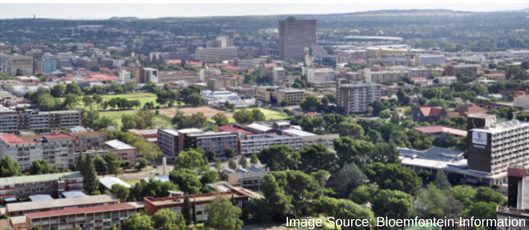 There are a number of different routes that will get you from Golden Gate to Bloemfontein, with the N5 via Bethlehem probably being the most straightforward. However, we suggest you opt for an ever so slightly more rural road through the likes of Ficksburg, Clocolan, Excelsior and Verkeerdevlei.
Distance: 300 km
Activities at your destination: While it may not be as cool as Cape Town, as vibrant as Joburg or as spicy as Durban, Bloemfontein is not to be scoffed at. Take a drive up to Naval Hill Nature Reserve, which offers unparalleled views over the city alongside a striking statue of Madiba and an array of harmless herbivores – from curious giraffes to ostriches and a variety of antelope. If you're looking for something more cultural, spend the day museum hopping – from the Oliewenhuis Art Museum to the National Women's Memorial.
Accommodation: Check out the diverse range of places to stay in Bloemfontein on Airbnb.
Snack stops en route: Even though Clarens is practically on Golden Gate's doorstep, it's worth a stop – both for the picturesque nature of the town and its astounding range of eateries. Also, head to Ficksburg for a lovely bite to eat at Café Chocolat.
Where to snap a selfie: Looking out over Bloemfontein from the top of Naval Hill with Madiba by your side.
Bloemfontein → Mokala National Park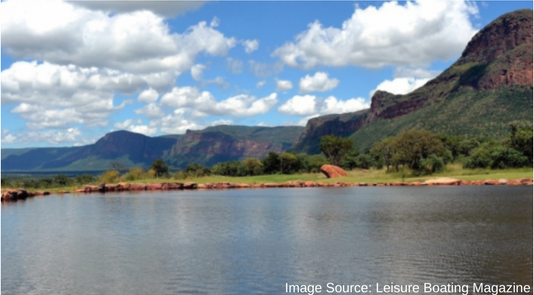 It's time to wave goodbye to the Free State and head on into the Northern Cape, where you will pass through the former diamond-mining capital of Kimberley.
Distance: 243 km
Activities at your destination: Before heading to Mokala National Park, spend a bit of time in Kimberley itself. If you've never been to the city before, it's worth checking out the Big Hole – a massive crater of 214 metres deep, with a surface area of 17ha and a 1.6km perimeter – left by 43 years of excavation between 1871 and 1914. Apart from 22.5 million tons of earth, the mine also yielded 2 722 kg of diamonds. During your visit, you'll also be able to explore some of the original buildings from the heyday mining that have been beautifully preserved.
Once you've had your fill of history, it's just more than an hour's drive to Mokala National Park, where you will be able to enjoy undisturbed game viewing and bird-watching in the majestic 'koppieveld' surrounds. A few intriguing animals to tick off your list, include:
Roan antelope

Meerkats

Tsessebe

Blue Wildebeest

Gemsbok
Accommodation: The park offers a range of accommodation options, including campsites, cottages, chalets and even a bird hide! However, if you're on a romantic (or even not so romantic) road trip for two, we highly recommend spending two nights (minimum stay) in the magnificent Kameeldoring Treetop Chalet.
Snack stops en route: Bliss Coffee Shop in Kimberley is a must-stop for anyone with penchant for truly decadent milkshakes or a craving for really good coffee. With loads of space, a large green lawn and jungle gyms, it's a great spot to have the kids stretch their legs and get rid of some energy.
Where to snap a selfie: With Kimberley's Big Hole in the background or while enjoying a sundowner on the stoep of your Mokala chalet with a pink Northern Cape sky overhead.
Mokala National Park → Camdeboo National Park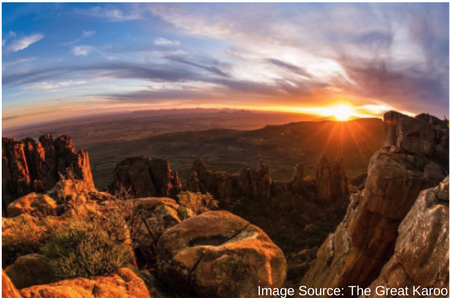 Over the past few days you've travelled from Gauteng to the Free State to the Northern Cape and now it's time to head on into the Eastern Cape's rugged interior. Today's route will take you past – though not directly through - quite a few unusual destinations, including:
Orania

- the controversial and idiosyncratic Afrikaner stronghold town

Vanderkloof dam

- the second largest in South Africa, boasting the highest wall at 108m with a crest length of 765m

Nieu-Bethesda – home to Miss Helen Martins'

Owl House

, it's worth taking the hour or so detour to inspect this otherworldly national treasure
Pick and choose which – if any – you'd like to visit, or just make straight for Camdeboo.
Distance: 464km
Activities at your destination: Camdeboo National Park's biggest selling point is the awe-inspiring Valley of Desolation where piled dolerite columns stretch stand firm against the stark backdrop of Karoo plains. An elevated viewpoint allows you to take in the endless vistas from on high and provides a dreamy vantage point for photographs. The park also offers two 4x4 routes, hiking trails and water sporting opportunities on the Nqweba Dam.
Accommodation: Spend the night in Camdeboo's delightful Lakeview Tented Camp or, if you feel like splashing out, head to the luxurious Drostdy Hotel in nearby Graaff Reinet.
Snack stops en route: If you've decided to take the detour into Nieu-Bethesda, be sure to stop off at the award-winning Ibis Lounge restaurant to sample their "Yuppie Karoo" fare.
Where to snap a selfie: Posing on the rocky outcrops in the Valley of Desolation at Camdeboo National Park.
Camdeboo National Park → Prince Albert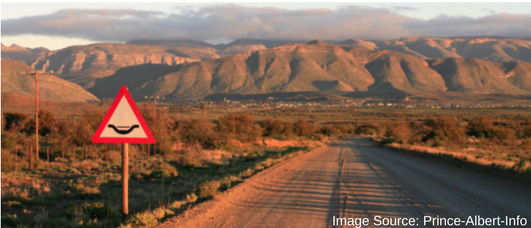 On this stretch, you'll be crossing over into the Western Cape via a relatively crooked road, filled with all sorts of delights. You will be heading through a number of noteworthy towns, including Willowmore, De Rust and Oudtshoorn and traversing the legendary Swartberg Pass. (Take note that the pass may not always be open, in which case you may need to take the N12 out of De Rust. The best way to find out about this is to give the Oudtshoorn Tourism Bureau a call).
Distance: 391 km
Activities at your destination: On the surface, Prince Albert may seem like nothing more than a dusty little Karoo town. However, when you get the chance to delve just a little deeper, you'll find a place blossoming with creativity and life. The best way to explore, is just to take a slow and curious stroll around town. Keep your eyes peeled for the following:
Colourful murals by renowned street artist,

Falko One

Vintage shops

Art galleries and artists' studios

Book shops

Coffee shops, restaurants and bars
Check out the Prince Albert website for a full list of the many amazing activities offered in town.
Accommodation: You'll be spoiled for choice when it comes to top quality, beautiful and memorable accommodation in this charming Karoo town.
Snack stops en route: Stop off at Oppivlak Farm Stall about 75 km south of Aberdeen for fresh roosterkoek, flavourful coffee and a chance to meet Goggatjie, the tame meerkat.
Where to snap a selfie: In front of one of Falko One's elephant artworks.
Prince Albert → Matjiesfontein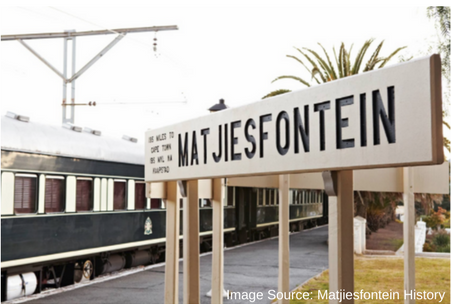 Take the quiet R407 out of Prince Albert, which will eventually lead you to an intersection, where you will turn left onto the N1. From here it's plain-sailing to the historical town of Matjiesfontein.
Distance: 158 km
Activities at your destination: Founded by Scottish railwayman, James Douglas Logan in 1884, Matjiesfontein has a long history of being a popular little Karoo breakaway spot for Capetonians – from its early days as a fashionable Victorian health spa to its current status as something of an 'it' town. Preserved as a National Heritage Site in 1975, the town offers visitors an invaluable peek into the past.
The Transport Museum is home to a remarkable collection of vintage cars from the 1930-1960s era, among them, Chevys, Dodges and a Jaguar MK8, while the Marie Rawdon Museum hosts a wealth of old-fashioned relics – from everyday household items to nightmarish dental and surgical equipment.
There's also the Old Post Office, the Pink Church, the historic cricket pitch and the world's shortest town tour on a double-decker Beefeater bus.
Accommodation: Spend the night in plush Victorian style at the Lord Milner Hotel, a cool and inviting oasis in the semi-arid surrounds. While you're there, be sure to enjoy an evening of music and tales at the adjacent Laird's Arms.
Snack stops en route: The road between Prince Albert and Matjiesfontein doesn't offer much in the way of refreshments, but your hunger will be handsomely rewarded with delicious local treats at the Coffee House in your destination.
Where to snap a selfie: Sipping Karoo cocktails next to the Lord Milner swimming pool, posing in front of a classic vintage car at the Transport museum or while taking in the town on the double-decker red bus tour.
---
Looking for a list of must-do activities in South Africa? Our friends at bookmundi have just what you need. Here's their list of 13 Things to do in South Africa.
---
Matjiesfontein → Cape Town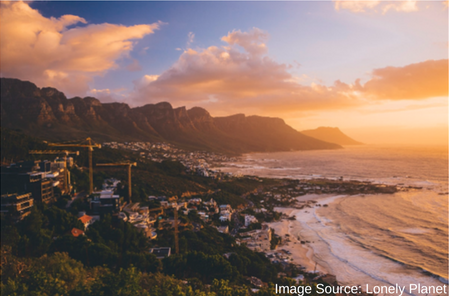 The last day of your journey has arrived and so have those typical end-of-road-trip mixed feelings. Even though you won't be deviating from the N1, your last stretch of road is filled with all sorts of scenic stops and surprises, including the Huguenot Tunnel and Du Toitskloof Pass.
Distance: 237 km
Activities at your destination: Well, this depends on how long you will be spending in the Mother City and what your sightseeing wishes are. However, if your eight days of semi-bundu-bashing have left you craving some over-the-top treats and shopping, why not consider:
Accommodation: If you really want to immerse yourself in Cape Town life for a few days, we suggest you check out the diverse offerings on Airbnb.
Snack stops en route: Pull over at Rooiberg Winery in the Robertson Valley for a fresh pastry at Bodega de Vinho restaurant and maybe even a bit of wine tasting.
Where to snap a selfie: On top of Africa's Largest Red Chair at Rooiberg farm stall.

So, there you have it: our itinerary for an epic, eight-day journey from Joburg to Cape Town. Want to see what it will look like on a map? Click here!
Want more great holiday content from Suzuki? Download our free ebook of family car games with South African bingo, free colouring in and other great games and printables.
Get all the latest content from the Suzuki blog delivered straight to your inbox, subscribe to our blog and never miss a post.