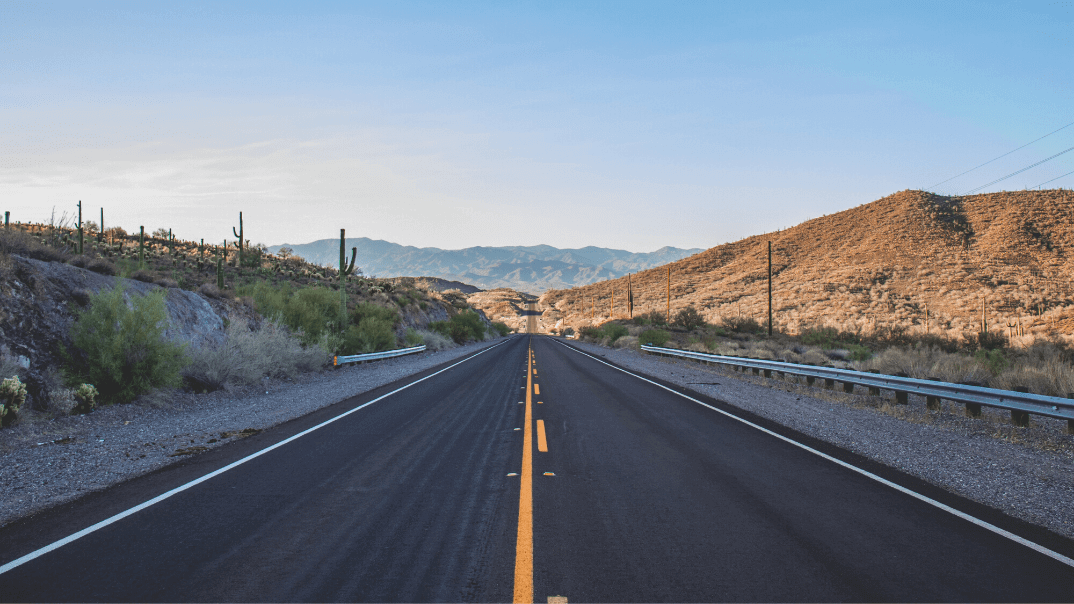 When looking for a new car many of us envision how stylish we'll look cruising to work, as well as the awesome road trips we're going to embark on. But does your car have what it takes to do the ultimate road trip?
Estimated reading time: 3 minutes, 32 seconds.
Our cars have become so much more than just a way to get from one place to another. Busy schedules, traffic congestion and long distances mean we spend more time in our cars than ever before – they've become an extension of our lifestyles and need to be as versatile as we are.
One of the best ways to break away from our busy lives is a good old South African road trip. This usually involves padkos, excellent music, games for the kids and more than a little bit of dust. But how do you know your car is ready to take on the open road?
Check your vehicle
Whether you're in a Jimny or a Swift, you need to make sure your car is well maintained and checked before you tackle a long journey. While the snacks are crucial, it's equally important to ensure you get to your destination safely. This handy checklist will guide you through everything from ensuring your tyre pressure is correct to remembering to fill up with washer fluid before you depart.
While you're at it, make sure you have any necessary roadside assistance information on hand. The last thing you want is to be stuck next to the road and digging around your car looking for contact numbers.
Plan your trip
Whether you're travelling with friends or family, a little bit of planning will make everything run much smoother. Make sure everyone has their necessities within reach and don't make the mistake of overpacking! You want to enjoy your road trip – not spend hours sitting on top of a suitcase. Planning a great road trip is about ensuring you're comfortable for the entire journey, not just at your destination.
To make the best of your journey, take a closer look at stop options along the way. Odds are that there are plenty of interesting spots en route that will make for great lunch spots and photo opportunities. A little bit of research can turn your route into an adventure.
Suzuki's famous Limpopo road trip included stops at some fascinating local landmarks and businesses, and all it took was a little bit of creative planning
Comfort is crucial
Suzuki is a lifestyle brand, and as such, many buyers are looking for a vehicle that offers daily 'punch' to get all the work done, but also plenty of comforts when they hit the open road. Suzuki has therefore mastered the art of interior design, and the secret is in the detail.
Road trip comfort is not only about the seats (which obviously need to be awesome), but also about the interior layout: you want all your 'accessories', from water bottles and cellphones, to be safely stored and within reach. Suzuki excels at interior ergonomics and the entire Suzuki range is designed to make every journey as comfortable as possible. Next time you're at a Suzuki dealership, make a point of looking at the various interiors – you'll notice each one has been meticulously thought out to complement today's lifestyle – including road trips.
Budget!
Yes, this is the serious and boring part of every exciting road trip, but it's arguably the most important. Nobody will have any fun if you run out of petrol halfway to your destination.
When it comes to fuel efficiency, your Suzuki will have your back, no matter which model you're in. But, remember to budget a little bit extra, because you're probably carrying more people and luggage than usual, and rough road conditions could add to your fuel usage. You might also stop to visit interesting places along the way, which will add to your fuel cost. Leave a bit of wiggle room in your budget, just in case.
You want to make your road trip as enjoyable as possible for everyone, and this type of adventure truly is about the journey, not just the destination. So make sure your car is checked, everyone's comfortable and that the music selection is on point. We hope you enjoy every minute of exploring SA in your Suzuki!
Safety is always the most important when it comes to a big road trip. But Suzuki always has your back with a checklist to make sure you don't forget anything or to help you plan the ultimate trip.
---
We've got everything you need to know about keeping your car in tip-top shape! Sign up to schedule your service reminder.