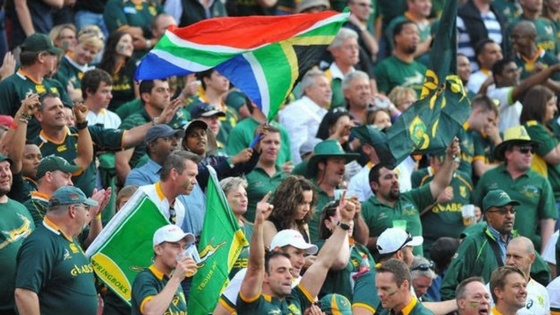 What to snack on, what to wear and how to celebrate a win… we paired with the SA Rugby magazine team to break down all the essential Springbok fan etiquette

This infographic breaks down all elements of rugby fandom, from how to be a gracious loser to what the right rugby-friendly snack is. We teamed up with SA Rugby Magazine to break down all the ins, outs, ups and downs on being the best Springbok fan you can be.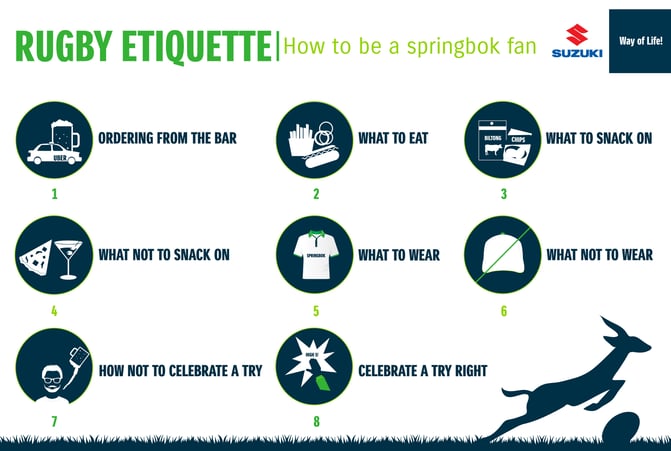 What to order at the bar:

If you're driving, some water, otherwise a pint of beer is an essential accompaniment for a rugby match (remember to Uber if you're going to have a pint... or five)

What to eat:

Whether it's before or after the match, you can't go wrong with a boerewors roll, plenty of fried onions and tomato sauce

What to snack on:

Biltong is the staple diet. If necessary, a packet of chips (salt and vinegar)

What not to snack on

: Don't get fancy with snacks. No mini quiches and the like. This is rugby. Savoury, not sweet

What to wear:

When it comes to the Springboks, whether they're winning or losing, wear the Bok jersey and puff out your chest with pride. After all, while it seems a matter of life and death, it's actually more important than that

What not to wear:

No big hats as you'll only annoy the people sitting behind you. A Springbok cap, tattered or new, is the way to go

How to celebrate a try:

First instinct would be to do a high five. Make sure you connect and not follow through to the guy next to your mate. Hug a stranger. Really. There's nothing wrong with a bit of love

How not to celebrate:

Don't pour your beer over the opposing team's supporters, violently signal with rude gestures or anything like that. Win and celebrate with class
Want more useful information like this? Subscribe to our blog today and get our latest articles delivered to your inbox.
Featured Image from Sports24