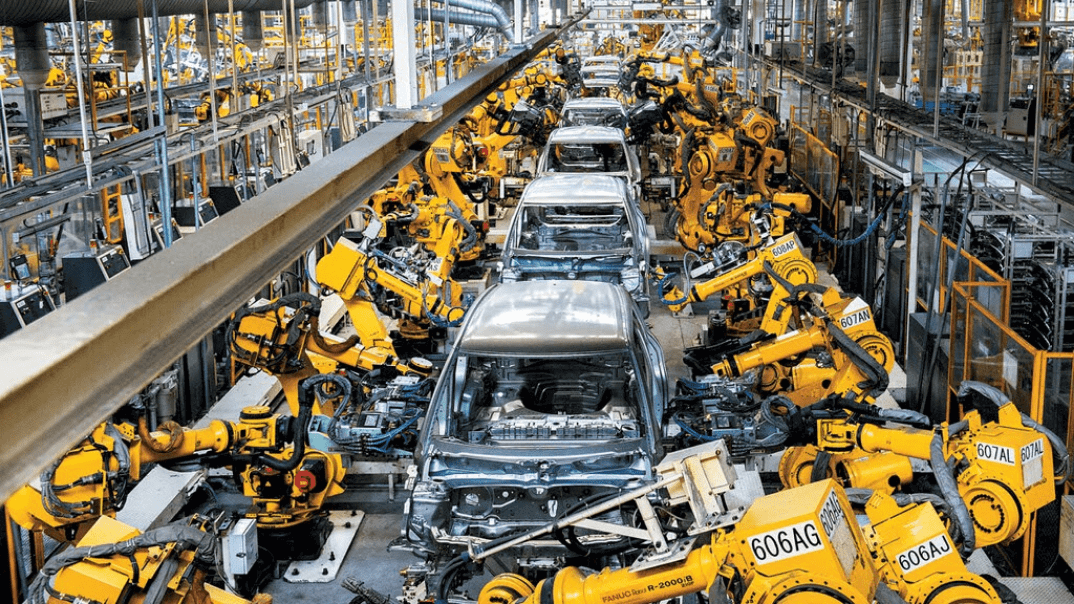 With interest rates and fuel pricing constantly fluctuating, many car buyers are carefully considering whether they should buy new or pre-owned. Both have their Pros and Cons and buyers must carefully consider all financial implications.
Estimated reading time: 5 minutes, 44 seconds.
The past few years have seen massive changes in nearly every industry, especially automotive. Delays in new vehicles as a result of the pandemic have seen the pre-owned vehicle market gain a lot of ground. It has, however, also pushed up prices in the second-hand segment which has a lot of potential buyers sitting on the fence: do they buy used, a new vehicle that's available, or wait for a delayed vehicle that they've had their eye on for a while?
Unfortunately, there's no easy answer as everyone has their own budget restrictions, a checklist for what they need in a vehicle, and probably a timeframe in which they need to purchase a new car.
The best move is to tackle this with an open mind: draw up your budget and must-have checklist and start searching online. Approved dealers and reputable vehicle websites are the best start as they will give you a realistic indication of second-hand pricing and will also be able to tell you which new vehicles are currently in stock.
Tip: leave enough room in your budget to factor in fuel and insurance increases.
If you're looking to buy new:
There's nothing quite like getting into a brand new car, especially when this prized possession is your very own brand new car.
The top deciding factor is your budget, and whether the car you want fits into the budget as a new purchase, or whether you should be looking at pre-owned. If you can opt for new make sure you're not sacrificing much-needed features just so you can say you bought a new car. Contact your preferred dealer to discuss availability, options, and a test drive. As with any vehicle purchase we always advise more than one test drive because you want to make 100% sure you are choosing the vehicle that will best suit you.
At R162 900, the Suzuki S-Presso 1.0 GL is the most affordable new car in the Suzuki stable and it comes with a number of luxury and safety features as standard that previously would have been found only on more expensive vehicles.
The argument that you could buy 'more car' on the same budget by opting for pre-owned is no longer necessarily valid as automakers, like Suzuki, pack even the most basic models with specification—and do so at very competitive prices.
Opting for pre-owned
When purchasing a new vehicle, you will look at the reputation of the car you're considering. When opting for a used model, however, you will also know whether the vehicle has been left in good condition by the previous owner.
The best way to ensure you get the best possible quality is to purchase your used vehicle through an approved dealership. This gives you peace of mind, and also recourse should any major faults appear immediately after purchase.
With the current high demand for pre-owned vehicles it does, unfortunately, mean higher pricing. That said, this demand also means the used vehicle segment has become extremely competitive. This means dealers must be able to prove the value you are gaining by opting for a pre-owned vehicle versus a new vehicle. Customers may have the opportunity to include added value such as accessories or extended warranties.

Service and warranty
One of the deciding factors when buying a new car is that you get a full service plan and a warranty. Most Suzuki vehicles, including the S-Presso, come with a service plan that can range from two years/30 000km all the way to six years/90 000km. The exceptions are the Super Carry and the Celerio GA which also has a service plan.
If you buy a pre-owned vehicle you need to factor an extended warranty and service plan into your costing. The price will vary depending on which vehicle you buy, but if you're working with an approved dealership they can advise you on the best options and help you handle all the paperwork.
There is always an additional risk factor when buying pre-owned. Even if you choose the most reputable dealer, you are still buying a used car. If you have any doubt about the vehicle's condition it is better to walk away, no matter how good the deal may seem.
Is mileage a concern?
If you buy an approved used vehicle, mileage isn't too much of a concern. That said, there is an unspoken 'rule' that used vehicles fall into three different categories:
Over 100 000 km – these cars have obviously been driven a lot, but you can get excellent deals.

Under 50 000 km – this is considered a more suitable mileage limit and you are likely to find many options to choose from in this category.

Under 20 000 km – is considered a brilliant find! Many demo cars (those used by dealerships for test drives) fall into this category. Many will have less than 10 000 km on the clock.
While the first choice is always to opt for the car with least mileage, don't let a higher number scare you away from an excellent find. Be diligent in the details, vehicle inspection, and terms and conditions no matter what the mileage is.
Which cars are better to buy used?
The short answer is: any. That said, smaller city-slickers such as the Suzuki Celerio or Swift often come with the best used car deals, and maintenance costs are easy on the pocket.
If that brand new Swift is just outside your reach, you should definitely consider the S-Presso (and there are five variants from which to choose) or Celerio, where two options are lower priced than the basic Swift before considering pre-owned options.
Vehicles such as double-cabs, for example, are considered risky in the pre-owned market. While many were probably just used for daily commutes, they could also have done some heavy lifting and been driven off-road. A vehicle history rarely indicates what it was previously used for, so be extra vigilant if you're looking at bakkies or 4x4's.
Fuel economy: new vs used
Fuel economy is a big deciding factor when you're shopping for your next car, and in this case new is often your safest answer. This is simply because manufacturers constantly refine their fuel consumption technology, so each new model is more efficient than the last.
Smaller vehicles such as the S-Presso (4.4ℓ/100km (AMT) & 4.6ℓ/100km (MT)) Celerio (4.2ℓ/100KM (AMT) & 4.4l/100km(MT)) and Swift (4,9 l/100km) are frugal by nature, so whether you opt for brand new or used, you will get a fuel-efficient car either way.
Deciding between a new or used vehicle comes down to affordability and personal preference. If you buy through an approved dealer, your pre-owned buying experience should be seamless. As with any big purchase, you need to do your research, spend time on test drives (new and used), and make the choice that gets you the car you need at a price you can afford.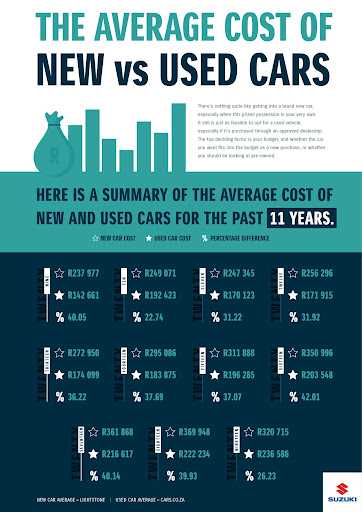 The right way to help the decision is to sign up for a test drive – and we will make the necessary arrangements to suit you.
---
Suzuki has a range of products to meet just about every need and does this with cars that stand out from the ordinary and are loved by owners. Even better is the fact there is a Suzuki to suit every pocket. Download the guide to buying a new car.